Featured Editorials Home Slider Power Rankings
JetNation Pre-Training Camp Power Rankings – Part III (22-32)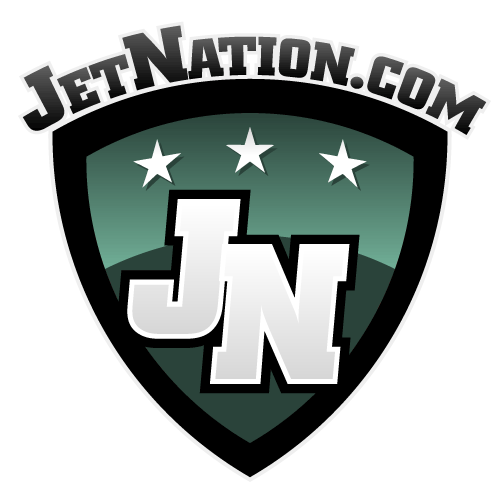 The following is JetNation's pre-training camp power rankings;
Part III (22-32):
22. Arizona Cardinals: Their QB play was so bad last year the Cardinals traded for Carson Palmer.  It won't matter who is under center if the offensive line gives up 58 sacks like last season.  The Cardinals will finish last in the difficult NFC West again this year.
23. Detroit Lions: Matt Stafford threw for almost 5,000 yards and WR Calvin Johnson set the single season receiving record so the Lions made the playoffs?  Well, no, and while they move the ball the Lions give up more points than they score, which is a problem.  
24. Tennessee Titians:  The interior of the offensive line was addressed as the Titians signed free agent guard Andy Levitre while using the 10th pick in the draft on guard Chance Warmack.  Tennessee will need to get a lot out of RB Chris Johnson since QB Jake Locker has been average at best.  The team also had the worst scoring defense last season.
25. Philadelphia Eagles: New head coach Chip Kelly will try and implement the "up-tempo" offense he used at the University of Oregon but what quarterback will be running his system?  The Eagles "on paper" are very talented but that's been the case for awhile without great results. 
26. Tampa Bay Buccaneers: Trading for CB Darrelle Revis makes the Buccaneers a playoff team right? WRONG!  Funny QB Josh Freeman, in the last year of his deal, has not gotten a contract extension but Mark Sanchez did?  They also only managed 27 sacks last year and allowed their top sacker Michael Bennett (9) to leave via free agency.  The Buccaneers will be visiting the NFC South cellar.
27. Kansas City Chiefs: The best move the Jets made this offseason was not hiring John Dorsey as their GM.  Let's franchise our left tackle than draft one?  Let's potentially trade two second round draft picks for QB Alex Smith, who the 49ers were desperate to dump before his contract became guaranteed, and have him run new head coach Andy Reid's pass heavy offense.   
28. Cleveland Browns:  Hear this one often: "If the Browns had a quarterback they would be great."  So would ten other teams in the league.
29. Buffalo Bills: With the QB competition heating up between veteran Kevin Kolb and Rookie E.J. Manuel the team already has some offense fire-power: RBs C.J. Spiller/Fred Jackson – WRs Stevie Johnson, Robert Wood, T.J. Graham, and Da'Rick Rogers.  Former Jets defensive coordinator Mike Pettine took the same position in Buffalo in an attempt to improve upon the 28th ranked scoring defense from last year. 
30. New York Jets:  Hate to put our beloved team so low but whether Mark Sanchez or Geno Smith starting at QB who will they throw to?  The Jets brought in Marty Mornhinweg to catch the offense up with the rest of the NFL but it is still a work in progress.  GM John Idzik had to clean-up the Jets finances along with making some difficult decisions (trading Revis), hopefully setting the team up for long term success.
31. Oakland Raiders: General manager Reggie McKenzie inherited a mess leftover from the late Raiders owner Al Davis when he took over last season. Was trading for QB Matt Flynn and picking up his salary a smart decision?  The Raiders will struggle again this year just wonder which QB they will target in the 2014 draft?
32. Jacksonville Jaguars: New general manager David Caldwell was handed the least talented team in the league and the players with talent can't stay out of trouble (Justin Blackmon).  New head coach Gus Bradley will need to find a quarterback first before this team will be a winner.  Good thing there are lots of top QB prospects in next year's draft because the Jaguars will be taking one early. 
Videos
NY Jets Phase 3 OTAs, Expectations and a Minor Calf Tweak with Greg Renoff