Game Previews Home Slider NY Jets Training Camp
Jets To Watch (Vs Jaguars)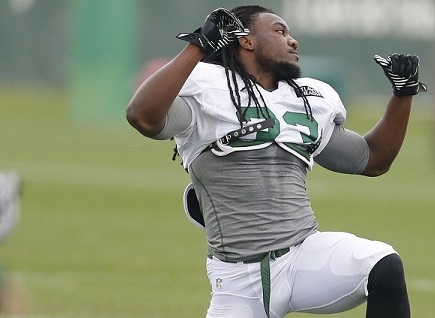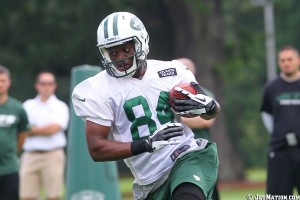 During the regular season we will have a game preview for each Jets game.  Since the teams are not game planning for each other, we aren't going to spend time previewing the game.  Instead here are few of the things I will be watching as the Jets take on the Jaguars at Metlife stadium this Saturday.
1.  Chris Ivory:  The running game is crucial for the Jets as they want to minimize the pressure that is placed on Sanchez or Smith.  Mike Goodson still has an uncertain future, Joe McKnight has battled a few issues throughout training camp, John Griffin has been placed on I.R. and Bilal Powell has been the main running back in camp.  Now that Chris Ivory is back on the field, Jets fans will have a chance to see the player who averaged 5.1 yards per carry in New Orleans.  We won't learn if Ivory can carry the load full-time on Saturday, but it would be nice to see some explosiveness from him.  Right now the running game is a huge cause for concern, on Saturday Ivory can ease that concern a bit by showing he is as good as advertised.
2.  The Quarterback Situation:
Mark Sanchez – can he play a mistake free game? The starting job is his to lose at this point in time.  He needs to avoid turnovers and show that he will throw the ball away when needed.  Marty Morhinweg is going to want his quarterback to complete over 60 percent of his passes.  Mark did a good job in this regard last week but he is going to be graded on the turnovers until further notice.
Geno Smith – Rex Ryan used words like "brutal" and "worst day" to describe Geno's practice on Wednesday.  How does the young QB bounce back from that kind of criticism?  The bigger question right now is if his ankle will keep him out of the game all together.  Rex indicated that the injury was a factor in not starting Geno in this game, that makes it sound like he might not play at all.  Geno Smith was on the bike as the Jets did conditioning on Thursday.
3.  The Defensive Line: Kenrick Ellis has missed the last few days of practice (back) but the defensive line is one of the few areas where the Jets have depth.  Just sit back and watch how athletic this group is: Quinton Coples, Muhammad Wilkerson, Sheldon Richardson along with newcomer Antwan Barnes are part of the Jets strongest positional unit.  This group needs to do great things if the Jets are going to rebound this season.  Last year the Jets run defense was an area of concern, so the coaches will be watching Damon Harrison with Kenrick Ellis most likely being out.
4.  Secondary Beyond Cromartie:  Antonio Cromartie will have the toughest job on the Jets defense this year.  He will draw the top wide receiver each week.  Antonio is a known quantity, the real questions in the secondary are with the Safety spot along side Dawan Landry.  This week Jaiquawn Jarrett gets the start, although the Jets still list Antonio Allen as the starter on their depth chart.  Dee Milliner and Kyle Wilson are also theortically battling for the 2nd cornerback spot.  Although it seems likely that Milliner will be the #2 CB and Wilson will handle the slot receiver.
5.  Wide Receivers:  Santonio Holmes is still out, Braylon Edwards probably shouldn't be going 100% in the preseason and tight end Kellen Winslow had a baby this week, so the question remains…which young wide receiver is going to step up?  Jeremy Kerley is a great fit for this offense and we know what he can do, so there isn't much to watch there.  Stephen Hill needs to prove that he can hold on to the football, we all know he is fast enough and big enough.  Clyde Gates had a strong training camp so he is a player to watch.  Ryan Spadalo the kid from Lehigh is someone to keep an eye.   All the young wide outs will have a chance to make a name for themselves.
6.  Long Snapping:  Can Tanner Purdum improve over the spectacular season that he had in 2012? Mike Westhoff is gone and we want to make sure this has no impact upon Tanner's release point.  Any small tweaks could negatively impact his long snapping accuracy.  Okay, this isn't actually one of my keys to the game, I just wanted to see if you were still reading.  Long snapping is one of the few areas that the Jets don't have to be worried about right now.
Videos
Was Boomer Right to Blast Becton? Former Jets QB Sounds off Against Jets Tackle.