Game Previews Home Slider Jet News
NY Jets Bucs Game Preview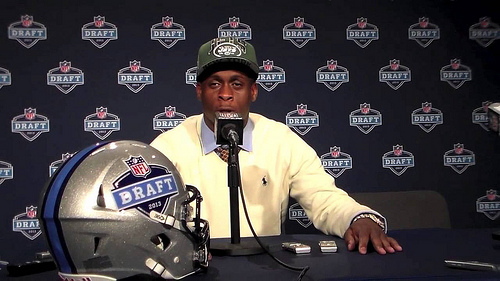 The beautiful thing about week one of the NFL is everyone starts with a clean slate and a chance for the Lombardi trophy. Believe it or not, the Jets do not start the season with six losses already on the schedule. They're 0-0. With a league driven so much by parity, it's okay to have optimism heading into week one's match up with Tampa Bay.
Last season the Buccaneers finished a roller coaster of a year at 7-9. They didn't really beat anyone too good throughout the season but also lost a ton of close games. Tampa enters this season under second year head coach Greg Schiano with rising expectations after a big off season.
Tampa Bay Offense
The player the Jets need to contain to have a chance to win is second year running back Doug Martin. Martin ran for 1,454 yards and caught 49 passes for 472 yards with twelve total touchdowns. Martin is the real-deal but will have to try and do without all-pro guard Carl Nicks, who will miss the game with a MRSA infection in his foot. I'd expect an athletic guy like Demario Davis to try and shadow Martin all game.
Quarterback Josh Freeman is the wildcard. Freeman is as inconsistent as they come with his accuracy and killer turnovers and could lose his job with a rough start to the season. Besides Martin out of the backfield, Freeman has two good wide receivers to throw the ball too. Wide receiver Vincent Jackson and Antonio Cromartie are set to do battle on one side of the field, while Mike Williams and former Cowboy Kevin Ogletree will get their share of passes thrown to them.
Tampa Bay Defense
The Tampa Bay defense has two of the most talented players in the league. Defensive tackle Gerald McCoy has proven to be a disruptive force in all aspects. A large part of his impact is scheme-oriented, as McCoy will almost always align on the guard opposite of the tight end, essentially giving him a one-on-one match up. Willie Colon and Vlad Ducasse will have their hands full.
Of course there is former Jet and all-world cornerback Darrelle Revis, playing his role as enemy in the place he called home since 2007. Revis is coming off an ACL injury but is someone the Jets would be wise to not challenge. Accompanying him in the secondary are afeties Mark Barron and Dashon Goldson, who have had struggled at times in pass coverage but are overall two of the better safeties in the league.
The Tampa Bay defensive line is loaded with talent but has underperformed at times. Still, it will be a good test for the Jets offensive line. I wouldn't expect Marty Mornhinweg to be too conservative in his play calling for Geno Smith even if it's his first start because you can't teach an old dog new tricks. Mornhinweg really likes to throw the ball. The Jets offensive line looked good in pass protection but now will be tested as Tampa will bring more complex blitzes and stunts. Run blocking has to improve for the Jets as well.
How To Win
This is a very winnable game for New York. Having the outside linebackers set the edge on Doug Martin will be key to containing potential big plays. As in any game, winning the turnover battle would be a huge help, and with a quarterback as turnover-prone as Josh Freeman, the Jets need to take the ball away more then once. If Geno Smith can open up the defense with some big throws early, expect the running game to pick up and for the Jets to control the clock.
Videos
Aaron Rodgers Injury Fallout & Jets/Bills Recap