Game Previews Home Slider Jet News
Jets At Titans Preview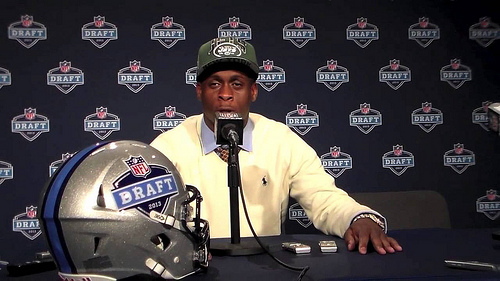 The New York Jets (2-1) hit the road as they take on a rather surprising 2-1 Tennessee Titans squad. These two teams did meet last year in one of the worst games ever played, resulting in a Jets 14-10 loss and the benching of Mark Sanchez. This is a new year, however, with Tennessee presenting its own matchup problems. Let's take a look:
Tennessee's Offense
Have you caught Jake Locker fever yet? The Titans quarterback was the eighth overall pick in the 2011 draft and has largely struggled with the basics; reading defenses, accuracy, and when to run or throw. This year has been an improvement through three games, where Locker hasn't thrown an interception and has ran 12 times for 81 yards. While he's not racking up a lot of yards through the air, he's protecting the ball and getting the ball downfield when asked to, as evidenced by last weeks comeback against San Diego.
The Titans are seventh in the NFL in rushing averaging 133 yards per game. It's not so much about quality however, as Jake Locker is the only player with five carries or more averaging four yards per carry. Chris Johnson can still be Chris Johnson so the Jets will still have to be extra cautious filling gaps and setting the edge. Former Jet Shonn Greene will be out with a knee injury.
The wide receiving core is a little out of whack right now. Kenny Britt is as talented as anyone in this league but seems to be out of favor with the Titans coaching staff (and fan base) with drops and attitude problems. In last weeks game winning touchdown drive, Britt watched from the bench as Justin Hunter took his spot and caught the game winning touchdown. The Jets will have to keep an eye out for Nate Washington, Kendall Wright, and tight end Delaine Walker.
Tennessee's Defense
The Titans defense is about three things: blitzing, blitzing, and blitzing. New defensive coordinator Gregg Williams might have a bad reputation for his part in the Saints bounty system but he has done a great job transforming this Titans defense. The Titans are tenth in sacks, tenth in opposing passing yards, and 13 in opponents rushing yards.  Geno Smith will face a big challenge against this aggressive defense.
Safety Bernard Pollard has flourished under Williams' fast, aggressive defense. He leads the team in tackles and has an interception on the year. Linebackers Zack Brown and Akeem Ayers have done a good job getting to the quarterback and tackles D'Brickashaw Ferguson and Austin Howard will look to back-up an impressive performance last week by handling Derrick Morgan and former Jet Ropati Pitoitua on the end.
Chris Ivory is out for the Jets, so Bilal Powell will have a lot of pressure on him.  Coming off his break out performance last week, the Titans will certainly look to keep Powell in check.
How To Win
Obviously, the Jets have to cut down on the penalties by a lot. The 20 they had last week in unacceptable and they will not win if that happens again. I think Jet fans should be optimistic for this week because of the potential to dominate both sides of the line of scrimmage. The offensive line has done a great job opening up holes for the running game, especially as the game has gone on. The defensive line has been nothing but dominating. No one can run the ball against the Jets front seven and the defensive line gets after the quarterback better than almost anyone.
Rookie cornerback Dee Milliner might not be able to play with a hamstring injury. If that's the case, Rex has said the Kyle Wilson will stay as the nickel corner and Darrin Walls will line up opposite Antonio Cromartie, which is the correct move.
Videos
Aaron Rodgers Injury Fallout & Jets/Bills Recap