Jets Upset Falcons, 30-28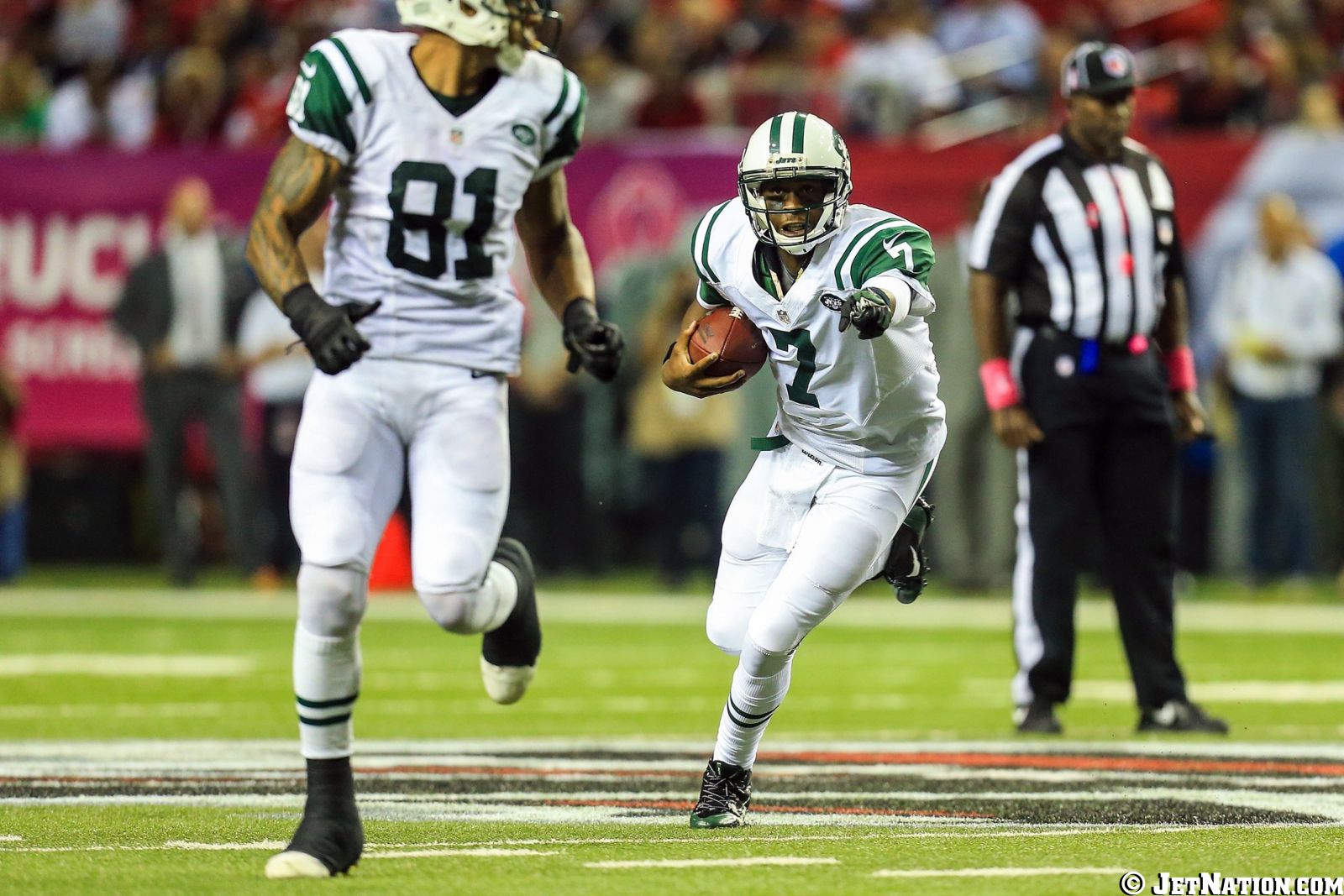 In another game where the experts expected them to get crushed, the Jets went into Atlanta and won a nail biter against the Falcons, 30-28, improving to 3-2 on the season.
The first half was a pretty good half for the Jets, in spite of the fact that cornerback Darrin Walls dropped a sure interception and the Jets forced a fumble that they failed to recover, which allowed Atlanta to advance the ball 40 yards and eventually score a touchdown.
The Jets scored 17 points in the first two quarters, scoring on all three of their possessions, with help from a blocked punt. Quarterback Geno Smith looked sharp, hitting his receivers for long gains, including Jeff Cumberland and Jeremy Kerley for two touchdowns.
The offense also got help from special teams. Antonio Allen blocked a punt, and Clyde Gates finally returned a kickoff out past the 20 yard line.
The Jets defense also made a goal line stand against Atlanta at the end of the half on fourth down, preventing a touchdown with one second left. David Harris, Mo Wilkerson, Sheldon Richardson all played well today, and Antonio Cromartie kept Julio Jones in check. Walls also had a huge game, in spite of dropping the easy interception.
The Falcons came alive in the second half, and took the lead on a long drive where the Jets made a stand on the goal line, but a questionable holding call gave the Falcons a new set of downs to work with, and they led 28-27 with 1:54 to go.
Last week Geno Smith apologized to every defensive player for turning the ball over four times. This week he bailed them out, showing a cool head and making big plays, taking the Jets down the field 40 yards and into field goal range, where Nick Folk iced the game on a 43 yard field goal as time expired.
The best part of this game was easily how everyone contributed on offense. The offensive line protected Smith pretty well throughout most of the game – the fact that rookie Brian Winters' name was barely mentioned is a good thing. Kellen Winslow, Jeff Cumberland, and Jeremy Kerley all caught touchdowns. Newcomer David Nelson had two receptions. Stephen Hill, invisible for most of the night, caught two big passes on the game's last drive. Even Clyde Gates made a big catch. Bilal Powell, Chris Ivory, and Mike Goodson, in his first game back from his suspension, all made contributions on the ground.
And Geno Smith turned off the turnovers. His final line on the night was 16 for 20 for 199 yards with three touchdowns, no interceptions, and no fumbles. His quarterback rating on the night was 147.7.
Even the play calling felt inspired. It was easily Marty Mornhinweg's best game so far as offensive coordinator, setting Smith up to succeed with a great balance of running and passing.
The game wasn't perfect. Smith can't continue to take sacks where he loses so many yards. The defense can't miss so many tackles. It would be great if the defense could force more turnovers, and at least recover the fumbles they force and catch the interceptions that are in their hands. Rex Ryan's first half challenge was bad. They took some bad pre-snap penalties and had some clock management issues. And even though the Jets controlled the game, they still nearly lost it at the end.
But it was definitely their most complete game so far. It was Geno Smith's best game. In a rebuilding season, this game was definitely something to build on.
Next week, the Jets play the Steelers at home. Kickoff is at 1:00.  Be sure to see what Jets fans have to say in our New York Jets forum.
Videos
Was Boomer Right to Blast Becton? Former Jets QB Sounds off Against Jets Tackle.