Featured Editorials Game Previews Home Slider
Jets Vs. Steelers Preview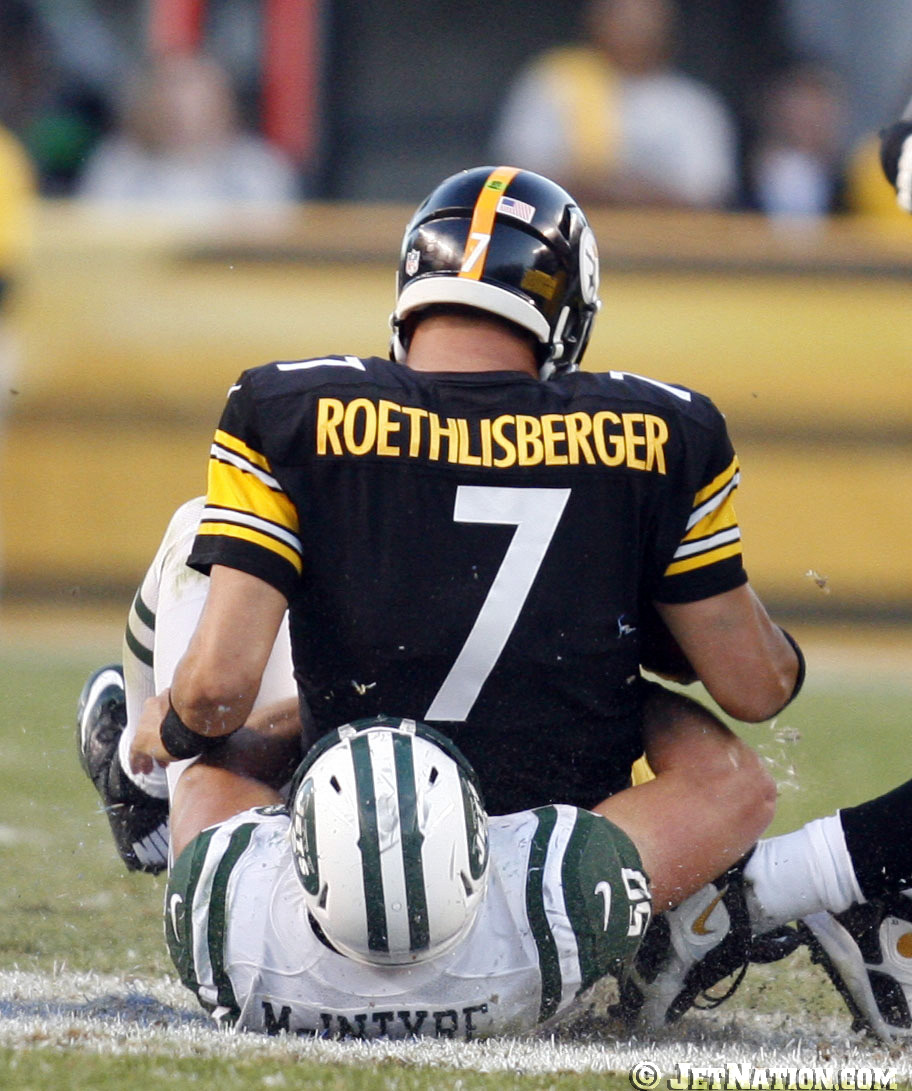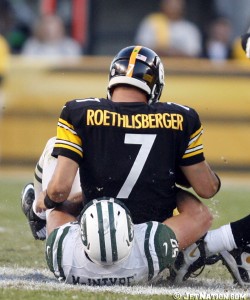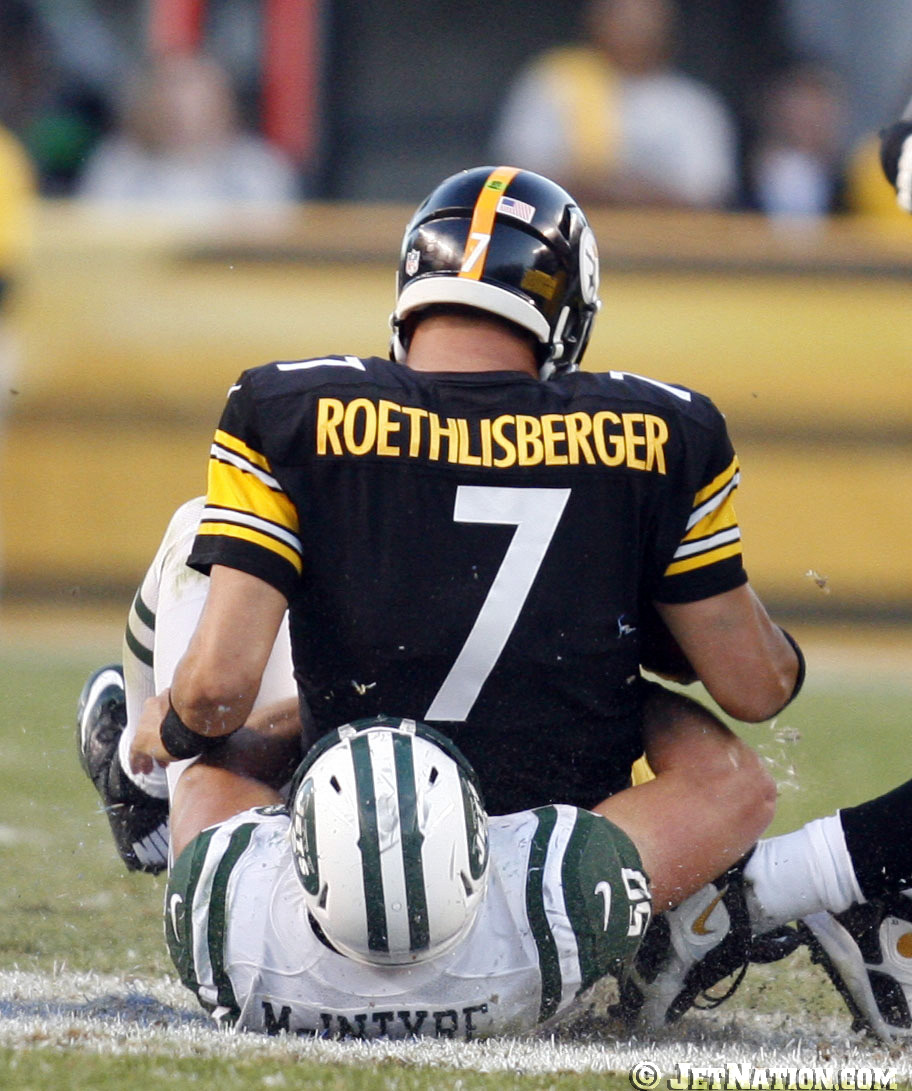 Sunday at 1:00 p.m. will mark the beginning of this weeks match-up as the New York Jets (3-2) will play host to the Pittsburgh Steelers (0-4). This is the first time the Jets have hosted Pittsburgh since the dreadful 2007 season, in a game the Jets miraculously won 19-16 in overtime. You may better remember the week after that when the Jets lost 34-3 and ruined your Thanksgiving. The Steelers are winless on the season but have plenty of dangerous options on both sides of the ball. Lets take a look at the match-ups:
Steelers Offense
The offense is led by quarterback Ben Roethlisberger. Roethlisberger, for the most part, has been the least of the concerns for Pittsburgh, throwing for 1,231 yards and five touchdowns with a 63 percent completion rate. His (and thus the teams) struggles have stemmed from his eight turnovers, which in a way, stems from his offensive line play and offensive philosophy.
Let me explain more.
Offensive coordinator Todd Haley doesn't seem to be too popular anywhere he goes. His mind is in the right place but his communication and unwillingness to adapt his play calling and terminology to what veterans are used to have lead to bad things. In order to preserve the injury-prone Roethlisberger, Haley wants to work through intermediate routes much more, getting the ball out of Roethlisberger's hand quicker and therefore taking fewer hits. With the play of the offensive line (things are so bad they just traded for offensive tackle Levi Brown) it doesn't seem like a bad idea, except Roethlisberger is a great quarterback for his playmaking ability. He wants to extend plays with his legs and throw the ball vertically.
It's not like there aren't dangerous playmakers on the team either. Antonio Brown is as good as a wide receiver as you'll find in the NFL and is considered one of the leagues best route runners. Emmanuel Sanders is a solid and versatile number two option and former Jet Jerricho Cotchery is on pace for his best season since 2007.
Tight end Heath Miller and rookie running back Le'Veon Bell are elements that the offense did lack but now have due to health. Every quarterback needs a safety blanket and Miller is definitely that for Roethlisberger. Bell is a versatile back who looked very good in his first game in London catching the ball out of the backfield and running between the tackles.
But again the problem will be the same. Will the offense open up holes for Bell against a stout front seven? Can they protect Roethlisberger against a vaunted Jets pass rush? Can they avoid the turnovers and make big plays? These are all questions that will be answered come Sunday.
Steelers Defense
We're not exactly dealing with the Steel Curtain anymore, but there are some guys that make this a tough unit. Cornerback Ike Taylor might be the most underrated defensive player of this era, often going one-on-one with the opponent's best receiver. When healthy, safety Troy Polamalu can be a dangerous playmaker. These two guys are a part of the reason the Steelers are fifth in the NFL in passing yards allowed per game with 199.
The Steelers have struggled with their front seven mainly due to misses in the early rounds of previous drafts. Cameron Heyward and Ziggy Hood are serviceable players but are not dominant like you would want them to be. Gone at nose tackle is Casey Hampton and in is Steve McLendon, who hasn't looked too great in his new role as full-time starter. Defensive end Brett Kiesel is now better known for his beard than his playmaking.
Getting to the quarterback has been a huge problem, as the Steelers are ranked dead last in sacks with four on the season. Rookie Jarvis Jones figures to be a pretty solid outside linebacker someday but has been too inconsistent so far. Lamar Woodley has three of the four sacks.
How To Win
I see Atlanta and Pittsburgh as pretty similar teams. Both have dangerous weapons on the offensive side of the football with top-tier quarterbacks and below average offensive lines. Pittsburgh can't get to the quarterback or force turnovers. I'm interested to see if defensive coordinator Dick LeBeau tries to bring extra defenders to get to Geno Smith and put a little more pressure on his stingy secondary.
I thought Jets offensive coordinator Marty Mornhinweg put together one of the best game plans last week in the Rex Ryan era. He asked Smith to make plays while still being able to put his rookie quarterback in a god position to protect the ball. The three headed attack of Bilal Powell, Chris Ivory, and Mike Goodson has finally come together and this should be a good week to get the run game going against a week front seven.
The defense needs to continue to get to the quarterback and they have to wrap up Roethlisberger. When Roethlisberger extends plays bad things happen for his opponents. A few turnovers wouldn't hurt either, something the Jets haven't been able to do a lot of. Not having Antonio Cromartie could be very bad and it sounds like he'll be a game time decision Sunday. If he doesn't go, rookie Dee Milliner and Darrin Walls will have to step up that much more. I thought Walls was very impressive last Monday in Atlanta.
Videos
Aaron Rodgers Injury Fallout & Jets/Bills Recap