Game Recap Home Slider Jet News
Jets Fall To Ravens, 19-3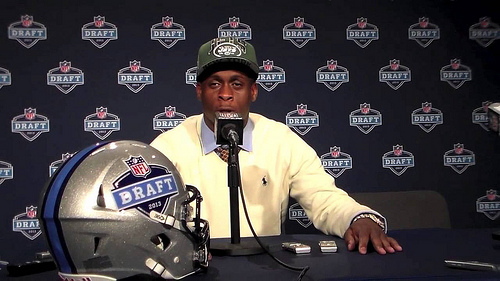 The Jets finally put together two games with the same result in a row – losses. Last week they lost to Buffalo, this week they lost to Baltimore, 19-3, falling to 5-6 on the year.
The Jets have performed poorly in Baltimore recent years, and that continued today. The defense did come to play, for the most part. Corner back Antonio Cromartie was burned for a 60 yard reception and safety Ed Reed was also burned for a long reception and touchdown, but defensively, this wasn't a poorly played game.
The defense had four sacks of Ravens quarterback Joe Flacco. Mo Wilkerson knocked down Joe Flacco after being tripped up by a different Raven, but was still called for the 15 yard penalty. Hopefully, he won't be fined, but Ahmad Brooks' fine for having the nerve to tackle Drew Brees says Mo is probably going to have to cough up some money.
The offense was abysmal. If Geno Smith wasn't showing flashes of complete ineptness, the Jets' wide receivers and tight ends were dropping the ball. The offensive line should find a new line of work. Smith played poorly today, but it's hard to gauge exactly how poorly when the line just stepped out of the way so he could run for his life.
The offensive highlight today was that Rex Ryan finally won a challenge. Santonio Holmes made a difficult catch in the third quarter, which was initially ruled incomplete but was overturned on review. They just couldn't get started at all today, and were 1 of 12 on third down.
Smith's numbers on the day were awful. He was 9 for 22 for 127 yards with no touchdowns and two interceptions and quarterback rating of 22.3. In fact, Smith's entire month of November has been abysmal. He's 23 of 61 for 316 yards with zero touchdowns and five interceptions.
New York's leading receiver was Greg Salas, who caught two passes for 48 yards. He was targeted three times. The leading rusher was Bilal Powell, with 11 carries for 41 yards. On defense, Sheldon Richardson had a big day, with nine tackles, half a sack, and one QB hit. Quentin Coples had the other half of that sack. Wilkerson had two sacks today. Calvin Pace had one today, which was his seventh on the year.
The Jets are, thankfully, not playing on Thanksgiving in front of the whole country this week. They face the Miami Dolphins next Sunday at MetLife Stadium. Kickoff is at 1 PM.
Videos
Aaron Rodgers Injury Fallout & Jets/Bills Recap