Game Recap Home Slider Jet News
Jets Top Raiders, 37-27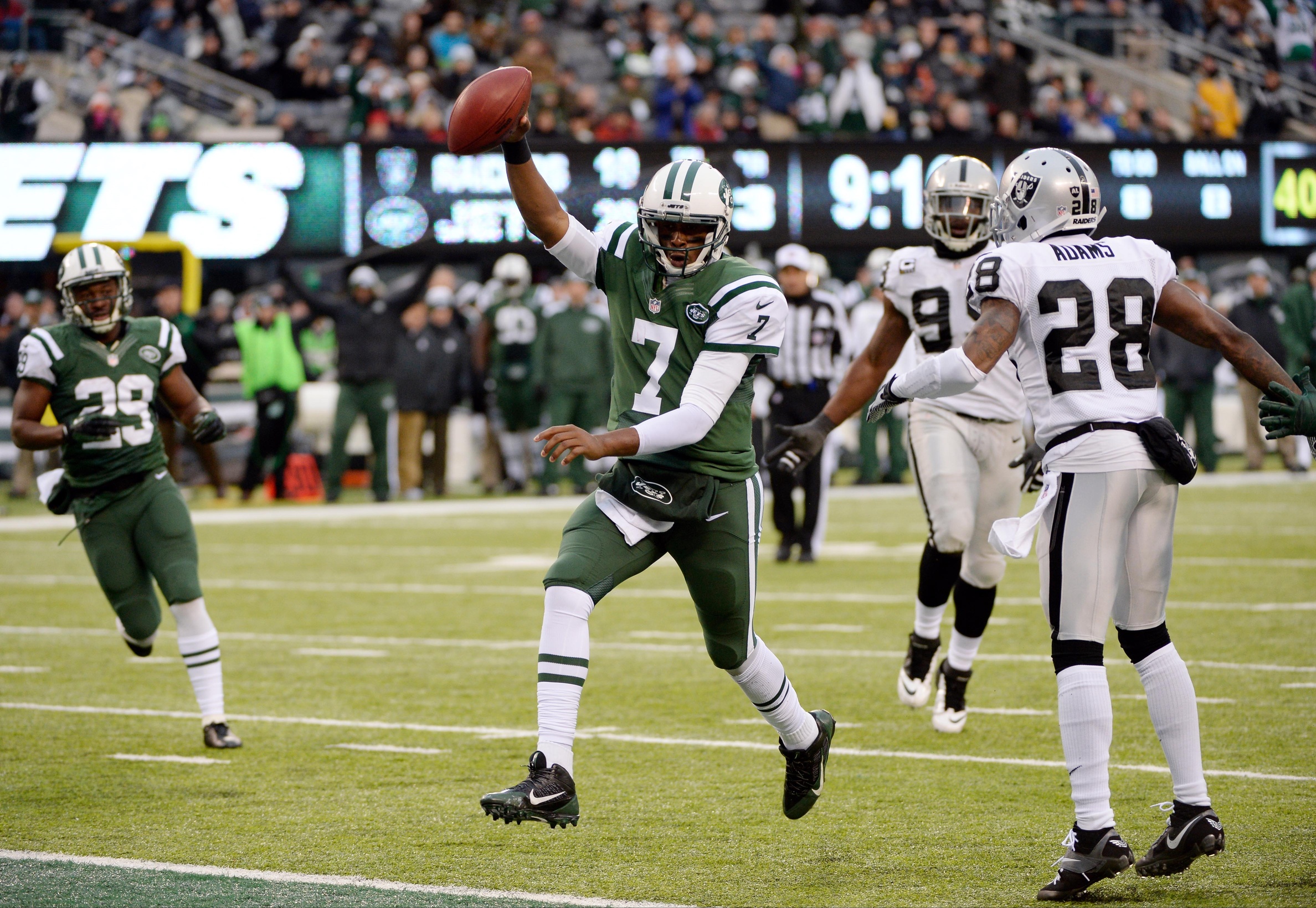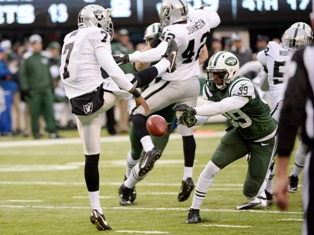 With a rare set of offensive fireworks, the Jets knocked off the Oakland Raiders 37-27 at the Meadowland, improving to 6-7 on the year.
Jets rookie quarterback Geno Smith had his best game in weeks. His final numbers on the day were 16 of 25 for 219 yards, with one touchdown, one interception and a quarterback rating of 88.6. While those numbers aren't great, they are way better than the numbers he's been putting up lately. The offense could have scored more points, but is still anemic – they had to settle for field goals multiple times in the red zone.
Jeremy Kerley made his return for the Jets this week. They are 0-4 without him in the lineup. He had four catches for 41 yards and a good touchdown. Kellen Winslow reappeared on the stat sheet this week, with three receptions for 61 yards. Santonio Holmes was also a factor this game, with three receptions for 55 yards.
The Chris Ivory trade is looking more and more like a good deal for the Jets.  Ivory was the Jets leading rusher, with 18 carries for 76 yards. He's been healthy most of the year and has really become a workhorse for the Jets offense.
The Jets defense performed admirably the first half, but went into prevent the second half, playing coverage more than man to man, allowing Oakland to hang around for most of the game. They gave up some big plays, mostly due to poor coverage in the secondary, but they did make a couple of big ones. Safety Ed Reed, who hadn't been a difference maker up until this point, intercepted Raiders quarterback Matt McGloin in Oakland territory, making a good read on a crossing pattern and nearly returning the ball for a touchdown.
Reed was so busy being aggressive this game that he missed an interception and nailed Antonio Cromartie. Both Reed and Cromartie fell down, and the Oakland receiver ran in for a touchdown. We can laugh about it because it was funny. The fact that it didn't cause the Jets to lose is just an added bonus.
Antonio Allen is emerging as a force, both on defense and by blocking a punt on special teams, recovering the ball in the end zone for a Jets touchdown. Quentin Coples's name wasn't called much, but he seemed to be all over the field, and is showing improvement in his new position. He sacked McGloin late in the game. Calvin Pace also had a sack for the Jets, and Damon Harrison looked impressive late in the game, jumping up to help disrupt a would-be Oakland touchdown in the end zone for at least one more down.
Kick returned Darius Reynaud made his Jets debut today since Josh Cribbs went on IR with an injury this week. Reynaud returned three kicks for 75 yards.
The AFC playoff picture is still muddled, and the Jets are still mathematically alive for a playoff spot, even though their chances of making the playoffs aren't good and a lot of tiebreakers aren't in their favor. They've lost to the Ravens, the Bengals, and the Dolphins, all teams vying for the last wild card spot.
Next week, the Jets play the Panthers in Carolina. Kickoff is at 4:05.
Videos
New York Jets OTA Presser Takeaways, Aaron Rodgers' Impact and Summer Delusion