Jets QB Smith Incident At Airport / Winslow Accused of Lewd Act
In what has turned into a bizarre set of events off-the-field for the New York Jets yet another one has occurred this one involving quarterback Geno Smith.
Apparently Smith was set to fly Virgin America Airlines out of Los Angeles International Airport yesterday at 2:30pm Pacific time to Fort Lauderdale, Florida but he eventually left the plane and was subsequently questioned by airport police and security.
Courtesy of TMZSports:
There are conflicting reports as to why Smith left the aircraft, it is unclear if he left voluntarily or was removed, and later questioned by police. Some reports say he refused to stop using his cell phone after being requested to do so several times.
Eyewitnesses reported that a verbal altercation began between airline officials and Smith before police arrived but Smith departed the airport with no charges being filed.
@JimmyTraina I don't have video, but I'm at LAX and just saw a Geno Smith fiasco yelling at Virgin America workers. Escorted by cops LOL

— Mark Rue (@markyOso) January 17, 2014
The celebrity gossip website TMZSports caught up with Smith as he was leaving the airport but he gave up no information as to why he was leaving.
The Kellen Winslow Jr. Saga:
Things have gone from bad to worse for Jets tight end Kellen Winslow as he was recently charged with possession of synthetic marijuana and is now being accused of committing a lewd act in public:
A witness says she saw Kellen Winslow Jr. "pleasuring himself" in his Cadillac Escalade shortly before the Jets tight end was arrested for possession of synthetic marijuana on Nov. 19, according to a report by East Hanover Township, N.J., police.
Source: New York Daily News / Michael O'Keeffe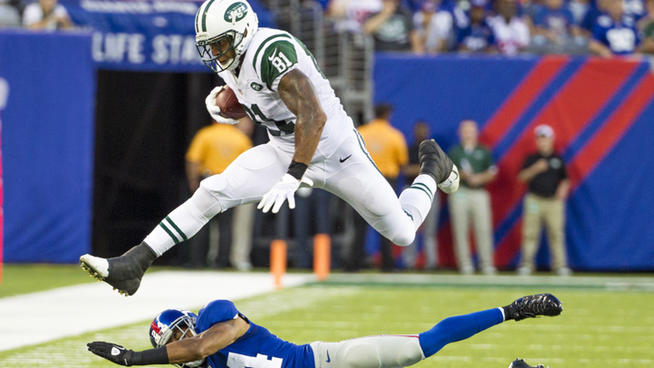 A Winslow representative called the accusation "ridiculous." The tight end had 31 receptions for 388 yards this season but is set to become a free agent in March. Winslow practiced on a limited basis due to knee issues and was suspended four games by the NFL for violating the league's performance enhancing drug policy.
Given all the issues surrounding Winslow it is doubtful he will return to the Jets next season.
Videos
Aaron Rodgers Injury Fallout & Jets/Bills Recap