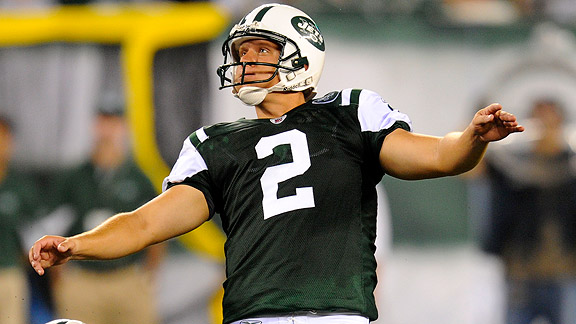 Should the Jets give kicker Nick Folk the franchise tag?
Folk is set to become an unrestricted free agent on March 11 but hitting 91% of his field goals last season makes retaining him a priority. The Jets have until March 3 to use the tag on Folk which would be a contract offer for one-year at approximately $3.5 million. By using this tag any team who signs Folk away from the Jets would have to surrender two first round draft picks. Bottom line, Folk would remain a Jet if tagged and they could work on a new longer term contract until July 15, probably lowering Folks cap cost for 2014.
If the general manager John Idzik and the Jets feel Folk is worth paying the franchise salary he's probably the only candidate to be tagged, otherwise they will allow him to test free agency.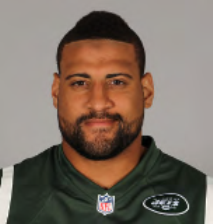 Is the price right for free agent tackle Austin Howard?
The Jets starting right tackle for the last two seasons is set to become a free agent and the franchise tag for offensive lineman ($10 million) is too high for use on Howard. Right guard Willie Colon is also hitting free agency so the thought of losing the entire starting right side of the offensive line is not pleasant. Howard is a solid player coming into his prime turning 27 in March.
It's been reported that the Jets have already entered contract talks with Howard before other teams can bid on him. Howard will definitely garner some interest on the open market so the Jets would be wise to lock him up before free agency, but how much is too much?
Prediction: Howard remains a Jet – (Four years $18 million – $8 million guaranteed)
Will the Jets let defensive lineman Leger Douzable leave via free agency?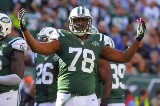 Douzable was a mini-camp tryout who later signed with the team heading into training camp. A versatile defensive lineman who can play multiple positions along the line but used in a situational/relief role. The Jets recently tried out former Dolphins defensive lineman Vaughn Martin which could be seen as a fall back option if the Jets cannot resign Douzable. The Jets might offer a one-year "take it or leave it" veterans minimum deal to the defensive lineman and he might do better on the open market, at least enough to test it out. Even though Douzable is a nice piece to the Jets defensive line his 20 tackles and 1.5 sacks are not irreplaceable. It will be interesting to see if the Jets are willing to go above his minimum to bring the lineman back?
Say goodbye to running back Goodson?
There was lots of excitement about the "homerun" hitting potential when the Jets signed running back Mike Goodson last offseason but things have gone downhill from that point on. Goodson was arrested in May 2013 on weapons and drug charges, went AWOL in training camp, served a suspension and tore his ACL only two games into his Jet career. Still dealing with the legal process and recovering from the knee injury the Jets might want to look elsewhere to replace Goodson as releasing the back saves $1.3 million along with any potential problems Goodson continues to face.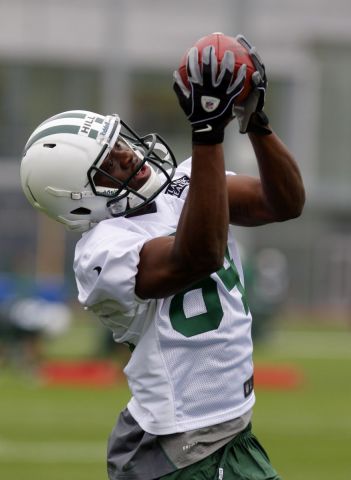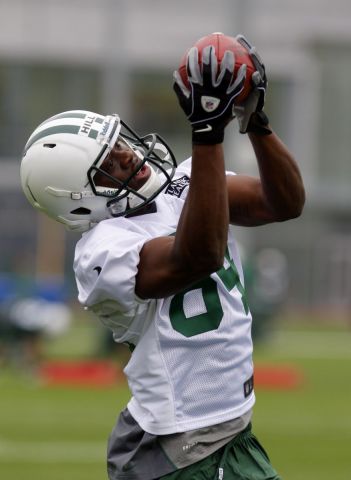 What to do with the forgotten man receiver Stephen Hill?
Since being drafted 43rd in 2012 to say Hill has been a disappointment would be an understatement. General manager John Idzik preaches competition and that is what Hill is likely to face heading into the 2014 season. Whether through free agency and/or the draft the Jets are going to beef up their receiving core. Hill will enter training cap squarely on the roster bubble, wonder if he'll still have a chair when the music stops?