Featured Editorials Home Slider
12 Weeks In 37 Years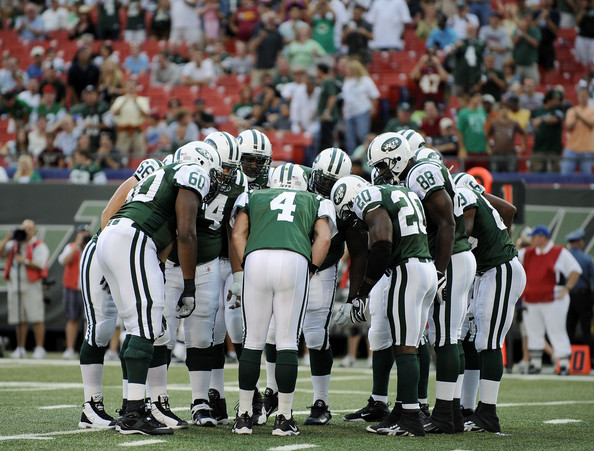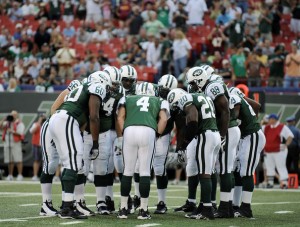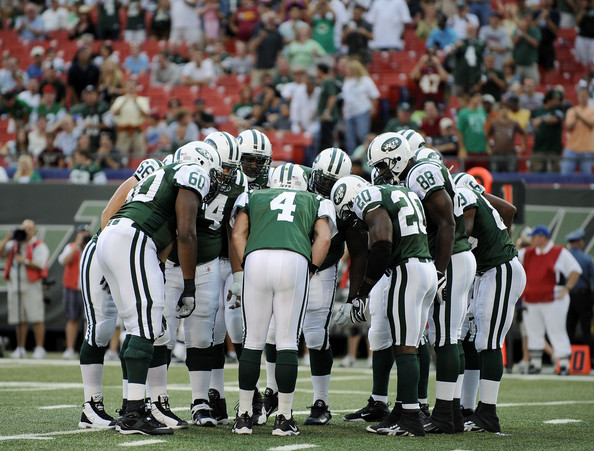 12 weeks in 37 years. There have only been 12 weeks in my life as a New York Jets fan that I really got to enjoy truly great quarterback play. They were the first 12 weeks of the 2008 season and Brett Favre was playing the position like I had never seen a Jet play it my entire life. It was the only time that I ever felt confident that we were going to win, no matter who we were playing and no matter where we were playing, because we had a truly great quarterback.
We've been teased throughout my life. The first of those teases came from a certain Alabama alum – you guessed it – Mr. Richard Todd. In 1981, during his sixth year in the league and his third as the unchallenged starter, Todd seemed to finally be turning the corner. He threw 25 TDS against only 13 INT (great numbers for that era) and led the Jets to a 10-5-1 record after an 0-3 start and their first playoff appearance in more than a decade (and the first of my lifetime.) In the strike shortened 1982 season he was actually even a little better, leading the Jets to a 6-3 record and an improbable playoff run that sadly ended in the AFC Championship Game in Miami (don't get me started.) But the Jets drafted Kenny O'Brien in the first round of the 1983 draft and Mr. Todd did not respond as one would like. In 1983 the man imploded and played like a guy who knew his days were numbered.
We actually didn't wait long for the 2nd tease. Kenny O'Brien's first full season as the Jets starter in 1985 was probably the most promising we've ever seen. The guy led the team to an 11-5 record (the most wins in a single year since 1968,) led the league in passer rating and he went to the Pro-Bowl. Who cares if we got bounced in the Wild Card round? We had a 25-year-old QB who looked AWESOME.
1986 pretty much brought more of the same. Kenny led the team on an amazing 9 game winning streak and a return trip to the playoffs. A minor injury late in the year kept him out for the Wild Card win over the Chiefs but he returned the following week to lead the team to perhaps their most disappointing playoff loss of my life – a loss that led to my Grandfather being restrained from beating up Joe Walton in a bar in Puerto Rico, but that's a story for a different time.
After that, Kenny was never really the same. It was like someone reminded him he was a Division II guy who was probably lucky to be drafted in the first round and he bought into it. He never threw more than 15 TDs in a year after that.
The next 10 years was the worst. We sat through the decline of O'Brien, the disaster that was Browning Nagle and the comedy of errors of the Boomer Esiason/Bubby Brister/Frank Reich/ Glenn Foley/Ray Lucas/Neil O'Donnell era.  And then the next beacon of hope was provided by the unlikeliest of sources…
At the start of the 1998 season, Bill Parcells actually seemed content to start the season with Glenn Foley as his starter, which most of us thought was a great idea since Foley's backup was the unmitigated mega-bust known as Vinny Testaverde. Lord help us if Vinny has to play.
Well guess what? In weeks 1-2, Foley was significantly worse than any of us thought Vinny would even be capable of being. Testaverde got the start in week 3 and was magnificent, tossing 4 TDs in our first win of the year. In week 4, he was even better, throwing for nearly 300 yards and 3 more TDs with no picks in a win over the Pats. And then guess what happened? Friggin' Parcells brought Foley back and he was terrible. So bad in fact that benching him for Vinny in the 2nd half wasn't good enough to give us the win over a Rams team that only won four games that year. Vinny was made full time starter the following week and had the best season we had ever seen a Jet QB have since well… ever. Even Namath never did anything like throw 29 TDs against only 7 INTs.
But sadly, like with all Jets QBs, it couldn't last. It was unrealistic to even believe it would. Vinny was 35 years old after all. Vinny would remain as starter for the next few years after coming back from his Achilles injury. But the next time we would see inspired QB play the likes what Vinny did in 1998 would be by another first round tease – James Chadwick Pennington.
Pennington is perhaps the most frustrating of all Jets QBs. Anyone who says he didn't play brilliantly in 2002 is insane. The guy was amazing. He was fearless. He made throws he was never supposed to be able to make. He fit passes into tiny windows and put them in places where only his receivers could catch them and for a guy who didn't have the strongest arm in the world he was remarkably accurate on deep throws. And then came the Raiders game.
Raiders DC Chuck Bresnahan is not a household name. He didn't have a particularly notable NFL coaching career. But the guy figured out exactly how to stop Chad Pennington and Pennington was never as effective again as he was prior to that day. He played some good football. He even led the Jets back to the postseason in 2004 and again 2006. But he was never the same. The guy who went into New England on a Sunday night in December and played circles around Tom Brady disappeared. I don't think he ever beat a top 10 defense again after that. And keep in mind, he didn't have his first shoulder surgery until February of 2005.
Favre thankfully supplanted Pennington in 2008 and played like a god until his own shoulder gave out in week 13. He "retired" again for a few weeks after that season and the Jets moved on to the butt fumbling Mark Sanchez – we all know how that worked out. I know I said some very nice things about Sanchez early on but most of that was just me wanting him to be the guy so badly. Let's face it, he was terrible.
Which brings us to Geno. Geno wasn't good last year. As a matter of fact, through the first 12 weeks he downright stunk. Sure he flashed here and there but he was only consistent at being inconsistent. He improved dramatically after his benching and led the Jets to wins in 3 of their final 4 games and played pretty well doing it. They actually won those games because of Geno.
But realistically, I don't have much of a reason to believe in him, except that I am a Jets fan and the hope of finding our guy is one of those things that keeps me coming back year after year. I have no faith in Michael Vick. Forget about his off field shenanigans, I just think he's a guy who's never realized his potential because he always relied on his athleticism and now, at 34, he can't rely on that so much and he's never bothered to learn to really be a quarterback.
If Vick starts at any point this season, I think we're in huge trouble. Because it will mean only one of two things – Geno is hurt or worse, Geno wasn't good enough. Which will mean we will all want the Jets to lose enough to get us a good enough draft pick so we can try to find the guy again next year.
I want this search to be over. I want Geno to be the guy. I implore you, football Gods, make Geno the guy.
Videos
Aaron Rodgers Injury Fallout & Jets/Bills Recap