Game Previews NY Jets Training Camp
Jets Colts: Game Preview & Notes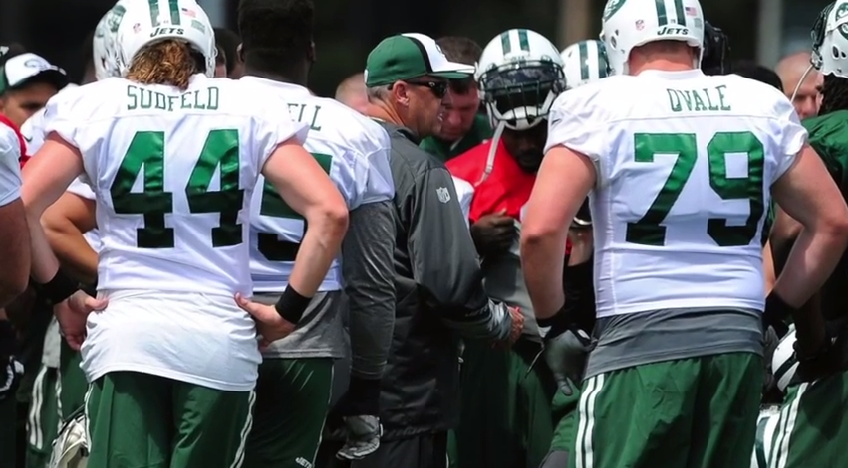 Football is back! Thursday night at 7 p.m. the New York Jets will square off at MetLife Stadium against the Indianapolis Colts for their first preseason matchup.
Head coach Rex Ryan said that he expects the starters to play into the second quarter. Second year quarterback Geno Smith will start with the first team, as expected, but Ryan also said Michael Vick will also likely get a series with the first team offense.
It is important to remember that preseason games are different in almost every way from regular season games. Most players are largely only concerned with staying healthy and getting reps. The preseason may not appeal to Rex Ryan's style of little to no blitzing on the defensive end, either.
There are some things to keep an eye out for. Are there any takeaways we can gather from Geno Smith? Smith struggled with quick decision making for a large part of last season before finishing strong and protecting the ball. It would be encouraging to see him continue to progress, even in the preseason.
Also, without the front seven likely to be forcing Andrew Luck into pressure throws with limited blitz packages, how will the secondary hold up? In what figures to be a stout defense, the secondary could be the Achilles heel. Second year cornerback Dee Milliner finished the year strong and will get a nice preseason test lining up opposite T.Y. Hilton or Hakeem Nicks. Monitoring who plays opposite Milliner could be interesting though. Many expect veteran free agent Dimitri Patterson to start the year but Kyle Wilson, Darrin Walls, and rookie Dexter McDougle will all press for time. Heck, maybe even Ras-I Dowling has the talent level to be a solid corner on this team.
With so many players and so few roster spots, every game matters for fringe players. Running back Daryl Richardson could have a big game against an iffy Colts defense that's very thin at ILB. Richardson was the starting running back for the Rams last year before being waived this offseason and claimed by the Jets. This time of the year will also bring out preseason superstars, like David Clowney and Brett Ratliff. Just try not to get too caught up in the hype.
Other notes: Jets first round pick Calvin Pryor will not play because he is recovering from a concussion…. Colts WR Reggie Wayne is being brought back slowly from offseason knee surgery and will not play… Don't expect much T.Y. Hilton either… Via the Indianapolis Star, no one is sure how long Colts first-stringers will play: "We're going to play it by ear," Pagano said. "You never know what's going to happen. We'd love to see, in a perfect world, them go out there and have a six, seven, eight-play drive and score a touchdown, kick the PAT and then make a decision whether to get them out of the game."… Jets rookie WR Shaq Evans will not play due to a shoulder injury, which could land him on IR… NFL Network will re-air Jets-Colts Friday at 1 p.m. and Saturday at 3 a.m. for those who miss it.
Videos
New York Jets OTA Presser Takeaways, Aaron Rodgers' Impact and Summer Delusion