Featured Editorials Home Slider
Is This Team Stuck In Neutral?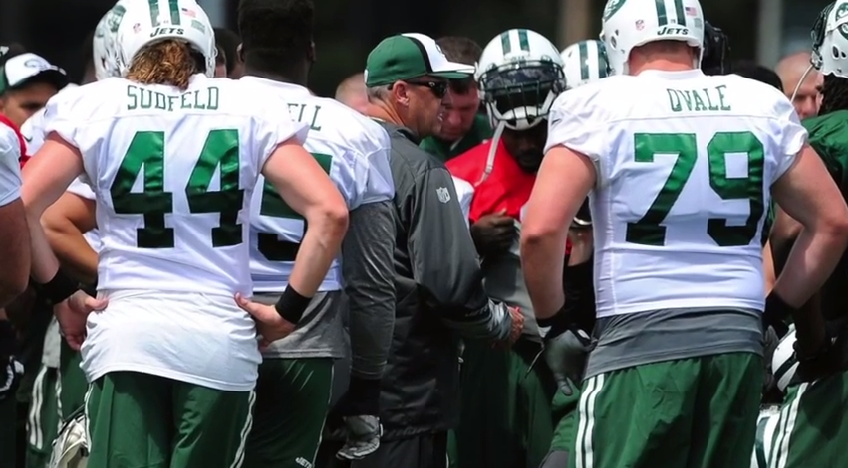 So preseason game number two on Saturday had some good things to take away from it but left me with more questions than answers.  The biggest concern for me at the start of this game was the defense.  Did they forget what time the game started?  They showed up about 20 minutes late when the second quarter was already underway.  There was no pressure on Bengal quarterback Andy Dalton at all in the first quarter.  He was able to go 8/8 for 144 yards in the first quarter and the 39 pass play that Antonio Allen got toasted on by A.J. Green was horrible.  They did start to play as I said into the second quarter and the most exciting part of the defense on Friday was first round pick Calvin Pryor and Demario Davis.  Pryor made two spectacular hits which was so exciting.  The Jets have never had that punishing Safety they have always needed and Davis's quarterback sack caused a turnover.
On offense the running game continues to be the strength of Gang Green.  Most importantly I like how this committee approach is starting to take shape.  Chris Johnson has such great acceleration and I feel he is gaining more confidence on each carry.  Bilal Powell has become a formidable back and can be used in situations just as dominant as Johnson.  The 12 yard run he had in the first quarter on 3rd and 15 and the 33 yard run in the second quarter for a touchdown were fantastic and gives defenses something else to prepare for.  Even Daryl Richardson looked good even though it wasn't against the starters.
What was the deal with the offensive line though?  They were uncharacteristically horrible with penalties, many of the 15 yard variety.  It started with Willie Colon and then Brian Winters lost his mind and was flagged for holding and also unsportsmanlike conduct in the second quarter.  He carried on into the third quarter with another penalty as the offensive line played a very sloppy game.
As for both quarterbacks, they were shaky at best.  I loved the play action call on the first play of the game to stretch the field.  That should have given Geno Smith some confidence that Marty Mornhinweg believes in him but instead Smith reverted to his usual tendencies.  He still doesn't seem comfortable in the pocket as he tries to scan the entire field for his reads.  The first quarter saw an offense that went 0-2 on third down conversions.  The interception he threw was not even close to David Nelson.  In my opinion the brightest spot for Geno Smith was his running.  In the second quarter when he had no available receivers he was able to tuck the ball and run for positive yardage.  He also made a very nice fake to get the entire defense moving one way while he ran the ball in for a touchdown later in the game.
These receivers are a work in progress but I continue to love the play of Jeremy Kerley.  He has great feel for catching passes over the middle in stride which usually means first downs.  I wanted to really believe in Stephen Hill three years ago when he was drafted but he continues to make dumb mistakes.  The 15 yard penalty he received in the second quarter was inexcusable! I know he did catch a ball for a first down on a 3rd and 16 play but he is way too inconsistent to be relied upon at all.
Game three is Friday night against the Giants where let's hope to see the offense continue to come together and the defense to play from the beginning as they should.
Videos
Aaron Rodgers Injury Fallout & Jets/Bills Recap