Game Previews Home Slider Jet News
Jets vs. Giants Preview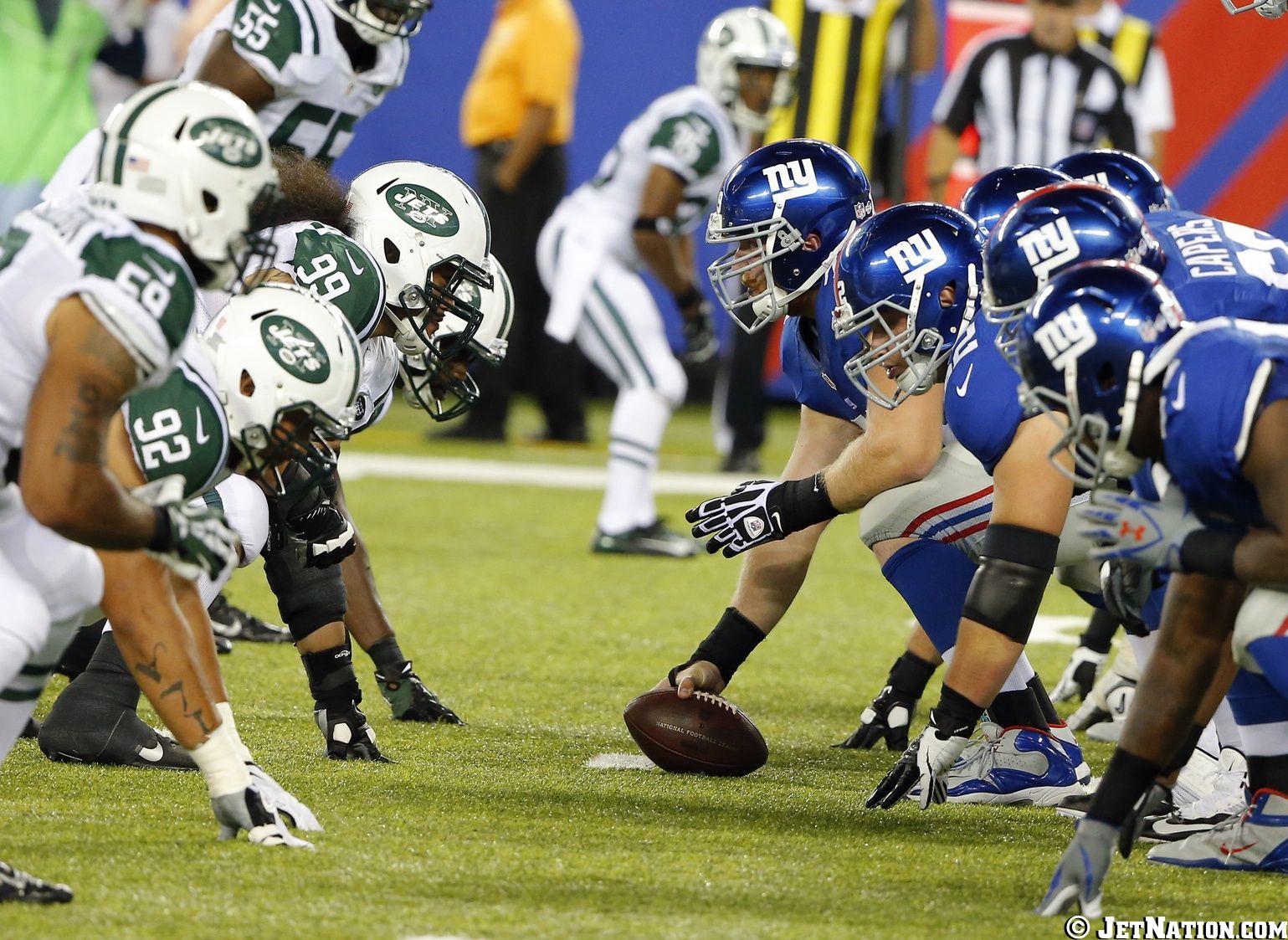 Tonight, the New York Jets will square off against the New York Giants in what is dubbed as the "Snoopy Bowl." The game will start at 7:30 and can be viewed locally on WCBS and will be replayed on NFL Network Saturday morning at 10 a.m. Jets fans will be discussing the game in our NY Jets game thread.
It has been a struggle for the Jets first team defense. Last week Andy Dalton carved up the Jets going a perfect 8-8 for 144 yards and a touchdown. It's hard to fault the Jets secondary entirely– they were without their top three corners. However, there is no excuse for the lack of pressure the front seven has forced.
The Giants haven't been without their struggles either. The talk of the Giants offseason was getting Eli Manning's completion percentage near the 70 percent mark. The early results? Manning is just 7-16 for 49 yards and went only 1-6 in last weeks game against the Colts.
Friday is shaping up to be the unstoppable force (the Giants pass offense) versus the immovable object (the Jets pass D). Who will come out on top and be the kings of New York?
Storylines
-Secondary help? Dee Milliner (ankle) will continue to sit as the Jets hope he will be ready for week one. It's unknown if Dimitri Patterson (leg) will give it a go. Patterson played in the first preseason game against the Colts and had a tough go at things. It would be comforting not only for the fans but for the coaching staff if Patterson could play tonight and play well.
Antonio Allen, all things considered, held his own on the outside last week. He did give up a long reception to A.J. Green but even that could be justified with the nice push off Green had. It's unsure if Allen will continue to play on the outside. In Thursday's practice, Allen was in the slot with Darrin Walls and Ellis Lankster on the outside and Dawan Landry and Calvin Pryor at safety. Pryor was very impressive in his Jets debut last week.
-Moving the ball: If there was one positive to take away from last week, it was Geno Smith and the protection he received. Smith finished 10-13 for 98 yards with an interception and a rushing touchdown. While you do want to cut off the turnovers, a timing mistake like what we saw with Smith and David Nelson can be fixed as the offseason continues. Smith looked poised and threw some darts with good pass protection.
–Decision time: The third preseason game is always considered the biggest tune up for the regular season. This means some fringe players looking for playing time (or a roster spot) have to put up or shut up. This means you, Stephen Hill. Having Eric Decker (leg) healthy means less opportunities for Hill to be on the field. It is of my opinion that Hill has been outplayed by Greg Salas so far and needs to show more to warrant playing time.
-Battle brewing? One of the most under-the-radar scenarios from last week included outside linebacker Quinton Coples. Coples played only 15 defensive snaps to Jason Babin's 31. Also, Babin played with the first team defense over Coples in practice this week. Is it a message or more than that? Are the Jets losing faith in Coples, who has had an underwhelming offseason? Was the move to outside linebacker a bad idea?
-Injury report: Giants first round pick Odell Beckham Jr. (hamstring) will sit. So will wide receiver Trindon Holliday (hamstring) and linebacker Jon Beason (foot). The status of Dimtri Patterson is unknown. Tight end Jeff Cumberland (Achilles) is questionable. Don't expect to see rookie wide receiver Jalen Saunders, who is still recovering from a car accident last week.
Clean it up: Last week the Jets had 12 penalties for 133 yards, many of which were from scraps after the whistle. It's okay to be the tough guy on the field, but the Jets have to be smarter about it. Rex Ryan has not said how long he expects the starters to
Videos
Aaron Rodgers Injury Fallout & Jets/Bills Recap