DENNIS BYRD'S INJURY THROUGH THE EYES OF MARVIN WASHINGTON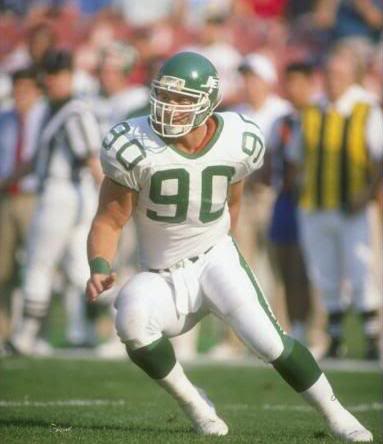 By Glenn Naughton
Any fan who has followed the New York Jets over the past several decades can attest to the countless moments of heartbreak that the Jets have delivered time and again for so many years. Numerous games that fans wish had never taken place or plays that they wish were never called. There was the fake spike against Dan Marino's Miami Dolphins, Doug Brien missing two late FG's in the playoffs against the Steelers, Mark Gastineau's roughing the passer penalty that cost the team a potential Super Bowl appearance, Vinny Testaverde's ruptured achilles on opening day in 1999…and the list goes on and on. Of all the incidents one can recall, no moment was harder to sit though than watching a young Dennis Byrd crash to the turf in the Meadowlands in an otherwise meaningless week 13 game against the Kansas City Chiefs on November 29th, 1992.
The Jets entered that game with a 3-8 record, and Byrd was one of the few bright spots on a roster that was short on talent and long out of the playoff hunt. A young defensive end, Byrd had amassed 27 quarterback sacks over his first three seasons and was viewed as a player that the franchise could build around. That one play however, brought any such thought to a screeching halt. On a 3rd down and 9 play in the third quarter, the Chiefs called a pass play for. Byrd had come off the edge and beat his man in what was sure to be a sack of quarterback Dave Krieg. Scott Mersereau, Byrd's fellow lineman had done the same on the opposite side from the defensive tackle position. As the two converged on the quarterback, Krieg stepped up in the pocket, leaving nothing but air between the two defenders. Mersereau went high, Byrd went low, and when Byrd's head slammed in to Mersereau's chest, he immediately crumbled to the ground and lay motionless in front of a stunned home crowd. Trainers, doctors and EMT's rushed to Byrd's side while his teammates looked on. Among those teammates was fellow defensive lineman Marvin Washington, who was one of Byrd's best friends. Washington, like Byrd, was selected in the 1989 draft, Byrd in the second round and Washington in the 8th. In part III of his exclusive JetNation.com interview, Marvin Washington takes the time to share his memories from that fateful day.
GLENN NAUGHTON: When you were on the field, and that play unfolded, at what point did you realize that it's not just a "stinger" or something minor, when do you realize that this is something serious?
MARVIN WASHINGTON: Well, I remember that play and we had a call on where the ends looped inside and the tackles looped outside and it worked pretty good. They almost got the quarterback but they missed him. I see Dennis on the ground and I run over to him and just said "come on man get up" and he looked at me and he said "I can't". I asked him what he meant and he just said "I can't move". "I just backed up, in shock, and I started crying. Dennis was a guy, we came in together, we were roomates.  I knew how tough Dennis was, and to go from that to Dennis saying that, it's one thing I've never heard a guy say on the field. I've heard 'let me catch my breath' or 'get the trainers' but I've never heard somebody say 'I can't get up, I can't move' and to this day, it was my hardest moment in professional football.
GN: What was the feeling in the huddle? Was it surreal?  Were you guys able to focus after that?
MW: No, we couldn't do it. I was crying and then you try to focus in. We stopped the Chiefs and went back to the sideline, and nobody was saying anything. And we just wanted to know if anybody had heard anything. I remember walking in to the locker room and everybody was just quiet and they gave us some updates that Dennis was going to Lennox Hill and that he was paralyzed. There obviously wasn't any talk about the game and we all just prayed together. I just showered and got dressed. I really wanted to make it to the hospital but it was hard. I knew his wife and she was at the game, and they'd actually just found out she was pregnant. So, with all the hell she was going through, it was just a lot of emotions coming out but that's when real life comes in to professional sports. Normally, you blow out a knee, break your arm or sprain an ankle, I've seen all that and the guys in the locker room just say "hey, it's part of the game", but to be paralyzed, for a young guy like that with a family, it's just something that was surreal and something you don't deal with on a regular basis and I hope nobody has to go through what we went through that day.
GN: So when did you get to finally see Dennis and what was that like?
MW: Again, it was surreal. I remember he was in the Intensive Care Unit and they were going to do surgery the next day but he already had the halo on and he was praying with his family the whole time. We were all just praying and crying together. I don't wish it on anybody and it's the toughest thing personally that I've been through up until my father passed away many years ago. But Dennis, that was a tough deal. He's 25 and a football player and you think he's invincible. When he's one of your best friends and you know how tough he is, it was a tough deal.
GN: After that injury, you guys were a 3-9 team that went on the road and beat the eventual AFC champion Buffalo Bills. What was the preparation like for that game, and also the game itself?
MW: Yeah, we went through the week of practice and prepared. We tried to make it as normal of a week as possible but I remember everybody was going to visit Dennis in the hospital that week. I went every day that week and we told Dennis that we were playing that game for him. I know Brian Washington had a monster game that day, I made a couple of plays and that game really showed me that a team really can rally and come together. We had no business beating Buffalo. They went to the Super Bowl that year and the previous year. We beat them but we were playing on pure emotion. That was great to go to the hospital and give Dennis the game ball and let him know that we put it on the line for him.
GN: When both teams took a knee and prayed together at mid-field, what was that moment like?
MW: It was spontaneous, but it was a brotherhood of the NFL and the kinship of the NFL. It was a very touching, classy thing for them to do because they didn't have to do it. But, they did it and even though we compete against each other, we're all a band of brothers in the NFL. One of our comrades was down and I thought it was a touching, classy thing to do.
GN: Dennis had his number retired by the Jets a few years ago, can you talk about his place in the organization's history?
MW: The way he has been honored by the jets has been great, and I know Rex Ryan had Dennis come in at one point around 2009-2010 to talk to the team. I think the team needs to know the history of that period and of Dennis. If Dennis hadn't gotten hurt, I think he was on his way to multiple pro-bowls. Dennis Byrd could play, and he was one of the best young players in the NFL. He was a hell of a player and because of the injury sometimes people overlook that. I think the appreciation for what a great player he was gets lost. On the football side, if you talk to anybody who played with him would tell you what a great player he was. I used to love watching him in practice during his one-on-one drills. He was fundamentally sound with great hands, great balance, and great strength. It's just so unfortunate that the injury happened but I believe everything happens for a reason and I'm glad to see that Dennis has gone on to bigger and better things.
JetNation.com would like to take the chance again to thank Marvin Washington for his time and reflection on his time with the New York Jets as well as his involvement with Kannalife sciences in an effort to improve the quality of life for current and past NFL players.
Videos
New York Jets OTA Presser Takeaways, Aaron Rodgers' Impact and Summer Delusion