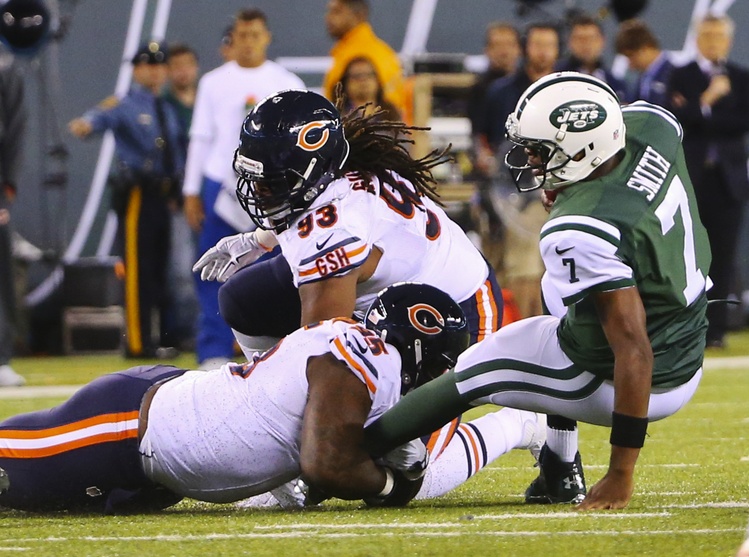 The old saying in football is that the team that loses the turnover battle will lose the game. For the first 5 minutes of Monday night's game the Jets seemed intent to prove that. This game consisted of missed opportunities for the Jets and this offense. The pick six thrown by Geno Smith on the second play of the game and then a muffed punt gave the Bears great field position for their second touchdown. The team ended the night with 3 turnovers to the Bears one which proves the point about the turnover battle. The offense must protect the football.
This unit still hasn't found their rhythm. They had six trips into the Red Zone last night and only scored one touchdown. That won't get it done against teams in the NFL especially when Jay Cutler has the most Red Zone touchdowns this season with eight. Geno Smith did have his second highest career passing game with 316 yards but again he had two interceptions to go along with that performance. His four so far this season are tied for the league lead. The running game never fully got on track as well. Chris Ivory is such a "bull" and seemed to have the hot hand last night. The offense may have been better served to keep feeding him the ball and let him pound his way to points. He only rushed 10 times but had 44 yards and another 52 yards receiving.
This team didn't give up and even though they played from behind the defense kept them in the game. Bright spots for the Jets last night continued to be the "Sons of Anarchy" , Wilkerson, Richardson and Harrison which John Gruden called them. They kept the game from getting out of hand quickly and had Cutler on the run all night. On offense Jeremy Kerley is becoming an elite slot receiver and go to playmaker for Geno Smith. He ended the night with 7 receptions for 81 yards and a touchdown while taking a big hit.
The Jets now find themselves at 1-2 and next week doesn't get any easier with Detroit coming to MetLife. They dominated a Packers team on Sunday and have a very formidable defense. Let's hope the offense continues to improve this week and we have less missed opportunities against the Lions. They will need to get better if we want to end September at 2-2. What do you think?