Game Previews Home Slider Jet News
Jets Patriots Preview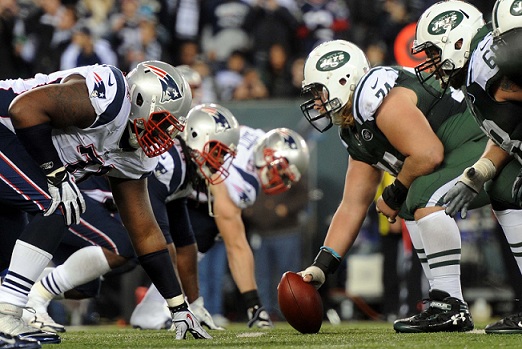 Thursday night football comes to Foxborough for the second straight year when your New York Jets (1-5) take on the Patriots (4-2). The game will begin at 8:20 and will air on NFL Network and CBS.
It's do or die time if the Jets want any chance of salvaging their season. Last week's 14 point loss to the Broncos made it five straight for the Jets. The Patriots won their second straight game with a 37-22 score in Buffalo.
The Patriots obviously bring a lot of different challenges to the table. Quarterback Tom Brady might not be in the peak of his career but is out to prove he can still spin it. On the year, Brady has a completion percentage of 62.7 with 1,444 yards, 10 touchdowns and two interceptions.
There are a few weapons the Jets will have trouble containing. Tight end Rob Gronkowski is renowned for his size and ability in the red zone. He's a match-up problem for anyone. Last year, the Jets put safety Antonio Allen on Gronkowski and he did as well as he probably could, limiting Gronk to 8 catches for 114 yards but on 17 targets.
Of course, there is also wide receiver Julian Edelman, most effective out of the slot. Last year Edelman caught 18 passes in two games against New York. Besides Edelman, the Jets should look out for wide receiver Brandon Lafell and tight end Tim Wright.
The Patriots defense is led by old friend, cornerback Darrelle Revis. Revis has had some struggles but seems to be back in old form. More than anything, it had to do with use. Revis is at his best when he shadows a team's best receiver in man-to-man coverage, pressing at the line.
The Patriots secondary is more than just Revis. Former Seahawks cornerback Brandon Browner is back from a PED suspension. Logan Ryan and Alfonzo Dennard have proven that they could play more significant roles at a high level if needed. They're also aided by great pas rushers like Chandler Jones and Rob Ninkovich hurrying the quarterback.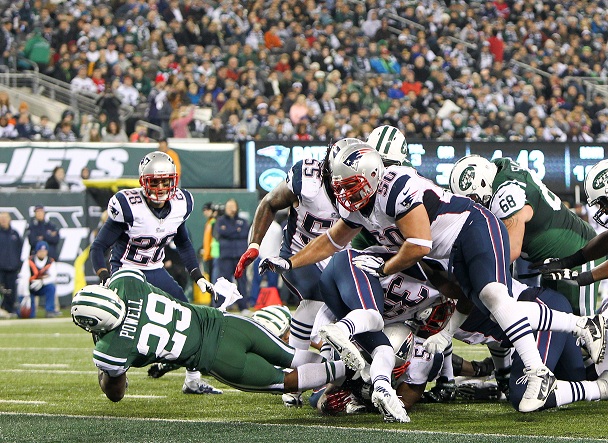 This is not to suggest the Patriots are invincible on either side of the ball, they have two losses for a reason. The offensive line play has left more to be desired for. In both losses, their opponents (Miami, Kansas City) had two defensive lines that got after Brady. The Jets certainly have this capability, especially to disturb up the middle.
The Patriots offensive line is not a healthy one. The Jets front seven is too talented to not abuse backup lineman, and they'll need to with cornerback Dee Milliner (achilles) out for the year.
Furthermore, running back Stevan Ridley (knee) is out for the season, making things that much more difficult for the Patriots running game.
On defense, the Patriots will be without linebacker Jerod Mayo. Mayo is not only one of their best linebackers in pass defense but will create a gap in run defense up the middle. The ability for the Jets to pound the rock is there.
The Jets have their own issues to settle too. The Jets are a team that would like to, and would benefit from, running the football. They have a talented back in Chris Ivory and two other guys in Chris Johnson and Bilal Powell who have talents to take advantage of. However, the offensive line play has to improve… greatly.
Effective rushing teams live and die with interior line play. Quite frankly, the guard tandem of Brian Winters and Willie Colon has been bad. Winters (knee) is out this week and will be replaced with Oday Aboushi.
Offensive line play in general needs to improve. Geno Smith might have his shortcomings, but they are only amplified when facing constant pressure. The play needs to improve, and they could perhaps be assisted with tight ends chipping defensive ends at the line of scrimmage and New York constantly having a back (like Powell) to help in pass protection.
Last week was rookie tight end Jace Amaro's breakout after his ten catch, 68 yard performance that included a touchdown. The Jets showed some offensive progress with Amaro being used more and Decker back in the lineup. However, it is concerning that Jeremy Kerley and Jeff Cumberland have all but disappeared from the offense. Wide receiver Greg Salas (wrist/ankle) is out.
Beating the Patriots on the road on a short week will be no easy task but a doable one.
Videos
Aaron Rodgers Injury Fallout & Jets/Bills Recap