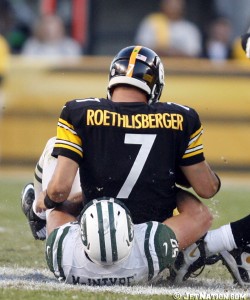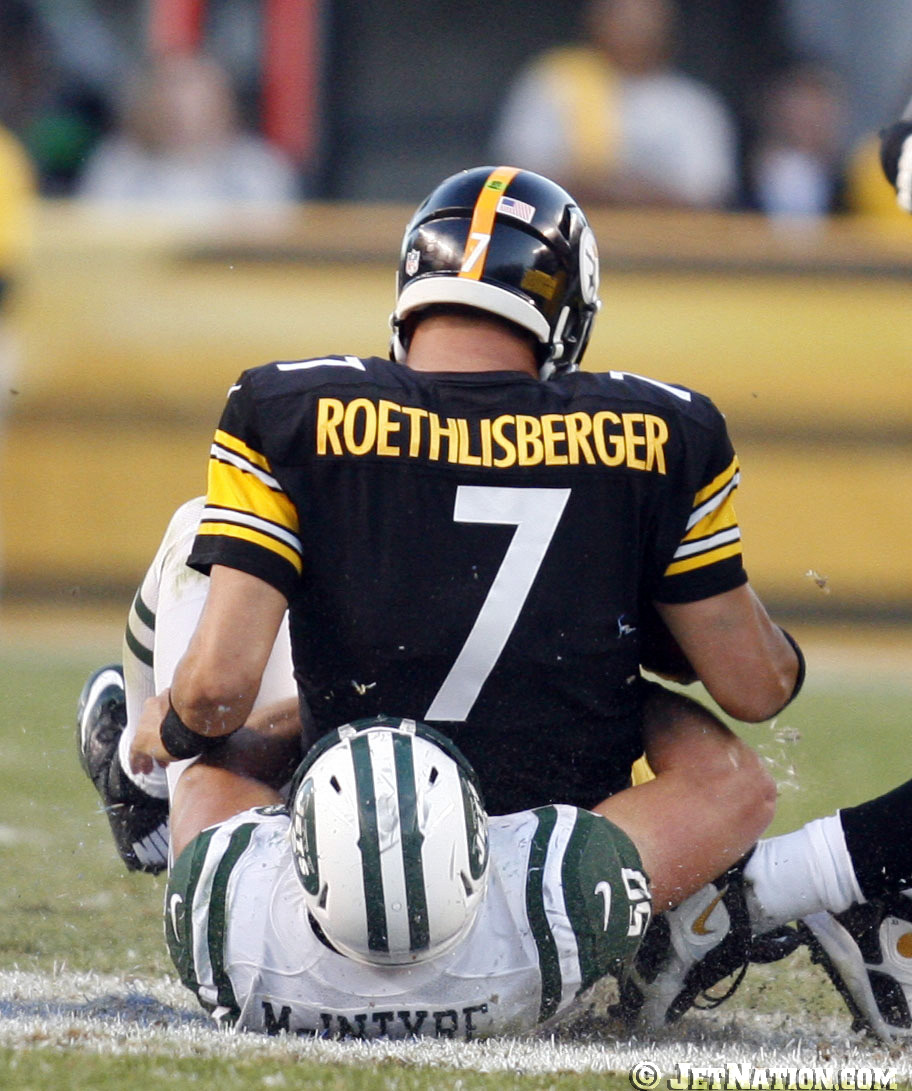 Sunday at 1 p.m., your New York Jets (1-8) will return home to take on the Pittsburgh Steelers (6-3). The game will air on CBS. The Jets are coming off a 24-10 loss at Kansas City while Pittsburgh reeled off their third straight win when they defeated Baltimore 43-23.
It's been an inconsistent season for the Steelers but they appear to be hitting their peak. After losing to Cleveland 31-10, they squeaked by the Texans before putting up 51 points against Indianapolis and 43 points against Baltimore. In those last two offensive outbursts, quarterback Ben Roethlisberger has thrown for six touchdowns in each game.
A number of different factors led into the Steelers offense clicking. A talented offensive line has finally stayed healthy and is giving Roethlisberger a lot of time to find his targets. The addition of rookie wide receiver Martavis Bryant has also been crucial. Bryant is a big, speedy receiver who missed the first six weeks with a foot injury. Since his return, Bryant has five touchdown catches and is averaging 16.7 yards per reception. Bryant is excellent in the red zone but you also have to respect his ability to run by you.
Roethlisberger also has arguably the best wide receiver in football to throw to. Antonio Brown already has 71 receptions for 996 yards and eight touchdowns on the year. The Steelers will get their offense moving with a lot of screen passes to Brown. Brown is regarded as one of the best route runners in the league.
Second year running back Le'Veon Bell has also hit his stride, becoming one of the top overall backs in the league. Bell is an incredibly patient back that, despite missing some time, has 711 yards rushing and an average of 4.7 yards per carry. LeGarrette Blount is their change of pace guy who can bruise up a defense.
The Steelers have had the talent all year. Besides the guys listed above, tight end Heath Miller and wide receivers Markus Wheaton, Lance Moore, and Justin Brown round out a deep roster. The biggest change has come with the shift in their offensive philosophy. Offensive coordinator Todd Haley has been heavily criticized in his time in Pittsburgh but has recently shown a willingness to open things up. Pittsburgh letting Roethlisberger take more shots down the field and run up-tempo has proven greatly beneficial.
The Jets defense will have its hands full. Roethlisberger has a tendency to hold onto the ball for a long time to try and create plays. The Jets defense not only has to get to Roethlisberger and force the ball out of his hands, but wrap him up when they get the opportunity. His nickname of "Big Ben" is well earned; he's incredibly tough to bring down.
I'd also like to see the Jets secondary challenge the Steelers receivers. Even if Pittsburgh has shown a willingness to go down the field more, a lot of their offensive game is screen passes and intermediate routes. The Jets cannot simply just give the Steelers free yards and play into their hands.
The Jets offense wasn't terrible last week against Kansas City but still only managed 10 points. New starter Mike Vick was efficient, going 21-of-28 for a touchdown and no interceptions but the Jets failed to sustain drives.
The Steelers have a susceptible defense. The combination of Chris Ivory and Chris Johnson (who ran very well last week) should be used often. The Steelers will be without rookie linebacker Ryan Shazier and safety Troy Polamalu, two of their top playmakers and run stoppers. Cornerback Ike Taylor is also expected to be out this week, which could open up the Jets offensive weapons. Both Percy Harvin and Eric Decker had nice games last week, but the Jets have to try and move more vertically down the field. Also, more Jace Amaro would be nice.
For as confident I am in the Jets offense to be able to move the ball against Pittsburgh, I'm equally afraid of the defense. I am confident Rex Ryan will put a solid game plan together but the Jets secondary situation is just so, so bad against one of the best aerial assaults in the league.
As some have recalled throughout the week, there was a game very similar to this in 2007. The then 1-8 Jets hosted a 7-2 Steelers team and beat them 19-16 in overtime. This 2014 team is talented enough to win some games and maybe this will be one of those weeks.