Game Recap Home Slider Jet News
Jets Defeat Steelers 20-13, Jaiquawn Jarrett Shines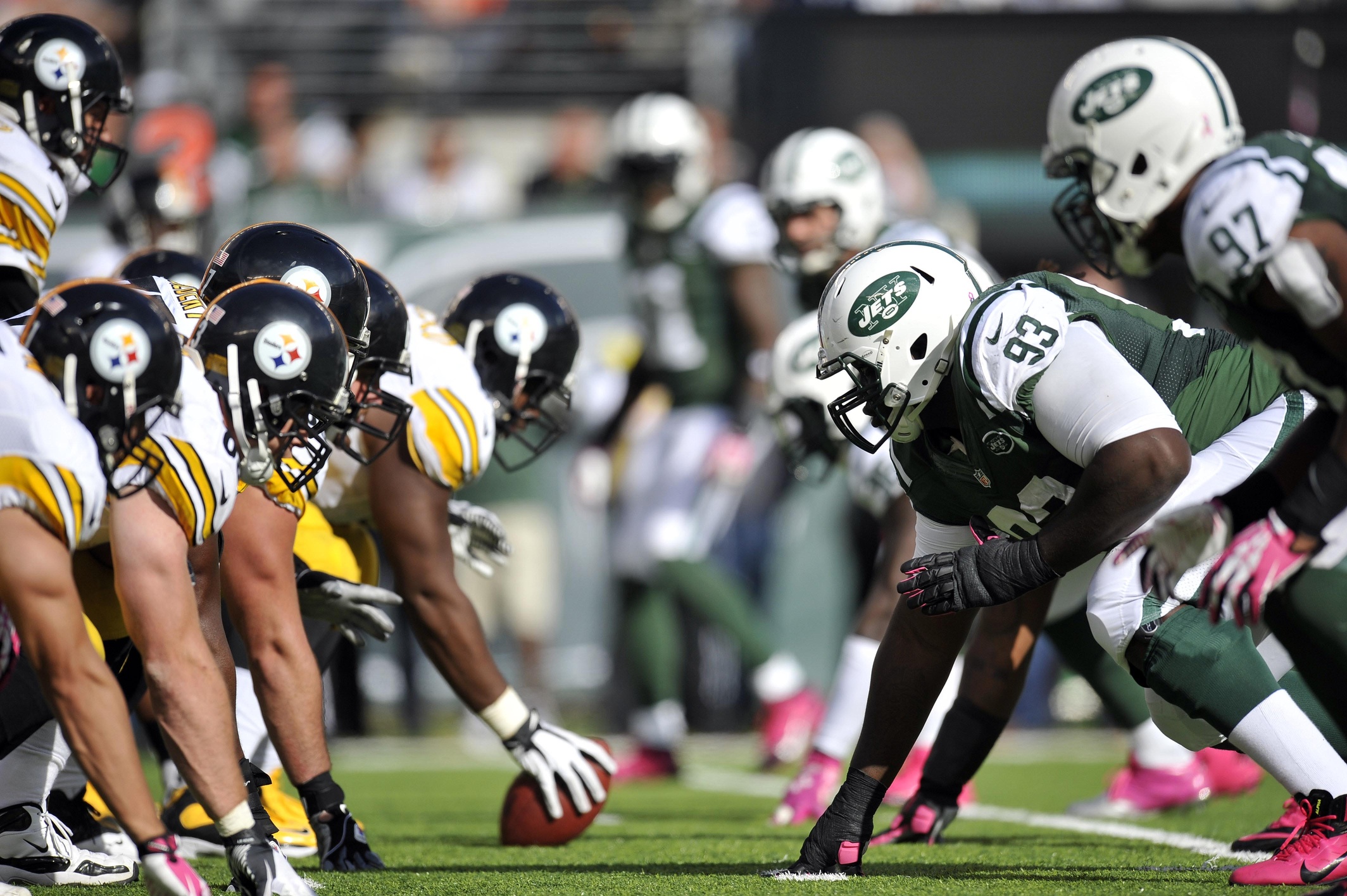 It was a recipe for disaster.
Ben Roethlisberger, coming off back to back 6 touchdown games, was set to lead the Pittsburgh Steelers into New York to face a Jets team coming off 8 straight losses. With a terrible secondary, it was easy to predict that this Jets team would be lit up by the Steelers red hot passing attack.
The outcome was, instead, something that almost no one expected.
The New York Jets defeated the Pittsburgh Steelers 20 to 13.
On the first offensive play of the day, Percy Harvin rushed for first down. A Chris Johnson screen pass resulted in the second first down of a drive that had 6 in total. Despite an impressive first drive that ate up 7 minuets and 52 seconds and accounted for 72 yards, Vick could not connect with Kerley on third and goal. The Jets were forced to settle for 3.
During Pittsburgh's first possession, the Jets were able to force Big Ben to take a time out on 3 and 15. It was a chance for New York to build some momentum, and make a statement. They did. Jaiquawn Jarrett sacked Roethlisberger to force a punt. Things were looking good for a Jets team that was trying to avoid the franchise's first ever 9 game, in season, losing streak.
Vick was brilliant on the next possession. He launched a 67 yard passing touchdown off play action to T.J. Graham, giving the Jets a 10-0 lead.
The Jets first take away since the blowout in San Diego came on the next possession, as Wilkerson forced an Antonio Brown fumble that Jarrett, who had a game for the ages, was able to recover.
The Jets offense began the subsequent drive in great field position. Vick picked up 18 yards on a scramble where he 'broke the ankles' of Brice McCain. It was an entertaining play to say the least. He was able to follow that play up with a 5 yard touchdown strike to rookie Jace Amaro, bringing the Jets lead to 17.
During the next Steeler drive, the Jets were in control and had a play whistled dead due to a delay of game penalty against Pittsburgh. It would have been 3 and 10, but thanks to a late hit by Jason Babin, the Steelers received a fresh set of downs. It was a frustrating play that breathed new life into Pittsburgh's offense. Thankfully for Babin, Jaiquawn Jarret was able to intercept a Roethlisberger pass near the goal line. Jarret, the obvious player of the game, continued to come up big for Gang Green.
A 7 yard catch by Harvin, who finished the day with 33 rushing yards and 23 receiving yards, resulted in a third down conversion during the Jets next possession. The Jets, due in part to an offensive pass interference call against Jeff Cumberland, made nothing of the drive, and were forced to punt.
What happened next proved that, at least for the time being, lady luck was on New York's side. In what was third take away of the contest, the Jets recovered Antonio Brown's muffed punt with less than two minuets in the half. It was assumed that Nick Folk, who is typically consistent with his kicks, would extend New York's lead to 20 before the half. Instead, Folk missed from 45 yards out, giving Roethlisberger 51 seconds until halftime.
Pittsburgh was barely able to get into field goal range, and, much to the chagrin of Jets fans, Shaun Suisham was able to knock down a 53 yarder with 1 second on the clock.
The Jets were up 17-3 at halftime.
The Steelers began the second half on offense. They seemed to be moving the ball fairly well, until Jaiquawn Jarrett, the hero of the day, intercepted his second pass.
The next score came with 4:38 left in the third quarter. Vick made a
questionable call on third down in the redzone, and was almost picked off. Folk, however, was able to hit a 30 yard field goal to make it 20-3.
On the next drive for the Steelers, Big Ben hit Bryant for a 45 yard passing play. The Jets countered that gain with a sack by Douzable on the very next play. The Jets D was able to get a third down stop as the the final seconds of the third quarter ran off the clock. Shaun Suisham attempted to convert a 23 yard field goal as the final quarter began, but missed.
The Jets next drive resulted in a punt. The Steelers only managed a field goal after obtaining a first and goal on their drive following the punt.
The Jets had a 14 point lead with 7:21 left to play.
The Steelers attempted an onside kick, but failed. After a re-kick forced by penalty, the Jets began their next drive with a two yard run by Ivory. It was a less than stellar drive that forced New York to punt with 4:07 left in the game.
A botched snap resulted in a 16 yard loss and another sack by the Jets defense. Pittsburgh was forced to go for it on 4 and 21. They did not convert, thanks to Jaiquawn Jarrett, who was in the face of Roethlisberger.
Despite two personal fouls against the Jets, and an 80 yard pass from Roethlisberger to Bryant, New York was able to earn their second win of the year, defeating the Steelers 20-13.
This win was a breath of fresh air for many Jet fans, and was a welcome reprise from this year's dismal season. The is still much uncertainty surrounding this 2-8 team, particularly involving the job security of Rex Ryan and John Izdik. One thing however, is for certain. After today's performance, this author will be purchasing a Jaiquawn Jarrett jersey in the near future.
Videos
Aaron Rodgers Injury Fallout & Jets/Bills Recap