JetNation.com Talks "Monday Night Miracle" with Marcus Coleman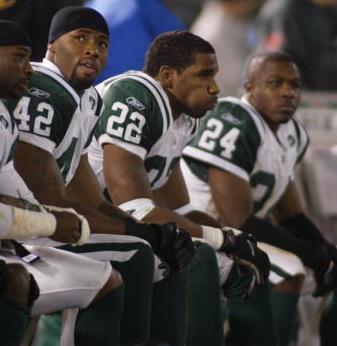 By Glenn Naughton
When the New York Jets take on the Miami Dolphins this Monday night, it will only be meaningful for one of the two teams as the Jets look to avoid another embarrassing loss following the 38-3 blowout they suffered at the hands of the Buffalo Bills last Monday.  For the Dolphins, who are are coming off of a heartbreaking 39-36 overtime loss to Peyton Manning and the Denver Broncos, it's a chance to keep pace with other AFC playoff hopefuls.
When the two teams collided in October of 2000, it was an epic battle that would always be remembered as the "Monday Night Miracle".  It was a game in which the Jets trailed the Dolphins by a score of 30-7 early in the fourth quarter.  Broadcasters told viewers that the game was over, and many Jets fans headed for the exits early, disappointed in their team's lackluster effort in a battle of two 5-1 teams fighting it out for first place.  What would transpire after Miami took that commanding 23 point lead is something no Jets fan, or football fan for that matter, will ever forget.
The 40-37 final score would lead one to believe that there was little defense played that day, but in a clash for the ages, it was a defensive player who stepped up in overtime and set the Jets up for the game winning score.  Jets cornerback Marcus Coleman had three total interceptions, two of which came in overtime and help cap the unlikely finish.
Glenn Naughton of JetNation.com had the opportunity to speak with Marcus Coleman about that unforgettable evening, and his time with the Green and White.
Glenn Naughton: Marcus, that Monday night game against the Dolphins is so memorable for so many Jets fans.  Where does it rate for you in all the time you played in the league?
Marcus Coleman: When you play the ten or eleven years that I played, you only go through a game like that once or twice in your career, or once really, I'd have to say yeah, it was the most memorable by far.
GN: With Miami leading 23-7 at the half, how are defensive coordinator Mike Nolan and Head Coach Al Groh reacting in the locker room?  What message are they trying to deliver?
MC: Well, right after we went in we're just trying to clean things up and trying to figure out what we're doing and what adjustments we need to make.  A lot of the talk was that we've been here before and we talked a lot about the success we'd had against Miami.  We knew we were very capable and it was just a matter of us executing a lot better and reading the offense a little better.  We weren't out of it yet but we did have a big deficit to make up but we just had to keep playing and pushing through.  You know you're going to face some adversity and that was what we were up against and we just had to figure out what to do.  Having the veterans we had on that squad helped too.  You had Aaron (Glenn), Marvin Jones, Bryan Cox with Vinny (Testeverde) on the other side with Jumbo (Elliot), Wayne (Chrebet), so we understood what it was that needed to be done, so it was just a matter of going out and doing it.
GN: So after the half, Miami scores the first touchdown when Lamar Smith runs it in to make it 30-7 and that's the score starting the fourth quarter.  Once that TD is scored, a lot of fans head for the exits.  As you guys start to mount a comeback, do the players notice at all that the stands are filling up again or is that something that goes unnoticed on the sidelines since you're so caught up in the game?
MC: Honestly, I can't speak for anyone else but I personally didn't notice.  When we're on the field I'm trying to communicate and the same thing on the bench.  Until I saw the highlights the next day, I had no idea so many fans were leaving or coming back.  You just figure when something good happens you hear the screams, but in a game like that you're just trying to figure out a way to make a play and come back so if something goes wrong it can get really bad really fast.  Mainly, focus on playing the game and that's what you're worried about.
GN: Do you remember a particular point when the feeling on the sideline turned and you guys realize you have a shot to complete this comeback and win the game?
MC: Not really because you can't get too caught up in that.  You just see the team score and you just think, okay let's get another stop so we can try to score again.  Once it got closer and it got to 30-20 on the Wiggins touchdown.  At that point I guess is when we say "okay, we're back in it" so you just keep pushing through and take it one play at a time.  We'd had so many bad plays in that game that one bad one can't let you get down because you know you can overcome it.
GN; Later in the fourth quarter Vinny hits Chrebet for a touchdown to tie it.  On the ensuing kickoff Brock Marion gets a big return and Fiedler throws a 46 yard touchdown which must be deflating after showing so much resilience.  But at the same time it helps that they scored so quickly because it gave you guys time to come down and score again with the pass to Jumbo Elliot.  That ties it and you guys had to overtime.  Obviously this is back when overtime was sudden-death.
MC: Exactly, different rules back then so we had to hold them if they got the ball, which they did.
GN: Right, and Brock Marion gets another good return and Miami is approaching mid-field so FG range isn't that far away.  Then Fiedler tries to hit Leslie Shepherd and you step up and make that interception.  During the return though, Thurman Thomas chases you down and forces the fumble which Miami picks up at the 34 yard line.
MC: Yeah, before the interception we were just trying to get a stop and we were playing cover-5 which puts a man underneath, and I could see the route and I knew what was coming so I moved up and slid inside just before the snap of the ball and I don't think Fiedler even noticed.  He made that throw and I get the pick.  Then when I switch hands to secure the ball, I see Thurman coming and he gets a hand in there and knocks it loose.  It was deflating because you work so hard to make a play and I finally make the play and I give it right back to them.  It was tough but Marvin Jones came over and just said "Don't worry about it, keep playing and get it back, that's all you can do", so from that moment, everybody just said "we'll get it back, keep playing, keep playing".
GN: So Miami gets going again and then once they're in Jets territory you step up and get another interception.
MC: Yeah, and that was a huge relief because we would have had the opportunity to win the game the first time, so to get a chance again I was just relieved that I made the play and we got the second opportunity.  If I didn't make that second play, that first one had a chance to set us up for the win so if we would have lost that would have been tough.
GN: So your interception leads to John Hall kicking the forty yard game winner and of course players from both teams meet up to shake hands and make their way to the locker room.  Do you remember the response from the Miami players?  They had to be in shock, right?
MC: Yeah they were, and I knew a lot of those guys and spent time in Florida in the off-season.  I'd work out with Zach Thomas, OJ McDuffie, Jason (Taylor), Orande (Gadsden), I knew those guys pretty well and they were in shock.  You know, Zach was actually kind of mad and he barely shook my hand.
GN: What about from the Jets' perspective?  Was it surreal or business as usual?
MC: We were happy to get the win, but there wasn't a whole lot of emotion after the game because it was so long physically and mentally. It takes a lot out of you.  Guys were happy with the win but they were ready to get out of there.  It was a tiring and hard fought win.  Everybody left everything on the field that night and didn't really have an ounce of energy left.  Everyone was happy and Coach Groh was happy, but we celebrated for a half a second and then got out of there.  When you look back at it now it's great.  Knowing you were a part of one of the greatest comebacks in Monday night history, in NFL history, and in Jets history.
GN: Earlier you mentioned Marvin Jones and Mo Lewis who were a huge part of that defense for so many years.  What was it like to play with those guys?
MC: Marvin was a quiet guy who would make a joke from time to time, but Mo was a loud guy who was always funny and making jokes, but the thing that they don't get enough credit for was their football IQ.  They knew what was coming and what the other team was going to do.  They studied hard, they watched film and they understood what a coach was trying to implement.  Playing with them and Aaron really helped my growth and how to watch film.  They helped you understand how to prepare, how to anticipate, and how to practice.  They taught me the importance of knowing other guys' responsibilities that would allow me to maybe change the way I was going to cover, when I can and can't gamble.  They were the leaders of that team in their own ways and they were both tough, hard working guys with a ton of ability.  Mo was unbelievable, he was 270 pounds and he ran around like he weighed 240.  I think they don't get enough credit for being smart players who were different types of leaders.  Marvin Jones was one of the first guys to take me under his wing and show me the ropes so I couldn't have played with or had the opportunity to learn from two better guys than Mo and Marvin..
GN: What are you up to now in San Antonio?
MC: I'm actually setting up a project with the Wounded  Warriors Foundation.  We did one with a lot of NFL alumni and we're trying to get something up and running for January, so once we have it in stone I'll let  you know and any support from JetNation.com would be much appreciated.
Videos
Aaron Rodgers Injury Fallout & Jets/Bills Recap