Jay Fiedler Talks Chan Gailey With JetNation.com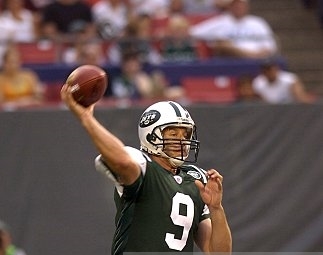 By Glenn Naughton
Now that the New York Jets have officially announced the hiring of Chan Gailey to fill the role offensive coordinator, JetNation.com thought it would be a good time to talk to one of Gailey's  former pupils.  Ex-Miami Dolphins and New York Jets quarterback Jay Fiedler sat down with us to talk about Gailey and what Jets players and fans should expect from his former mentor.
Fiedler, an Oceanside, New York native spent two seasons under Gailey with the Dolphins during the 2000-2001 seasons.  As was the case with many quarterbacks, the former Dartmouth product was more productive in his time with Gailey than at any other point in his career, with his best statistical season coming in 2001.
After a full season in Gailey's  offense that relied heavily on the running game in 2000, Fiedler would see more of the load put on his shoulders as his pass attempts climbed from 357 in 2000, to 450 in 2001.  With Gailey calling the plays, Fiedler produced more touchdowns (20) and yards (3,290) that season than he would at any other point in his career.
From a win/loss perspective, prior to Gailey's arrival the Dolphins hadn't won more than 10 games since going 11-5 in 1992.  When paired with Fielder however, the fins duplicated that record in each of their two seasons with the Dolphins finishing 22-10 during that stretch.
Gailey arrived in Miami when he was brought in by first year head coach Dave Wannstedt and was paired with Fiedler who was faced with the enormous task of replacing Hall of Famer Dan Marino.  Though it would be Fiedler's first season as a starter, he was far from being wet behind the ears.  Fiedler broke in to the NFL in 1994 as an undrafted free agent with the Philadelphia Eagles and before his time with Miami, he was exposed to an impressive group of offensive coordinators.
Three of his first four play callers would go on to win Super Bowl rings as head coaches.  John Gruden worked with Fiedler during his time in Philadelphia, followed by Brian Billick in Minnesota with the Vikings.  His next stop was Jacksonville where Tom Coughlin handled the offense.  Those three would later win super bowls with the Tampa Bay Bucs, Baltimore Ravens, and New York Giants (twice) respectively.
However, it was under Gailey's watchful eye that Fiedler's years of hard work would pay off and land him the starting job in Miami.  Fielder's first impression of Gailey was a good one.  "Chan was a great teacher of the game and he did a great job of simplifying things for everyone" said Fiedler.  "He allowed guys to just go out and play and molded his offense around what they did well".
Hearing Fiedler talk about Gailey's interaction with his players gives you some idea as to why he was so high on head coach Todd Bowles' list.  During his introductory press conference, Bowles talked about being able to take input from him players when they had something to say.  Along those lines, according to Fiedler, Gailey "was always  very receptive and showed a lot of creativity.  He didn't try to get everyone to play to  his system, it was the opposite.  He wanted to know what guys were good at and felt comfortable with and he'd mold the offense around that and listened to their suggestions".
In terms of weekly preparation and in-game adjustments, Fielder did note a difference between the two during his time with Gailey.  "Chan's biggest strength was going in to the game and creating different formations and motions to gain an advantage over what the defense did.  I always felt like we were ready on game day.  In-game adjustments weren't bad, but there were a couple of times that I thought we could have done better.  Leading up to the games we were prepared, but sometimes adjustments weren't made as quickly as I would have liked, but even with that we still managed to win a lot of games together"
Fielder also noted Gailey's ability to get the most out of his players.  "As a first time starter we won a lot of games and produced on offense which wasn't bad because back then we probably spent sixty-percent of our cap money on defense.  We didn't have a bunch of big free-agent signings on offense but we had a solid offensive line with Chan.  We built a strong running game and he used my versatility to do a lot of different things within his offense.  We used a lot of play-action, we spread defenses out with four-wide situations, we ran the ball well when we had to.  Whether or not it's going to be Geno remains to be seen, but if you look at Kordell Stewart, he's another guy who played his best ball under Chan so I'm sure that whoever comes in is going to be used toward whatever strengths they have".
After decades of offensive futility, and six years of quarterback play that seems to take one stop forward and four steps back, Jets fans should be excited to know that Gailey's history is one that offers reason for hope.  His offenses have always found ways to score no matter who was pulling the trigger, and double-digit win seasons have been a fairly common occurence with Gailey calling the plays.
In retirement, Jay Fiedler has also managed to make sports a part of his living.  Currently, he runs a summer camp that combines traditional summer camp and sports camps to give kids with an interest in developing athletically an all in one experience.  Visit www.brookwoodcamps.com for more information.
Once again, JetNation.com would like to thank Jay for taking the time to provide us with a little insight regarding the Chan Gailey hire.
Videos
Aaron Rodgers Injury Fallout & Jets/Bills Recap