Featured Editorials Home Slider
Recent Moves Will Have Jets Cutting Corners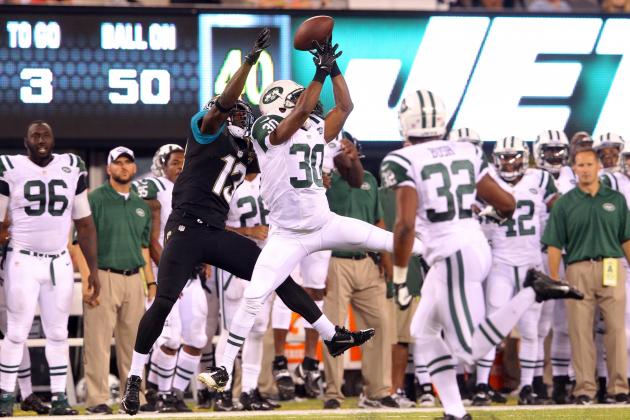 By Glenn Naughton
As Jets general manager Mike Maccagnan's recent free agent spending spree resulted in the addition of cornerbacks Darrelle Revis, Antonio Cromartie and Buster Skrine, the moves will clearly have a ripple effect on a depth chart that will see some players demoted and others traded or cut loose.  With nine cornerbacks currently listed on the roster, there will be no shortage of competition come time for camp, but could also give the Jets ammunition to add an extra draft pick or two.
While it's probably safe to assume that former first round selection Dee Milliner and last season's third round pick Dexter McDougle will be back in green and white, that remains to be seen.
Reports recently surfaced indicating there is some interest in Milliner on the trade market, and Maccagnan was noncommittal regarding Milliner's future with the team.  Trading the promising young cornerback would make little sense given Cromartie's age and injury history as well as Milliners manageable $3.4 million salary.
Like Milliner, McDougle suffered a season ending injury early on when he tore his ACL during training camp. Prior to that however, reports on the rookie were glowing, saying that he was turning heads and making a run at the no. 2 CB spot.  Despite having not been drafted by the current regime, McDougle's youth, potential and cap hit ($675,000) should make him a favorite to stick around.  Should that be the case, it would move both of last year's starters, Darrin Walls and Marcus Williams from the top two spots, to the 6th and 7th.
One of the few pleasant surprises during last years 4-12 clunker, Williams should earn strong consideration to be retained depending on how Todd Bowles feels he'll fit his scheme.  Considered more of a zone corner as an undrafted free agent out of North Dakota State, Williams was asked to play his share of man coverage at times and far exceeded expectations.
For example, in a week fifteen meeting with the New England Patriots, Williams was given a chance to match up against Patriots tight end Rob Gronkowski on multiple occasions.  At 5′ 11" 196 lbs Williams didn't back down from the 6′ 6" 265lb Gronkowski.  He challenged him at the line and played physical football in holding the pro-bowler to 2 receptions on 3 targets for just 18 yards.
Walls on the other hand spent each of the previous two seasons with the Jets but had just four career starts before being thrust in to a starting role.  Even on a Jets team that was thin at the position, Walls was viewed as a viable back-up who would likely be the fourth man on the depth chart before the injury bug hit the secondary.
Once elevated to no. 1, Walls found himself defending the likes of Brandon Marshall, Demarius Thomas, Mike Wallace and Jordy Nelson.  A schedule loaded with future hall of fame quarterbacks and some of the best receivers in the game would be a true test for the Notre Dame product.
According to PFF.com, Marshall, Thomas, Nelson and Wallace were targeted a total of sixteen times when covered by Walls.  Those attempts resulted in 8 completions for 93 yards and zero touchdowns to go along with four passes defended.  That stat line, against some of the best receivers in the NFL is deserving of far more than being at the bottom of any depth chart and should intrigue any team looking to add depth at the position.
With the NFL draft just over a month away, could we see the Jets and Maccagnan continue their wheeling and dealing in an effort to move either Walls or Williams?  While neither is likely to fetch more than a late round pick, it may be worth putting out some feelers to get something in return for two young players who are unlikely to see much action for the better part of the next two years.
Videos
Aaron Rodgers Injury Fallout & Jets/Bills Recap