Breaking News Home Slider Jet News
Sheldon Richardson Arrest Raises Questions About Future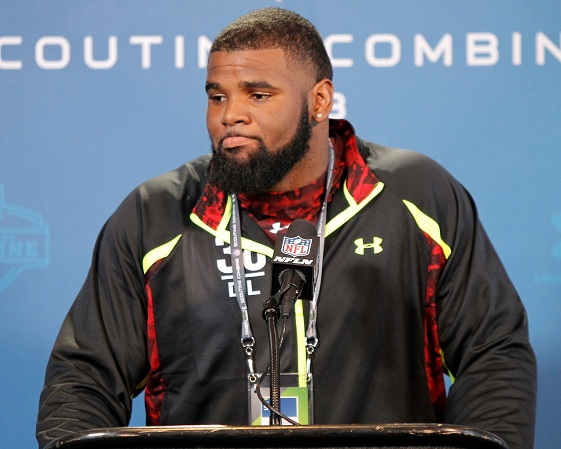 By Glenn Naughton
Where does one even begin when it comes to the newest revelations regarding star defensive end Sheldon Richardson?
Just as Jets fans had learned to live with the fact that Richardson was hit with a four-game suspension for violating the leagues substance abuse policy, a bombshell hit Florham Park yesterday shortly after practice had wrapped up when reports began to surface that put Richardson back in the spotlight.
Richardson, a Missouri native, was arrested in St. Charles County, MO. after being clocked at 143 MPH in a 50 MPH zone in what is believed to have been a drag race.  The other occupants of the car were two adults and a twelve-year old child.  The police report also noted an odor of marijuana coming from the vehicle.  Below is copy of the full arrest report pulled from Rand Getlin of the NFL network:
Statement of probable cause regarding Sheldon Richardson's arrest on a variety of charges. (via @sccmo) pic.twitter.com/HBMuPRQZSP

— Rand Getlin (@Rand_Getlin) July 30, 2015
Even with a litany of potential charges, initial reports suggested Richardson would only be hit with resisting arrest but the NFL network later included child endangerment in an updated report.  Given the exposure the case is sure to face from this point on, it may be too early to rule out additional charges.
In terms of his time with the Jets and in the NFL, the charges are almost irrelevant as the league has never been under more scrutiny for its handling off off-field issues and is looking to clamp down on this type of behavior.  As bizarre as it may sound, the drugs and speeding in excess of 140 MPH should be afterthoughts in this particular situation.  It's the fully loaded gun while under the influence of drugs in the presence of a 12-year old.
NFL insider Mike Freeman confirmed as much, claiming that three different unidentified team reps said they think Richardson has already played his last down in the NFL with those individuals citing the gun and age of the child as their reasoning.
Have to say, I've heard from three different team sources (not on Jets) and all said they think Richardson will never play another NFL down.

— mike freeman (@mikefreemanNFL) July 30, 2015
Keep in mind, Vikings superstar running back Adrian Peterson missed the final fifteen games of the 2015 season but avoided jail time after it was learned that he had used a "switch" to discipline his own child, causing bruising and lacerations.
While there were no injuries reported in Richardson's case, the circumstances the child was placed in had the potential to be far more devastating, and the league is expected to consider that in determining Richardson's fate.
Hours before media outlets began reporting the story, Richardson faced reporters and claimed full responsibility for the marijuana charges and tried to put any concerns related to his future to bed.  So much for that.
Sheldon Richardson said this, like, two hours ago: pic.twitter.com/I6AnU5jGQ8

— Seth Walder (@SethWalderNYDN) July 30, 2015
So while head coach Todd Bowles was defending Richardson, telling fans and the media that the Jets would support him through his suspension for marijuana use, it is believed that neither the head coach nor the Jets were aware of the arrest.
As current Sports Illustrated writer, Greg Bishop said in an interview with JetNation Radio just  hours after the story hit the airwaves, "I got kind of a tremor when the news broke.  It reminded me of my time with the Jets.  Every day you never knew what was going to happen and I do feel for my comrades who are still on that Jets beat".
While Richardson isn't scheduled to appear in court until October 27th, the league may no wait for that date to take action against the 24-year old who, at this point should be more focused on better decision-making off the field before he even thinks about getting back on it.
Videos
Aaron Rodgers Injury Fallout & Jets/Bills Recap