Todd Bowles Update On Sheldon Richardson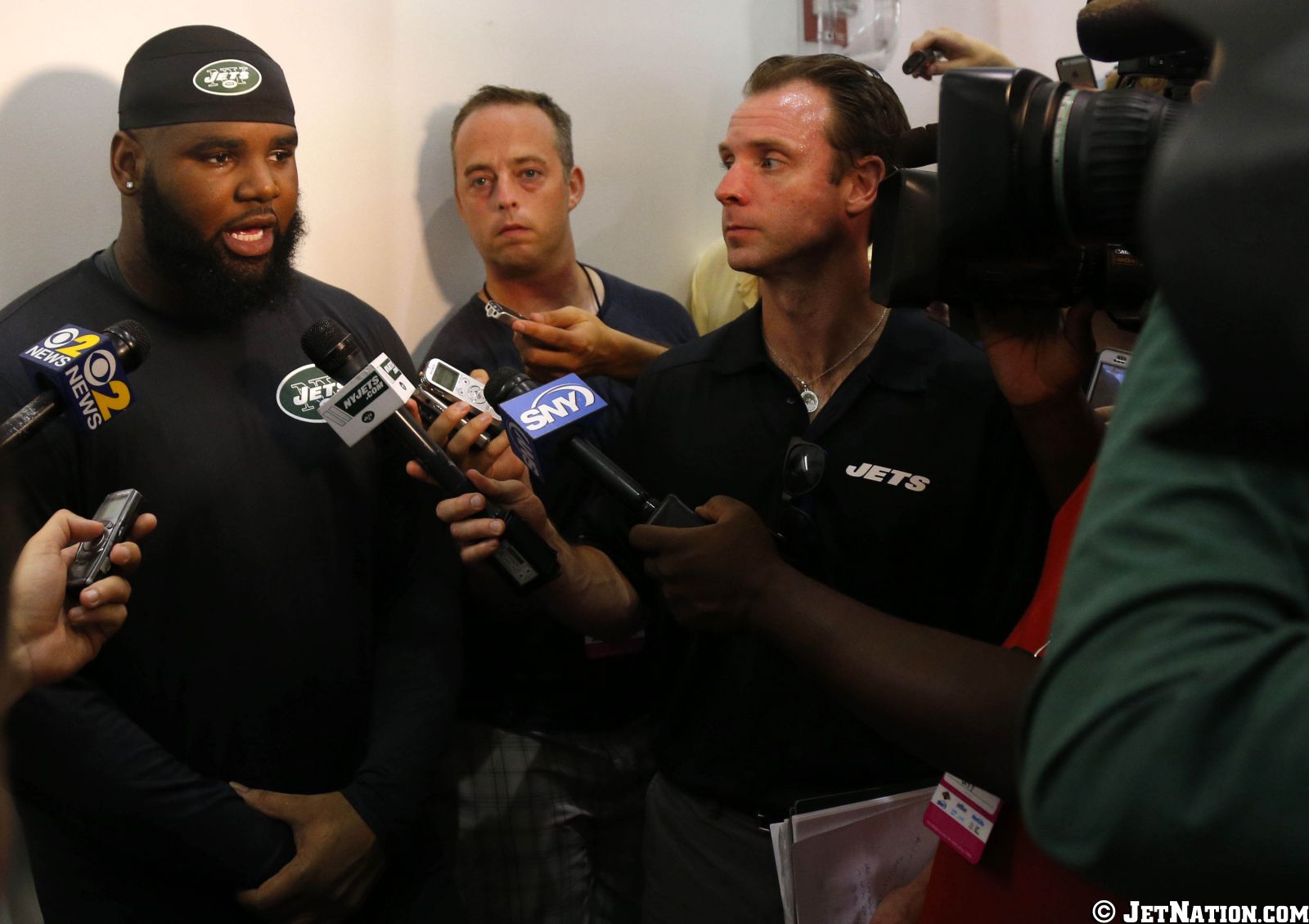 Sheldon Richardson is off to a terrible start. Fresh off of his suspension, word comes out about his legal problems. After practice on Friday Todd Bowles was asked about Sheldon. This is long, but with Todd Bowles being brand new, I felt the entire transcript was worth sharing.
On his reaction to the news on Sheldon Richardson…
It was disappointing. If it happens two times in that time span, it's be more about Sheldon the man as opposed to Sheldon the player. That's the biggest thing. If you have children you know, when you say things, they're going to disappoint you and you have to come back. Right now I'm just worried about getting him help. He needs the help. I'm not even worried about the football player. Like I said, we can win without him. It would probably be more fun with him, but we're prepared to win without him. The biggest thing is working on getting him better as a person. When things like that happen, (the focus) is not when he's getting back on the field, it's can he get his life together. That's the biggest thing.
On if Richardson told him why he did not inform the organization about the incident…
No, he didn't tell me why. We talked about what happened, but he didn't tell me why. That's something he has to deal with and obviously it's a problem there and we have to try to help him.
On when he found out about the incident involving Richardson…
I found out about an hour after interviews yesterday.
On if he was upset that Richardson did not tell him…
I mean, it surprised me. It's upsetting because it's disappointing that it's back to back. He has to live with that and there's no way around that. You can't defend that. I'm not trying to. I just hope he gets better and understands as a person. I'm more worried about the man than I am the player.
On if the team plans to discipline Richardson…
We're going to wait and see how it plays out. Obviously, the league will be involved with that and the Missouri police department will be involved with that. We'll wait to see what our actions are after that.
On if he expects the league to add on to Richardson's current suspension…
I have no idea at this point. We're going to let it play out and we'll probably go from there.
On how he can trust Richardson based on his actions…
You lose a lot of trust. As I said, actions speak louder than words. As a man, you have to own up to what you've done and not only own up to it, but you have to show change through actions. People are not going to believe anything you say in that regard. Just like your children, you're going to be disappointed. Over time, you have to show progress and great progress. You're not just going to take anybody's word for it anymore. He has to face his teammates. He has to face his coaching staff. He has to face his family. From that regard, you have to try to get better as a person.
On if he has addressed this incident with Richardson directly…
I've addressed it with him. We talked to the team and we had a good conversation.
On what Richardson shared with him regarding the incident…
No, pretty much (what I heard that) happened is what he offered that happened. There are 10 different stories around. The report is what it is. You just have to deal with it.
On if he is concerned that Richardson will fail another drug test…
I have concerns about him just being a better person. If he fails another drug test, he's going down the wrong road. Those are demons you have to live with and sometimes things spark and make you a better person and there are sometimes you spiral the other way. Again, I'm not worried about him being able to get back on the field. I'm worried about him failing or passing becoming a better man. That's the biggest thing here, him becoming a better person so that he can live the rest of his life, at 24, 25 years old, that's tough. I'm sure we all got away with some things and he's not gotten away with them. It hasn't been smart, it hasn't been clear in the head and clearly he needs some help. You have to try and help someone like that as a person. Like I said before, we're prepared to win without him. It'd be more fun with him, but one person cannot make our team.
On if he gave any thought to sitting Richardson out of practice today…
No, he's had time to think about what he's done. It came out yesterday. It's been a while since it happened. Right now, what's best for him is to stay normal and stay around things that he does so that you can keep a better eye on him.
On what can be done to help Richardson…
You try to reach him. You try to reach him like you try to reach your children. You understand the realities of the situation and try to see where he goes wrong. I'm sure he has great family support but you can only help a person if they want to be helped. You can take them down a road and give them all the advice you want, but the first part is them reaching out and wanting the help and accepting the help. That's the thing you have to try to deal with. You don't give up trying to help anybody be a better person. You don't worry about the football stuff because the police department and the league, whatever disciplinary actions that come down take care of themselves. You're not worried about the legal part of it or getting him on the field, or when he's ready to play. We're just worried about helping the guy become a better man.
On if he's floored about how closely this happened after Richardson's original suspension…
You're not floored, things are going to happen in this league every day and you see it in the news all the time. People are disappointed and you come to grips with it and you deal with it and move on.
On if he believes Richardson is dealing with personal issues…
I did not get that feeling, no.
On if he got the sense that Richardson wants to be helped…
All you can do is listen to him. You don't get a sense because given a sense means that you actually believe him and there's hope there but you have to wait until days, even weeks, even months to pass by for him to make a change for the better, accept the help and see change. So, at this stage of the game, after two disappointments in a row, you have to go through actions and you have to try to help him and we have to go from there. We have to try to help him become a better guy.
On if he talked to Richardson last night or this morning…
We talked yesterday.
On if he believes Richardson will play for him this year…
I have no idea, we'll let the league and legal action take care of itself. I'll probably be able to answer that in a couple weeks or couple months, whenever they make that decision.
On what he believes went through Richardson's mind when he said he would not be in the media again…
I guess clearly, he was wrong. Sometimes it's hard for a person that does everything on their own to ask for help. In his mind, obviously, it was denial and clearly he has a problem. That's what we have to try and help him with. It was wrong and you know it was embarrassing for him to say that and then it to happen. I guess the timing of it all wouldn't have been anymore embarrassing had he said something and then it came out. Right now, it is what it is as far as what happened and it's not going to change anything. Nobody condones it and nobody tolerates it. It's up to the guy. Clearly right now, this is not a football issue, it's more of a personal issue.
On if Richardson explained why he concealed it from the team…
Not really, he explained what happened and sometimes people can't put things into words the right way. Hopefully, over the course of the next couple days, a couple things become more clear and we try to sit down and reach each other and move forward from there.
On if he has heard from the league yet…
Not yet, no.
On whether Richardson was upset when they spoke…
He was remorseful. It's hard to say a guy's a good guy when two things like this happen, but he's a good guy. But good guys don't always do the right things. He's a young man. You don't get too many chances to turn your life around. Right now, he's going down a spiraling road and he understands, or he needs to understand, that he needs to turn his life around and this has nothing to do with football.
On what he thinks the root of Richardson's problem is…
I wish I knew the answer right now but after two things just happening and (without spending) a lot of time around Sheldon, me just getting here and understanding him. (After) I've spent the summer with him, I'll probably have a better feel as the days go on. Hopefully, I will get a better feel, but I'm here for him, the team is here for him and we're not here for him in a football way, we're here for him in a sensible way to see if we can get him on the straight and narrow.
Videos
Aaron Rodgers Injury Fallout & Jets/Bills Recap