Breaking News NY Jets Training Camp
Training Camp Day 2: Five Takeaways From Camp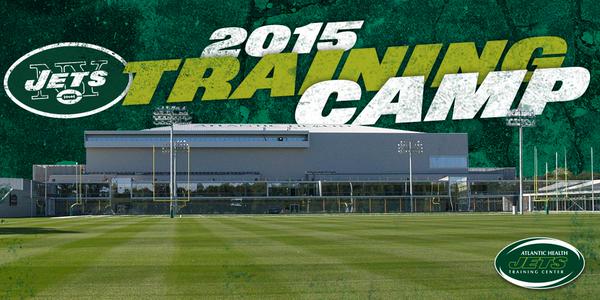 Five Takeaways From Day Two of Jets Training Camp
1) QBs Have Ups and Downs
Horn has sounded. Drills underway, Geno looking crisp with passes to Cumberland and Amaro. #nyj

— JetNation.com (@JetNation) July 31, 2015
Based on today's performance the depth chart should remain the way it is at the quarterback position. Geno looked like the leader of the offense despite almost giving up an interception to Jamari Lattimore at the end of the day. Smith completed most of his passes showing notable accuracy, and command of the offense. Smith had a great day overall until the Jets closed with two minute drills, he struggled in the red zone. Geno completed 12 of his 17 passes.
Ryan Fitzpatrick struggled early on in the day against the second defense, under and over throwing a few passes. Fitzpatrick picked it up half way through camp and made some nice throws, one of them a well placed deep ball to Quincy Enunwa. Fitzpatrick led a couple of drives in the two minute drills, one resulting in a Nick Folk field goal, the other a near interception by Antonio Cromartie which ended the day. Fitzpatrick completed 10 of his 17 passes.
Bryce Petty made a fairly good impression with his share of reps. Petty had a couple of really nice throws to Jace Amaro, and looked like he was acclimating well to the NFL. Jake Heaps also got a few reps, and had a bullet pass to Wes Saxton that stood out.
2) Young Player to Watch
UDFA Wes Saxton with an impressive one handed sideline catch from Geno. #nyj

— JetNation.com (@JetNation) July 31, 2015
The rookie player of the day wasn't Leonard Williams, it wasn't Devin Smith, and it wasn't Bryce Petty. All three of the top draft picks had solid days, but the rookie who stood out the most was undrafted free agent Wes Saxton. Saxton had multiple big plays, the most memorable one being a one handed catch while keeping both feet in bounds.
3) Smith Takes a Hit
Smith slow to get up… Gets a standing ovation after he walked off. Looks to be alright. #JetsCamp

— JetNation.com (@JetNation) July 31, 2015
Devin Smith had a very impressive catch off of a tipped pass by Marcus Williams, but stayed down on the field after appearing to take a hit to the back of his helmet. Smith walked off the field and stayed on the sidelines a bit before walking into the facilities with trainers. Speculation seemed to become worse as time went on. Head coach Todd Bowles wasn't aware of the severity of the injury during his press conference stating: "I have to go inside and see what happened… I saw him walking gingerly coming off." The Jets have posted an update on their twitter account stating that Smith has suffered broken ribs, and will be out for the majority of training camp.
4) Colon Returning Soon
Coach Bowles indicates Willie Colon could be first player off of PUP. Colon battling knee soreness. He'll see how the knee responds FRI.

— Eric Allen (@eallenjets) July 30, 2015
Willie Colon, Stevan Ridley, and Kevin Vickerson began training camp on the PUP (physically unable to participate) list. Todd Bowles hinted that we could see Colon back in the lineup within the next couple of days. When asked about the status of Colon, Bowles said "I think Willie looked good… Coming around, hopefully we can get him in pads in the next day or two."
5) Richardson Addresses the Media… Again
Not only did Richardson keep his arrest from the Jets…he kept it from his parents as well…for 2 1/2 weeks. Scary. #NYJ

— Chris Lopresti (@CLoprestiWFAN) July 31, 2015
Sheldon Richardson's arrest on July 14th spread like wildfire yesterday when made public by the media just after training camp. Richardson's somewhat cryptic comments yesterday made more sense after it was revealed that he had been arrested for resisting arrest, and numerous traffic violations. More troubling details to his arrest were also made public including participating in a street race at speeds up to 143 mph, possession of a fully loaded semi-automatic pistol, smelling of marijuana, all while having a 12-year-old child in the car. Richardson practiced with the team again today, and spoke to the media echoing his statements from yesterday. Richardson mentioned he had spoken to all of his teammates and coaches, but has yet to speak with Woody Johnson.
Leonard Williams, who has been working extensively with the first team defense, will most likely assume Richardson's position at DE. There's a good chance that the Jets could be looking at more than four weeks without Richardson which only adds to the need for Todd Bowles to have Williams ready for week 1 action.
Videos
Aaron Rodgers Injury Fallout & Jets/Bills Recap