Breaking News NY Jets Training Camp
Training Camp Day 3: Three Storylines Developing at Camp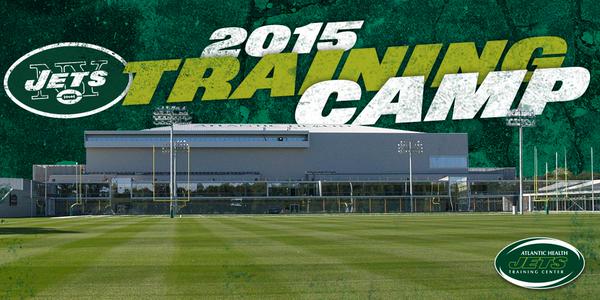 Three Stories Developing at Jets Training Camp
Don't Look Now…
Geno looking really solid so far throws a TD pass to Cumberland. #nyj

— JetNation.com (@JetNation) August 1, 2015
The offense won the day for the first time since training camp began, forcing the defense to do push-ups. All of the quarterbacks have played well, but Geno Smith has stood out. When Todd Bowles was asked what he thought about the fact that both Geno Smith and Ryan Fitzpatrick have yet to throw an interception in camp, Bowles said: "Don't jinx me. Shhh. Don't say anything." Geno Smith has completed 22 of 32 passes in two days with no turnovers, although he had a pass that was nearly intercepted by linebacker Jamari Lattimore. Ryan Fitzpatrick has gone 16 for 28 and fumbled the ball twice with one pass that was nearly intercepted as well. Looking at those numbers it is obvious who has been the more effective quarterback on paper. It's very early, but so far Smith looks like an improved quarterback ready to take the next step this season.
Another Young Player to Watch
Fitz with a nice bullet to Enunwa… Enunwa has sticky hands today. #JetsCamp

— JetNation.com (@JetNation) August 1, 2015
Yesterday it was undrafted free agent Wes Saxton, today it was a second year player who had a great day. Quincy Enunwa made multiple big plays on day three. Enunwa's best play came on a deep throw from Bryce Petty over two defenders, Enunwa bobbled the catch but recovered it in the end zone for a touchdown. Both Quincy Enunwa and Shaq Evans were selected by the Jets in the 2014 draft, but Enunwa has excelled while Evans has struggled.
Colon Returns… Mathis an Option?
Willie Colon on the field with teammates today. #JetsCamp

— JetNation.com (@JetNation) August 1, 2015
Willie Colon returned to training camp after taking the first two days off due to knee soreness. Colon got some reps with the first team, and rotated with other players including: Brian Winters, Brent Qvale, Ben Ijalana, and Oday Aboushi. The battle at right guard looks wide open and the Jets are exploring all of their options. Rumors of the Jets reaching out to former Eagles Pro Bowl guard Evan Mathis were confirmed by Mike Maccagnan in a press conference. Mathis was released by the Eagles over a contract dispute and was seeking more than his previous $5.5 million dollar contract. The Jets have been big spenders this offseason and don't have a ton of cap space left to work with. Mike Maccagnan was tight-lipped when it came to Mathis saying: "Obviously Evan is a good player, but as this thing plays out a bit we'll get a better feel for that."
Videos
Was Boomer Right to Blast Becton? Former Jets QB Sounds off Against Jets Tackle.