Featured Editorials Home Slider
Jets Speedsters Opening Eyes Early On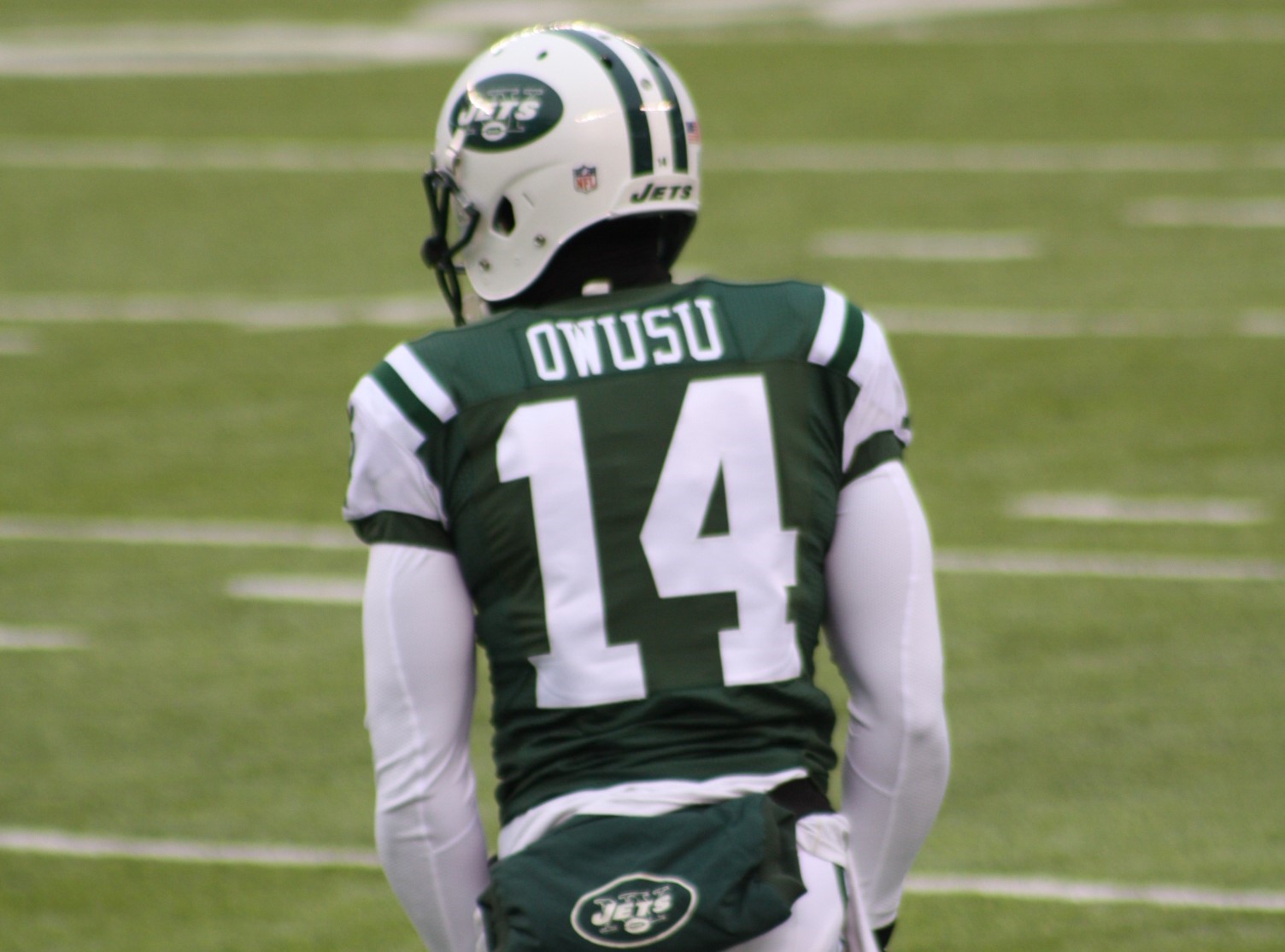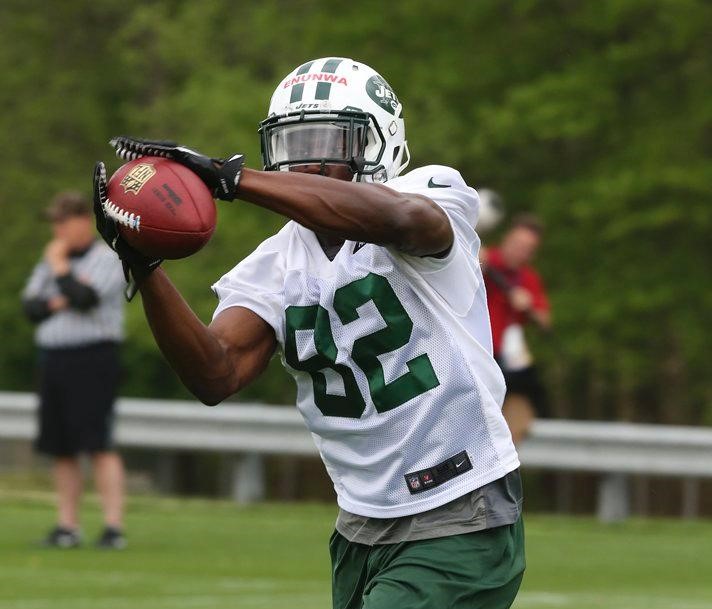 By Glenn Naughton
Jets training camp is just a week old, but for a loyal fan base that has grown tired of an anemic offense lacking an explosive playmaker, the early reports have been encouraging to say the least.
With the addition of wide receiver Brandon Marshall, the Jets have a legitimate number-one option to line up opposite last year's big free agent signing in Eric Decker.  While both receivers are established, productive veterans, neither offers game-breaking speed that opposing defenses have to account for.
General Manager Mike Maccagnan selected Ohio State wide receiver Devin Smith in round two of this season's draft in hopes of adding a deep threat as the receiver led the nation with a whopping 28.2 yards per reception.
Currently sidelined with broken ribs and a punctured lung, Smith will be out for four to six weeks, but in his absence there has been no shortage of other receivers who have turned some heads this week.
The player garnering the most attention thus far is former Stanford product Chris Owusu who managed to make an impression late last season despite limited playing opportunities.
Jets fans have seen his name mentioned early and often from camp reports that continue to pour in from multiple media outlets praising his speed and explosiveness.
Owusu is far from alone at Florham Park as one of last season's draft choices, Quincy Enunwa out of Nebraska, has also made some eye-opening plays, one of which was a 60-yard score from rookie quarterback Bryce Petty.
Petty with a bomb for Enunwa. A little under thrown but Quincy plucked it high. #NYJ

— Chris Lopresti (@CLoprestiWFAN) August 1, 2015
A productive receiver at Nebraska (115/1,526/15), Enunwa ran his combine 40 in 4.45 but was taken with the expectation of being a developmental player.  Jets fans heard his name come up several times during the pre-season last year but he would spend the majority of the 2014 campaign on the practice squad.  Despite making the original 53-man roster, Enunwa was accused of domestic violence and wasn't placed back on the active roster until later in the season when charges were dismissed.
If we're going to cover the topic of speedy young receivers who are making plays early on, you'd have to mention arguably the fastest player on the Jets roster, wide receiver Saalim Hakim.
Fitzpatrick with the best pass of the day, 35 yard tight spiral over DB to Salim Hakim. Caught in stride over the shoulder. #Jets #JetsCamp

— Kristian Dyer (@KristianRDyer) August 4, 2015
A soccer player in his early years, Hakim didn't strap on the pads until his senior year in high school and was minimally productive in college where he played sparingly for Palomar Community College and Tarleton State, pulling in just 49 receptions in three seasons.
Even still, his world-class speed (4.23 40) gained him plenty of attention as 18 NFL teams approached him about signing as an undrafted free agent.
Former Super Bowl Head Coach Jim Fassel coached Hakim with the United Football League's Las Vegas Locomotives and he didn't hold back in discussing his physical attributes:
You don't find guys like him walking around on the streets," Fassel said. "He's so strong — explosively strong. He'd jerk a guy, go around him, and once he got into a leverage position they couldn't run with him. Once he gets going, he's as fast as anyone I've ever seen on the football field."
Then of course, there's TJ Graham, the player who hauled in the Jets' longest touchdown reception of 2014 when he caught a 67-yard bomb against the Pittsburgh Steelers in a 20-13 victory.   Graham has reportedly made some big plays himself in the early going.
TJ Graham with a circus TD catch just prior to the goal line and forcing it in. Nice play.

— Brian Bassett (@Brian_Bassett) August 1, 2015
Graham is another blazer coming out of college at N.C. State where he played with a pair of current NFL quarterbacks in Russell Wilson of the Seattle Seahawks, and Jameis Winston's back-up in Tampa Bay, Mike Glennon.
The 6′, 180 lb Graham used his 4.41 speed to put up some impressive college totals, bringing in 99 passes for 1,453 yards and 12 touchdowns.  His experience as a kick and punt returner could also help Graham make the cut with the Jets as he averaged 23 yards per kick return and 9.5 yards as a punt returner at UNC while running back a pair of touchdowns in each role.
Camp is just one week old, but the early reviews on some of the younger receivers should be encouraging to Jets fans as Chan Gailey will look to exploit mismatches whenever possible, and if the guys near the bottom of the depth chart continue to develop, those opportunities may be plentiful in 2015.
Videos
New York Jets OTA Presser Takeaways, Aaron Rodgers' Impact and Summer Delusion