Breaking News Featured Editorials Home Slider
Gailey Looks to Big-Hitting Enunwa in H-Back Role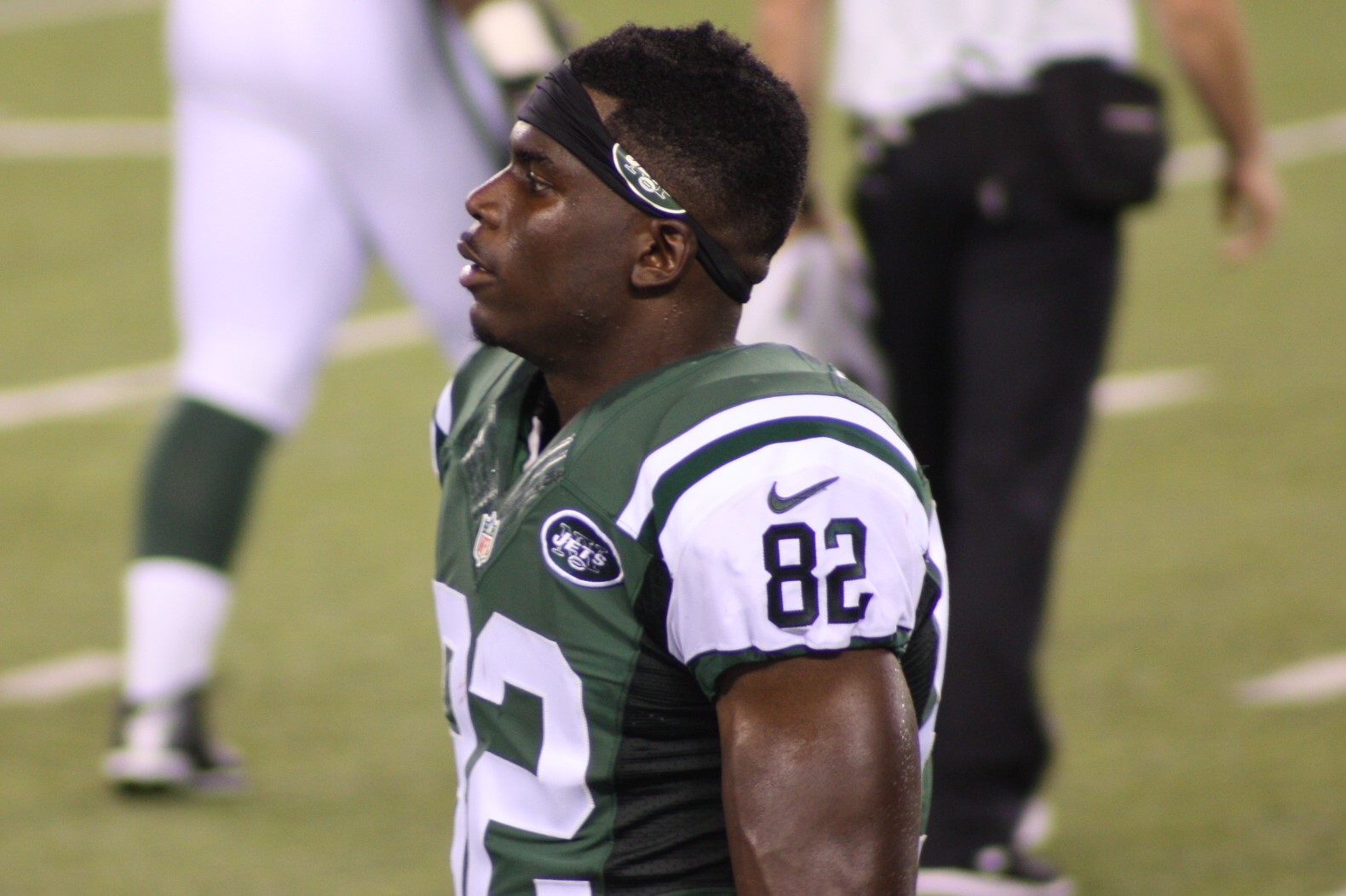 By Glenn Naughton
When JetNation.com interviewed Jets wide receiver Quincy Enunwa this off-season, one topic we touched on was Enunwa's rare style of play for his position.  His tendency to attack his opponent with a linebacker-type mentality was intriguing, and Enunwa had this to say about it:
I think it's always just been my mentality as a bigger receiver.  Not necessarily in terms of height but I was bigger than some of these guys and everybody has something they use to their advantage.  For some guys it might be quickness or whatever it may be and I knew that with my size and strength I might as well go ahead and use that on the field.
After raising a few eyebrows in the early stages of training camp, Enunwa was said to be in position to steal some reps from incumbent slot receiver Jeremy Kerley, which he still may do, but it appears offensive coordinator Chan Gailey is finding even more ways to utilize not just Enunwa's receiving skills, but his hard-nosed style as a part of the Jets offense.
We first noticed it earlier this week during a practice session in Florham Park, then we saw it again on Saturday against the Giants at MetLife Stadium.  Enunwa, asked to line up as an H-back and making key blocks in the run game.
It's unfamiliar territory for Enunwa as a pro, but he did show some promise in limited opportunities. On one Chris Ivory run, a 12-yarder  in the first quarter, Enunwa sealed the edge going head-to-head with Giants safety Jeromy Miles on the right side of the offensive line helping spring Ivory to the outside.
The 6′ 2′, 225 lb Nebraska product may not pan out in the role that was originally meant for second-year player Jace Amaro according to Todd Bowles, but kudos to Gailey for recognizing the opportunity in front of him in what Enunwa brings to the table.
Utilizing Enunwa's physicality on offense may be new to him with the Jets, but it's old hat for the former "perimeter warrior" at Nebraska.  During his time with the 'Huskers, the team logged big hits, knockdowns and blocks that led to touchdowns, and according to journalstar.com, Enunwa regularly led the team those categories.
Enunwa may find himself in an ideal scenario with the Jets as he could be asked to contribute in ways that don't show up on the stat sheet early on, before eventually being worked in as a pass catcher on a regular basis.
Those who stand to gain the most from a player like Enunwa being on the field however would be Gang Green's running backs.  Already armed with a pair of receivers who are more than happy to do the dirty work in the run game, Enunwa, Brandon Marshall and Eric Decker should find themselves making the key blocks that running backs rely on to allow long gains on the ground.
Given the physical running style of Chris Ivory, who has also looked a step faster this pre-season, and the stable of hard hitting backs in Zac Stacy and Stevan Ridley, Gailey just might be laying the groundwork for one of the top rushing attacks in the NFL as he uses his wide receivers, and a brand new H-back to open up holes in the run game while creating mismatches in the passing game.
Having Enunwa come out of the backfield lined up on safeties and linebackers on short routes should make him a valuable asset for starting quarterback Ryan Fitzpatrick.  Enunwa may have earned a reputation as a hard hitter in college, but he was no slouch catching the football either.
In his final season at Nebraska, Enunwa tallied 51 catches for 753 yards while leading the Big Ten with 12 touchdown receptions in just twelve contests.
Now, with one pro season under his belt, he'll look to capitalize on the opportunity being presented by a coordinator who continues to work at finding ways to give players like Enunwa the opportunity to have a major impact on the offense, both literally and figuratively.
Videos
New York Jets OTA Presser Takeaways, Aaron Rodgers' Impact and Summer Delusion