Verizon Preparing to Enhance MetLife fan Experience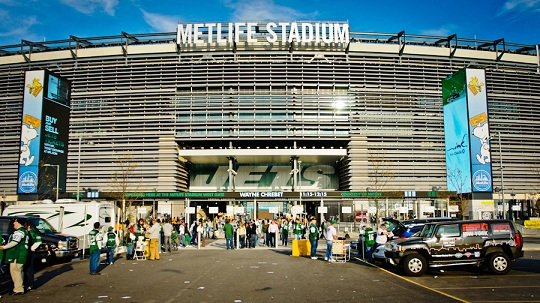 When JetNation.com was invited to the Jets' third pre-season game against the New Giants by Verizon it wasn't just about football, but an opportunity to speak with representatives from the company who are responsible for providing fans with free wi-fi access during the game.
Giving fans the opportunity to stay up to speed with what else is going on around the NFL, be it for fantasy football reasons or getting the most up-to-date scores of a division rival,or perhaps even sending a selfie to the Jets in hopes of catching a glimpse of themselves on the jumbotron has become part of the game-day experience.
According to Verizon, they're looking forward to significantly increasing the capacity they can handle in order to improve wi-fi capabilities and were even willing to let us give the Verizon Samsung Tab S tablet a whirl.
As a fan, the first thing that jumped out at me when I fired up the tablet was the pre-loaded NFL mobile app, which we were told is now part of an exclusive deal between verizon and the NFL that means all verizon plans will include the NFL app.
Using it on the Samsung S has convinced this fan that when an upgrade is in order for my current tablet, I'll know exactly where to go.
The light-weight tablet had top-notch resolution, a highly functional touch-screen with the best sound I've personally heard from a tablet of any kind.
All of this, through using the stadium's wifi and 4G LTE signal which verizon has upgraded by adding more sites and tripling their capacity which had previously allowed the provider to pass 1.9 terabytes during Super Bowl 48 at MetLife.
After an independent mobile analytics firm named Verizon the top overall network for the fourth year in a row, the provider is hoping that the upgrades being made to the networks at MetLife will lead to a fifth consecutive win, and more importantly, a better game day experience for the fans at MetLife.
Videos
Aaron Rodgers Injury Fallout & Jets/Bills Recap