Game Recap Home Slider Jet News
Jets Roll Browns For Opening Day Victory, 31-10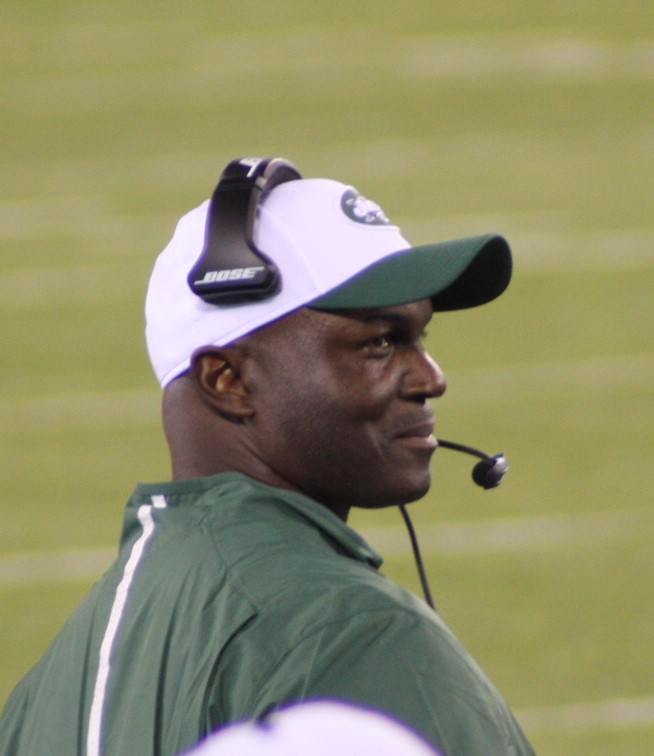 After a long and tumultuous offseason, the New York Jets returned with a new general manager, new head coach, improved units on both sides of the ball, and it all combined into an opening day 31-10 victory over the Cleveland Browns.
The Jets managed a first down on their opening drive, and nearly kept alive but a good hit on shiny, new wide receiver Brandon Marshall knocked the ball out and Cleveland started their first drive.
It was a long drive, eating up about 10 minutes. The Jets defense couldn't get off on third down, but they made a play in the red zone. Cleveland starting quarterback Josh McCown ran towards the endzone and laid out trying to break the plane, but safety Calvin Pryor and linebacker Demario Davis both crushed him on the way. The hit by Pryor knocked the ball out, and the hit by Davis flattened McCown. It wasn't a dirty hit, but McCown was fully extended and landed on his facemask.
McCown then left the game to be evaluated for a head injury and didn't return, ruled out with a concussion.
After the Jets failed to convert on 4th and 1, Johnny Manziel entered the game for Cleveland, and on a poor play by cornerback Antonio Cromartie and safety Jaiquawn Jarrett, threw a 54 yard touchdown pass to Travis Benjamin.
The Jets responded. Quarterback Ryan Fitzpatrick threw a 54 yard 3rd down completion to wide receiver Chris Owusu, and then the shenanigans began in earnest. Fitzpatrick overthrew Marshall and the ball was intercepted, but on the return Marshall managed to knock the ball out on the tackle, picked it up, and ran to Cleveland's nine yard line. Running back Chris Ivory's subsequent touchdown run was called back for holding, and the score finally counted on take two, when Ivory danced into the endzone again.
The Browns kicked a field goal to take a 10-7 lead, but the Jets, who were still in the game but having a shaky half in terms of execution, ran a very effective series with about two minutes to go. Fitzpatrick threw to wide receiver Eric Decker in the endzone to go up 14-10 with 26 seconds left in the half, and led going into the third.
Maybe new head coach Todd Bowles had some strong words for his team in the locker room at the half, or maybe they just shook off their opening day jitters, but New York's second half was far better than their first half.
Cleveland opened with a drive that ended abruptly when corner back Marcus Williams, in for Cromartie, who left the game with a knee injury in the second quarter and didn't return, picked off Manziel. On the ensuing drive, Fitzpatrick hit Marshall for a sideline toe drag catch and a touchdown pass. The Jets led 21-10. Later in the quarter, kicker Nick Folk, in his first non-extra point appearance, added a field goal to pad the lead, 24-10.
The Jets scored again off a Johnny Manziel fumble in the fourth quarter, leading 31-10 with 10:38 to go in the game. The tackle was by defensive lineman Muhammad Wilkerson. Cornerback Darrelle Revis, making his triumphant return home, recovered.
There was a frightening moment in the fourth quarter when Jets' rookie linebacker, Lorenzo Mauldin, appeared to have twisted his neck on the play Manziel fumbled. He was stabilized, put on a stretcher, and taken to a local hospital by ambulance. At the time of this recap, the extent of his injury is unclear.
Manziel fumbled again on the next drive, on a strip sack by linebacker Trevor Rielly and recovered by linebacker Quentin Coples.
The Jets held the Browns scoreless for the rest of the game, and Jets fans could walk away feeling pretty good about how the team responded to an uneven first half with a stellar second half.
Ryan Fitzpatrick's line on the day was 15 of 24 for 179 yards with two touchdowns, one interception for a QB rating of 96.7. He wasn't sacked.
Chris Ivory led all rushers with 20 carries for 91 yards and two touchdowns with a long run of 19 yards. Running back Bilal Powell followed with 12 carries for 62 yards. Marshall led Jets receivers with six receptions for 62 yards and one touchdown, followed by Owusu, who had four receptions for 55 yards. Decker had two receptions for 37 yards and one touchdown.
New York's defense forced five(!) turnovers today. They forced thirteen all of last season.
The Jets play next Monday Night in Indianapolis against the Colts. Kickoff is at 8:30 on ESPN.
Videos
NY Jets OTA Recap; Robert Saleh Cancels Minicamp