Featured Editorials Home Slider
Deep Trouble for Jets, Fitzpatrick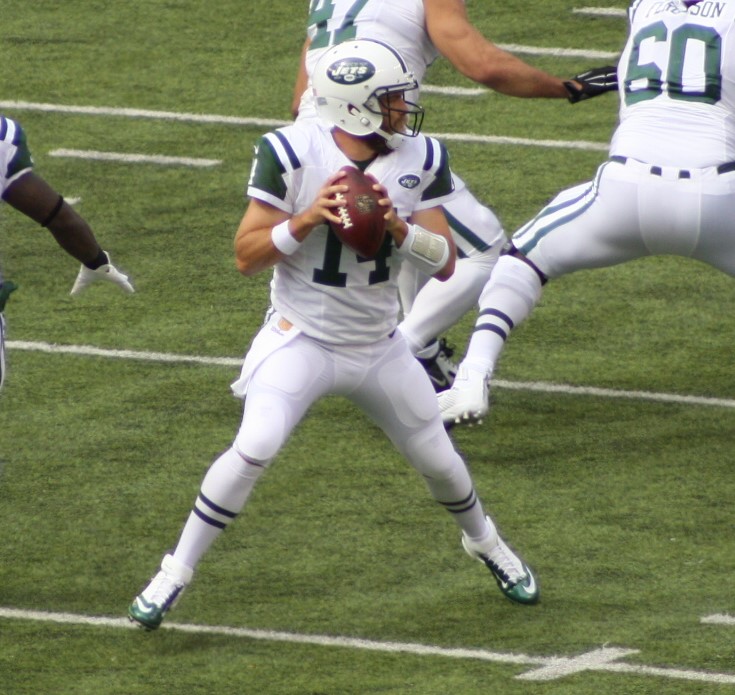 By Glenn Naughton
Chan Gailey said it in his pre-game press conference, and JetNation.com brought it up in our key matchups in the days leading up to the Jets/Eagles tilt at MetLife Stadium.  Unlike their first two opponents, the Browns and Colts, the Eagles would field an active front seven that's able to put pressure on opposing quarterbacks which is often key in creating turnovers (See Jets vs. Colts last Monday).
If the Jets were going to win their game this past Sunday after falling behind 24-0, they were going to need some big throws from quarterback Ryan Fitzpatrick, but that wasn't to be.
Fitzpatrick's struggles were somewhat surprising based on his success throwing the deep ball last season when he held the leagues second-best deep accuracy rate behind only Matt Ryan.  According to statistical web site PFF.com, when Fitzpatrick threw it long last year, he was on target on 20 of 38 attempts, a 52.6% accuracy rate.  In the early going this season however, it's been a much different story as Fitzpatrick is ranked 26th in the NFL, going 3-20 when looking for a big gain, a mere 15%.
With this being the case, we're left wondering if it was this year or last that was the anomaly.  Over the course of the season we'll find out as he and Chan Gailey are unlikely to reel it in after a few rough games, but if there's not some moderate improvement at the very least, the Jets could find themselves in trouble more often that they'd like.
Should Fitzpatrick continue to misfire on throws deep down field, teams will undoubtedly crowd the line of scrimmage to shut down running back Chris Ivory while only respecting short to intermediate routes.  This is what the Eagles were able to do this Sunday, and the result was a staggering 58 pass attempts from Ryan, many of which were off-target down the field, often underthrown.
While some fans are ready to hit the panic button, screaming for the strong-armed Geno Smith, it's worth nothing that Smith himself was among the worst quarterback in the NFL last season when airing it out. From a JetNation.com article earlier this off-season, Geno's ability to throw the deep ball was listed as a major concern:
4) Deep Ball Struggles

Utilizing PFF data once again for this category, Smith threw only 45 passes that traveled 20 yards or more through the air, tying him for last in the NFL with Kyle Orton of the Bills, so you can't ignore the fact that Smith still led the NFL in interceptions on deep passes with eight.

Completing just 31% of those passes puts Smith ahead of only Blake Bortles and Derek Carr in terms of deep ball accuracy, whereas Fitzpatrick, his projected back-up, ranked second in the NFL behind only Matt Ryan with a 52.6% completion percentage while throwing 6 TD's and 3 INT's to Smith's 5 TD's and 8 INT's.

Smith's struggles in throwing the ball down field was a key this season as the Jets lost several games by a touchdown or less.

In a pair of home losses to the division rival Dolphins and Patriots by 3 and 1 point respectively, poorly thrown would-be touchdowns cost the Jets valuable points.

If Smith is going to be a successful NFL quarterback, he's going to have to become a more accurate passer when his receivers beat coverage down the field.
Even if Smith's numbers were more respectable, Head Coach Todd Bowles was crystal clear in his post game press conference when asked if Geno Smith had any chance to climb the depth chart and take the starting role.  Without hesitation Bowles answered "Ryan's our starter" and gave his quarterback a vote of confidence.  A harsh reality for those fans in Geno's corner, but a sound decision from a coach who isn't going to allow himself to be swayed by a single poor outing.
All things considered, Fitzpatrick still has to start  hitting his receivers for a few "chunk" plays to keep defenses honest and to avoid his lack of deep accuracy, to deep-six the offense.
Videos
Aaron Rodgers Injury Fallout & Jets/Bills Recap