Breaking News Featured Editorials Home Slider Jets Report Card
New York Jets Report Card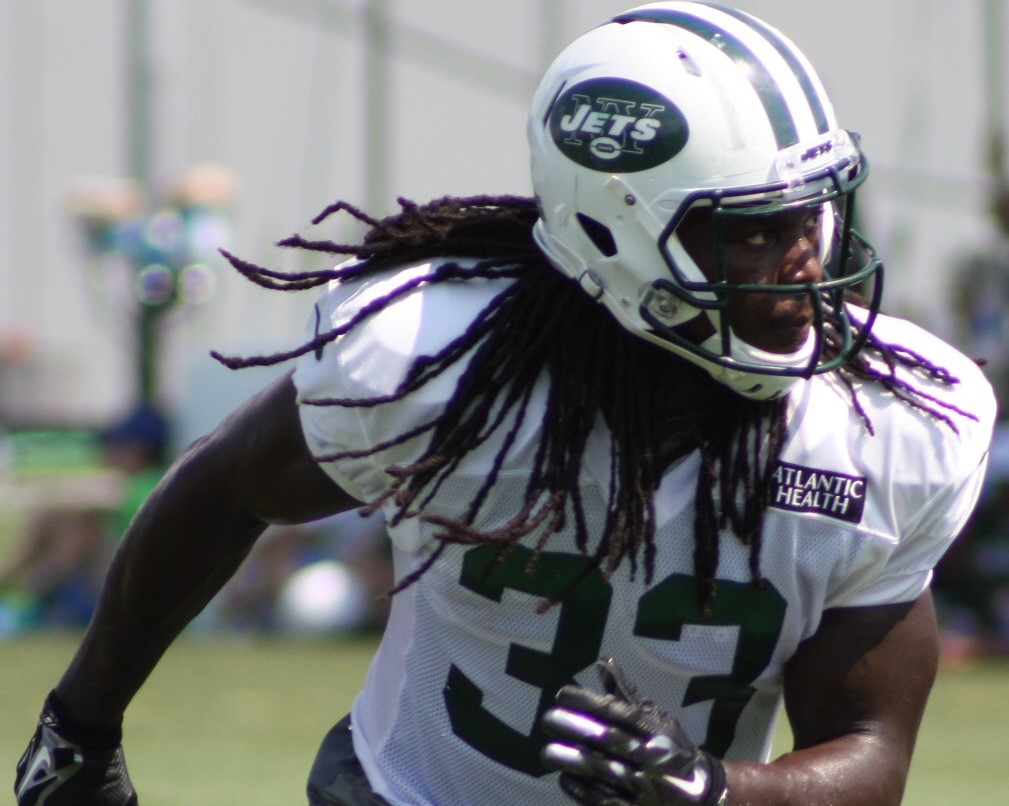 New York Jets Report Card
Week 4: New York Jets @ Miami Dolphins (in London)
Quarterback: C
Ryan Fitzpatrick: 16/29, 218 yards, 1 TD, 1 INT, 9 rushes for 34 yards
Fitzpatrick was hot early. Having heard questions all week about his limited arm strength, Fitz came out right away and threw a successful bomb to Brandon Marshall. Granted, it was still under thrown, but it did connect. As the game progressed, his accuracy dipped off considerably, and he finished the game having completed just a shade over half of his passes. Ryan even showed off his legs with multiple first down conversions on the ground. He's not making the same kind of boneheaded plays that Jets fan suffered with for years under Sanchez and Geno, but he does disappear for vast swaths of the game, putting extra pressure on the increasingly tired defense.
Running Backs: A+
Ivory: 29/166/1
Stacy: 5/7/1, 2 receptions for 18 yards
Powell: 1 reception for 12 yards
Guess what? Chris Ivory is back and he's still an absolute menace. If he's injured, he sure didn't show it, as he broke his career rushing record today.
Wide Receivers/Tight Ends: B+
Marshall: 7/128/0
Decker: 4/46/1
Smith: 2/14/0
Decker's back from injury and looks just fine, and Marshall continues to put up monstrous numbers week after week. The production the Jets are getting from their two (typically) outside receivers is a cause for optimism. The pessimistic take? Where is the depth? Can the Jets ever get a tight end involved in the passing game?
Offensive Line: A-
There were a few penalties on the line today, including one from Nick Mangold, a guy that simply does not get penalized. Still, they were manhandling some very tough competition all day, opening up holes in the running game and protecting the quarterback well.
Defensive Line: A
We'll have to monitor that Leonard Williams injury, but it looks like Sheldon Richardson will be back for the Jets in week 6, coming off the bye. As was the case with the offensive line, the big men for the Jets on the other side also controlled the line of scrimmage in a dominant fashion.
Linebackers: B+
A very solid effort, as the Dolphins netted only 59 yards on the ground. The Dolphins didn't even really attempt to move the ball on the ground, but that to is a credit to the Jets D. David Harris went down with injury.
Secondary: A-
The Jets secondary was hit with several big penalties. Consecutive pass interference calls practically gifted the Dolphins their first touchdown. A passive approach led to some garbage time yards for Dolphins QB Ryan Tannehill, who was held for less than 200 yards through the air nonetheless. The secondary came up big with 2 late game interceptions that prevented the game from getting too close for comfort. Calvin Pryor was injured late in the game, but recent addition Dion Bailey stepped in and made some plays immediately.
Special Teams: C
Nick Folk was 2/3 on his field goal attempts. Jeremy Kerley remains mediocre at best on punt returns, though he gives it a solid effort when he's not calling for a fair catch.
Coaching: C
Give credit to Todd Bowles and his staff for having his team prepared despite the unusual circumstances that called for a trip to London. The penalties, though, are completely out of control. The Jets were penalized 14 times for 163 yards. That can't happen again.
Videos
Aaron Rodgers Injury Fallout & Jets/Bills Recap