Breaking News Home Slider Jet News
Jets Post Game Notes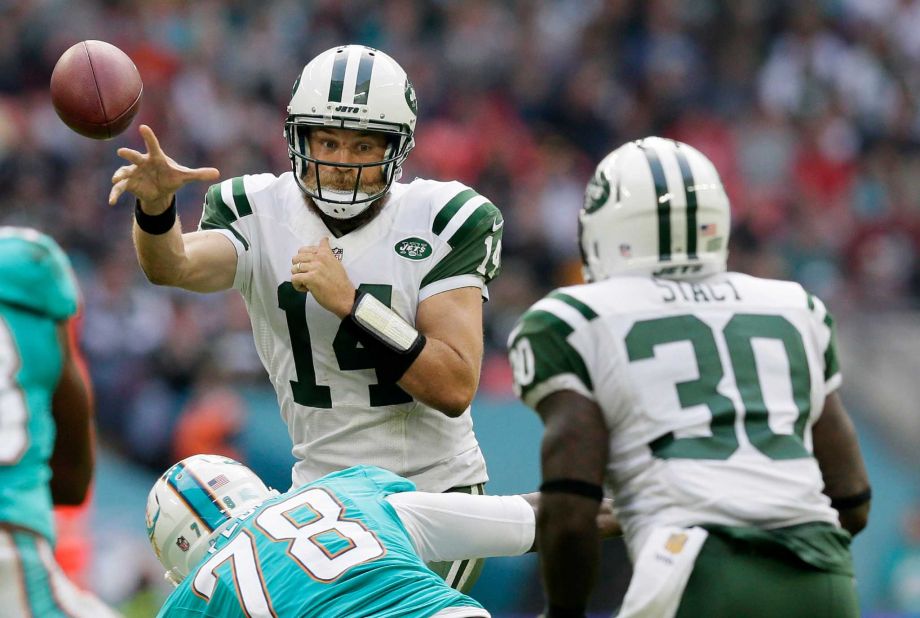 The Jets defeated the Dolphins in Wembley Stadium and the grades are good, be sure to check out our NY Jets Report Card. Here are some additional notes from the game today.
Captains:
#2 Nick Folk, #4 Ryan Quigley, #46 Tanner Purdum.
NFL Debut:          
Rookie TE Wes Saxton earned his first NFL playing time on offense when he saw action on RB Zac Stacy's three-yard touchdown run.
Jets Debut:
Second-year S Dion Bailey played in his first game as a Jet, seeing action on special teams and defense, where he recorded four tackles.
Opening Drive:
The Jets opened the game with a three-play, 73-yard touchdown drive. It was the team's first scoring drive to open a game since Week 10 of 2014 (PIT 11/9) and first touchdown drive to open the game since Week Two of 2014 (at GB 9/14).
Chris Ivory:
RB Chris Ivory rushed for a career-high 166 yards and one touchdown for his seventh 100-yard game of his career. His 5.7 yards-per-rush are the most since 9/7/14 vs. OAK (10.2). The Jets record improves to 5-1 when Ivory goes over 100 yards on the ground. Ivory's previous career high was 158 yards set with the Saints in 2010.
Brandon Marshall:
WR Brandon Marshall opened the game with a 58-yard reception from QB Ryan Fitzpatrick. It marked his longest catch since 2009, when he hauled in a 75-yard touchdown pass at WAS (11/15/09) as a member of the Denver Broncos. Marshall registered his third-consecutive 100-yard receiving game after he finished with seven catches for 128 yards. He is the first Jet receiver to record three consecutive 100-yard receiving games since 1988, when Jets Ring-of-Honor WR Al Toon did it (MIA 11/27, at KC 12/4 and vs. IND 12/10).
Third Down Defense:
The Jets defense now has 18 consecutive third-down stops. New York held the Dolphins offense to 0-6 on third-down conversions in the first half and 0-6 on third-down conversions in second half. This game gave the Jets 18 consecutive third down stops dating back to the second half against the Philadelphia Eagles (PHI 0-for-last-6). It is the longest third-down stretch by a Jets defense since 21 in a row in 2010 (0-for-last-5 at MIA, 0-for-10 at BUF, 0-for-first-6 vs. MIN). It is the fourth time in the team's four games this season that New York has held an opponent without a third-down conversion in a half.
At IND (9/21)        0-8          First Half
PHI (9/27)              0-6          Second Half
At MIA (10/4)       0-6          First Half (played in London, England)
At MIA (10/4)       0-6          Second Half (played in London, England)
Ryan Fitzpatrick:
QB Ryan Fitzpatrick broke the 20,000 career passing yards mark when he completed a 58-yard pass to Brandon Marshall. He finished the match 16-of-29 for 218 yards, one touchdown and one interception, his fourth straight game with a touchdown. Fitzpatrick rushed for a season-high 34 yards including a 19-yard rush for a first down in the final two minutes of the half, his longest rush since 10/6/13 vs. KC when he went for 26 yards as member of the Tennessee Titans.
Eric Decker:
WR Eric Decker caught a 10-yard touchdown pass with 33 seconds left in the half to put the Jets up 20-7. It was Decker's third touchdown reception in as many games played. He finished with four receptions for 46 yards and one touchdown.
Muhammad Wilkerson:
DE Muhammad Wilkerson registered two sacks of MIA QB Tannehill, giving him a team leading 3.5 for the season. The two sacks give him 4.5 in his last five contests.
David Harris:
LB David Harris recorded his second sack of the season in the second quarter when he took down MIA QB Ryan Tannehill. Harris now has 32 sacks in his career. His 32 sacks are the most by a player in the NFL that has exclusively played inside linebacker since 2007.
Darrelle Revis:
CB Darrelle Revis picked off MIA QB Tannehill in the end zone late in fourth quarter to halt the Dolphins drive for his second interception on the year. For the season, Revis has registered five take aways (three fumble recoveries and two interceptions).
Marcus Williams:
CB Marcus Williams recorded his second interception of the season and third of his career when the picked off MIA QB  Tannehill in the end zone of the final two minutes of the game to seal the Jets victory. Williams also had four special teams tackles.
Brian Winters:
RG Brian Winters made his first start at RG for the Jets this season replacing the injured guard Willie Colon. Winters joins Brandon Moore (2004-12) and Colon (2013-15) as the only Jets RG starters since 2004.
Offensive Line:
For the third time in four games, the Jets did not allow a sack, and the line helped contribute to a season high 207 yards on the ground. The Jets eclipsed 400+ yards of total offense (425), first time since 12/28/14 at MIA (494).
Take Aways:
The Jets lead the league with 13 take aways for the year (seven fumble recoveries and six interceptions), for a +6 turnover margin on the season. All of the team's interceptions have come at the hand of defensive backs: Darrelle Revis (two), Marcus Williams (two), Calvin Pryor (one) and Marcus Gilchrist (one).
Videos
Aaron Rodgers Injury Fallout & Jets/Bills Recap