Breaking News Featured Editorials Home Slider
Thank You, London!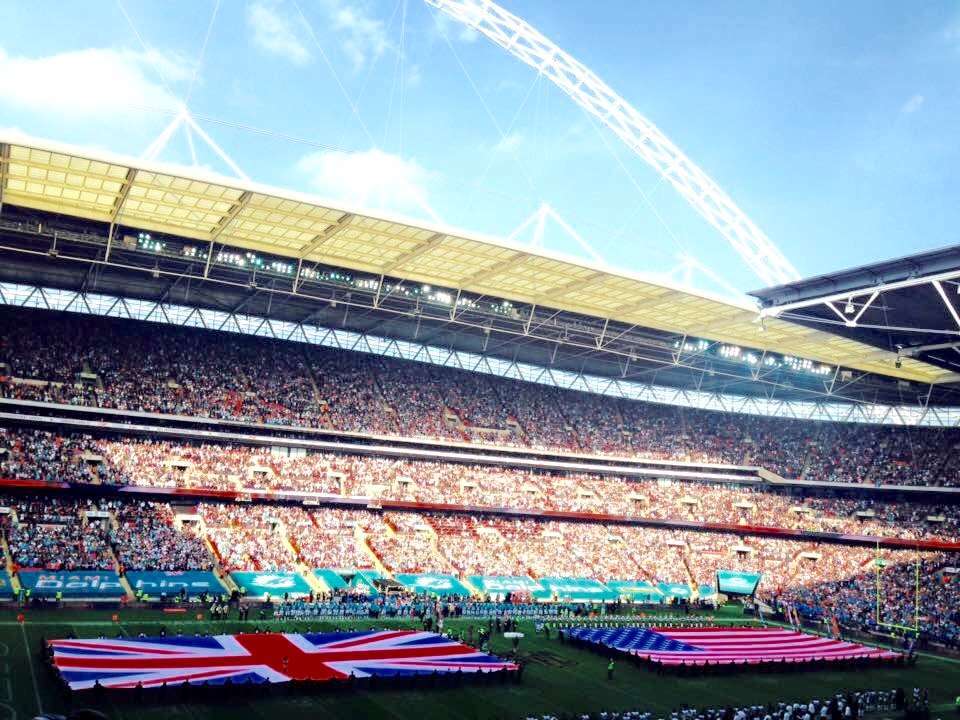 If you were a Jets fan who had the opportunity to visit London for the first time, or the one-millionth time to watch the Jets beat the Miami Dolphins 24-17 on Sunday, you were probably treated to a great time at the world-famous Wembley Stadium.
Despite the fact that there were plenty of neutral fans who were just anxious to get their American Football fix, those with a rooting interest heavily favored the Dolphins.  However, a quick start out of the gate by the Jets silenced Fins fans throughout the building and the thousands of Jets faithful were able to enjoy the game in relative peace,.
Strolling along the main plaza outside the stadium before the game, Jets colors was everywhere.
Whether it was a throwback Joe Namath, Wayne Chrebet or Curtis Martin, a brand new Darrelle Revis, or a makeshift Ryan Fitzpatrick Jersey, Jets fans represented well.
Bars and restaurants were getting so crowded that late-arriving fans were being turned away or told that they would be facing a wait of at least an hour, but that couldn't dampen the atmosphere.
Once inside, fans had a choice of some traditional American food, burgers and hot dogs, or a few typical British items on the menu.  Jeff Cumberland may have been inactive for the Jets, but the Cumberland Sausage rolls being served up were excellent.
The London sunshine put Wembley in the spotlight and there were plenty of locals on hand to take it all in.  Sadly, many were sporting old-school Dan Marino jerseys, but they were good folks, so let's not forget that the NFL wasn't the monster it is today when many Brits were probably only aware of a handful of elite players with Marino at or near the top of that list.
The pre-game national anthems paired with the dual-displayed Stars and Stripes and Union Jack was a terrific display for two countries seemingly attached at the hip as the league looks to add a team across the pond in the not-so-distant future.
While nobody knows for sure which NFL franchise will call London home when the time comes, one thing we do know is not only will London be fortunate to be getting a team, but that team will be just as lucky to be getting the City of London.
Videos
NY Jets Phase 3 OTAs, Expectations and a Minor Calf Tweak with Greg Renoff