Breaking News Home Slider Jet News
Revis Returns to Gillette Stadium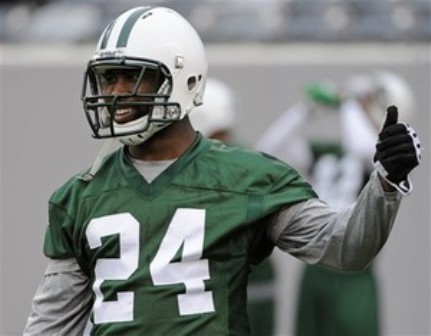 Much to the dismay of Jets fans everywhere, Darrelle Revis had a very productive season last year for the New England Patriots. On Sunday he returns to Gillette Stadium, this time with the NY Jets. He was asked for his thoughts on several Patriots related topics.
On Tom Brady…
Tom is a competitor. Being his teammate last year and even before that he's always looking for the best matchup and he trusts his guys.
On what he is using from his time with New England to prepare for this Week…
I've got my notes (laughs). I have my notes. Once you play a team so much twice a year, you've got to go back to the previous game depending on the years you've played them and see if you can pick up on anything. I'm sure those guys are doing the same thing on their end too.
On if this matchup will be a "chess match"…
They've been playing lights out on offense and we've been playing lights out on defense. It's the number one offense versus the number one defense. It should be very exciting, it should be fun. I'm looking forward to it. It's going to be a fun matchup.
On if he has had time to appreciate winning Super Bowl XLIX…
Like I said, it's a memory that I will never forget. We've got a good team. It's 2015 now and now I'm here. All of that is behind me at this point. When I'm sitting down somewhere when I'm done, that's a memory that I'll always cherish.
On how big of a game this is for the team…
As big as you want it to be. For us, it's still early in the season. We're still trying to get better and better each week. It is a big game because it is a conference game, but at the same time it's still early in the season. We're trying to get better as a team. Whoever is on the schedule that week is who we've got to play and who we have to go up against.
On his experience playing under Head Coach Todd Bowles…
Yeah, me personally I'm having fun and a lot of the guys are as well. Winning is big, especially when you have more wins than losses. It makes things a little bit easier around here. We're enjoying it as much as we can. It's still a long season. We've got a long ways to go. It gets harder every week, it definitely does. We just have to continue to just keep on working and staying consistent in what we do.
Videos
Aaron Rodgers Injury Fallout & Jets/Bills Recap