Featured Editorials Home Slider
Time for Fitzpatrick to Step up Against Rex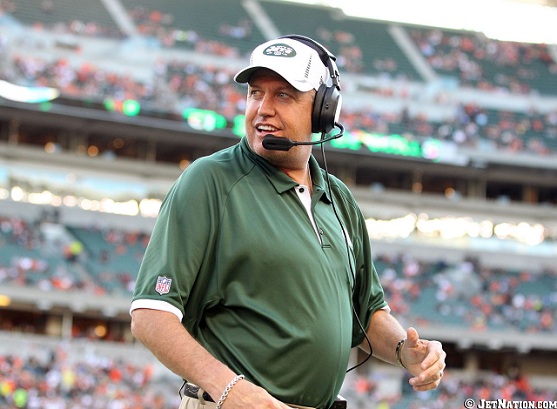 By Glenn Naughton
Through the first eight games of the 2015 season, Ryan Fitzpatrick has spent a good deal of time silencing his doubters under center for the New York Jets.
He has led the team to a 5-3 start, throwing 13 touchdowns, rushing for another, while tossing 7 interceptions.  With numbers like those, he shouldn't be making any hotel reservations for the pro bowl just yet, but for Jets fans who had grown tired of the days of Mark Sanchez and Geno Smith, Fitzpatrick has been a breath of fresh air.
This Thursday night however, Fitzpatrick won't just be trying to keep an offense going whose running game has faltered and whose top receiver, Brandon Marshall, is banged up, but he'll be facing a Rex Ryan-coached defense, and that's never been a good thing for the veteran.
As a member of the Bills, Fitzpatrick faced Ryan and the Jets six times, going 2-4 with some of the worst performances of his career.
Even in his first win against Ryan, the Bills MVP was Jets starting quarterback Mark Sanchez, who threw five interceptions against the Bills and even then, Buffalo was only able to eek out a 3-point victory as the Jets held Fitzpatrick to just 116 yards passing and a single touchdown to go along with one interception.  Ryan's unit held kept Fitzpatrick's completion percentage to a paltry 40% (10-25) and that wasn't what one would consider an anomaly when the two squared off.
As a matter of fact, Fitzpatrick would fare even worse in the follow-up game, a 19-13 loss that may have set modern-day NFL football back thirty years.  Fitzpatrick's line in the loss, 9-23 for 98 yards without a single touchdown and one interception.
Mark Sanchez bested Fitzpatrick and the Bills, but not by much.  A mediocre Buffalo defense held Sanchez to 104 yards through the air on 7-15 passing, so as was the case in many of Ryan's victories, it was due largely in part to his defense and running game being able to overcome horrific quarterback play.  Unfortunately for Fitzpatrick, he was just slightly worse than Sanchez.
It hasn't been all bad for Fitzpatrick against Ryan, but he has still come up on the losing side even when he's performed at a high level.
Fitzpatrick's best day against a Ryan defense came in a 28-24 loss that saw the Jets jump out to an early lead that the Bills weren't able to erase as the bearded one had a stellar performance, throwing three touchdowns and no interceptions while going 26-39 and 264 yards passing.  So despite a good performance, the result was very much the same.
Win number two against Ryan would come in their last meeting of the 2012 season.  It was a meaningless week 17 contest that the Bills would win 28-9 over Ryan's Jets as both teams would finish the season with identical 6-10 records.
Now, off to one of the best starts of his career, Fitzpatrick gets another chance to not only beat his former team, but against a coach and a scheme that he has failed to solve more often than not.
The Jets and Bills are the only show in town on Thursday night, and Fitzpatrick and the Jets are hoping this show has a different ending than so many that proceeded it.
Videos
Aaron Rodgers Injury Fallout & Jets/Bills Recap