Featured Editorials Home Slider
No Shortage of Milestones for Gang Green in Giant win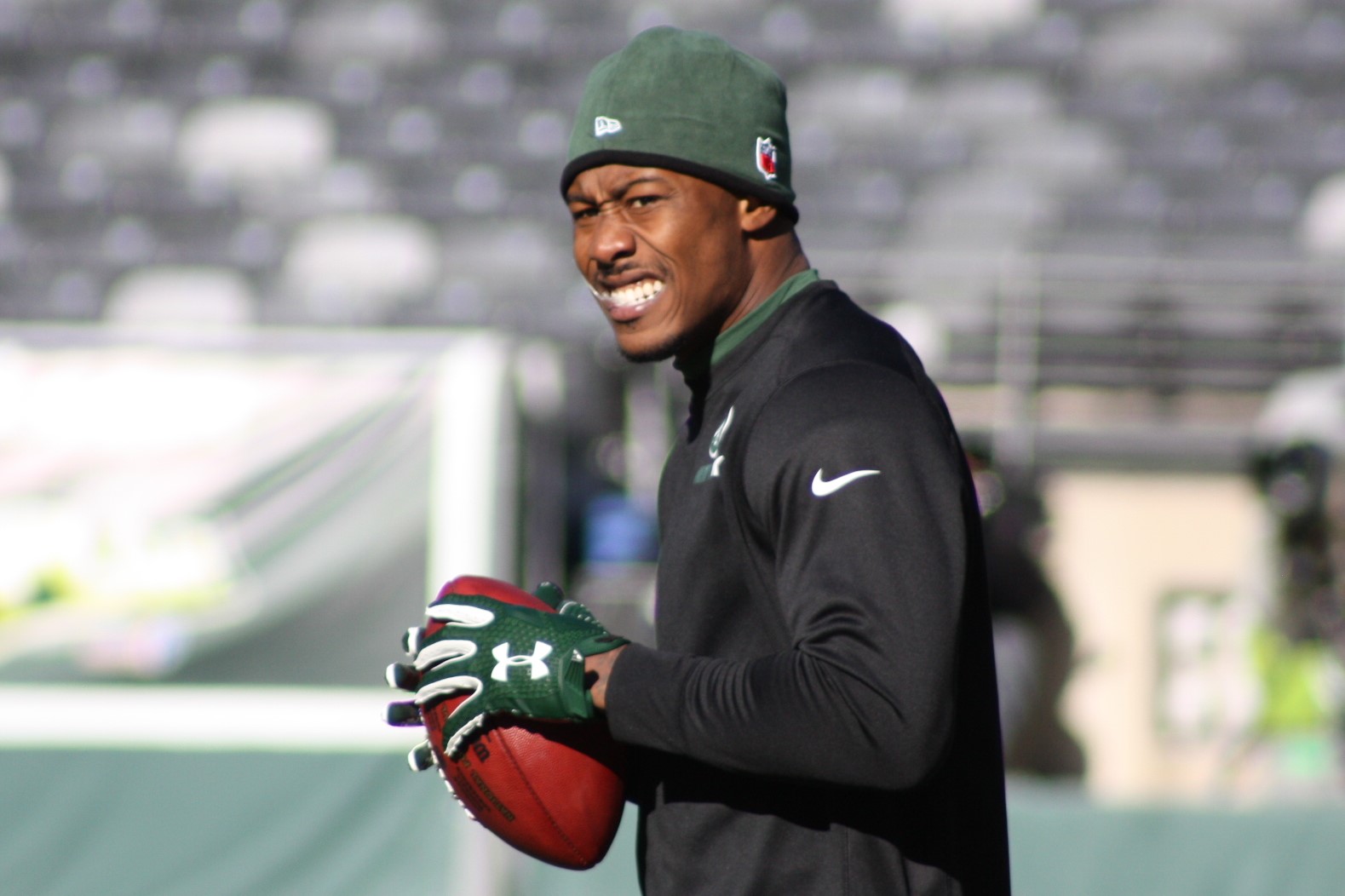 By Glenn Naughton
How many myths can be dispelled, streaks broken or career firsts achieved in a single NFL game?  Apparently the Jets put that to the test on Sunday against the Giants, and somewhere along the way, they probably lost count.
In their 23-20 win against the co-tenant Giants, the Jets hit several team and individual marks that some players had never reached previously, and some that hadn't happened as a franchise in decades.
First off was the win itself.
Gang Green walked away with a victory against big blue for the first time in 22 years, back when Boomer Esiason was at quarterback and threw for just 129 yards in a snooze-fest that the Jets won 10-6.  A stark contrast to the over 400 yards of offense churned out by Ryan Fitzpatrick yesterday (390 passing, 22 rushing).
Then of course there was the fact that the Jets posted their seventh win under Fitzpatrick, a new career-high for the veteran.  There was no shortage of pre-season chatter in regards to Fitzpatrick and how he'd never won more than six games in a single season.
The Jets were doomed if he was the starter, some proclaimed.  It was essential the Geno Smith be handed the starting job when healthy no matter how poorly he'd performed in the past according to others.
On Sunday we saw just how much Fitzpatrick's history with teams like the Buffalo Bills, Tennessee Titans and Houston Texans, and having previously topped out at six wins meant.  Absolutely nothing.
Playing on teams whose defenses regularly ranked near the bottom in points allowed in the NFL and some significant injuries along the way would clearly have had a major impact on the win/loss record Fitzpatrick has posted, but that didn't stop the doubters from allowing his win-loss record to be their be-all, end-all following his off-season acquisition.  So much for that.
No, Fitzpatrick didn't just hoist the Lombardi Trophy at MetLife.  Heck, he's still never guided a team to the playoffs.  But posting a career-best seventh win is a nice way for the veteran to head in to the season's final four games as the Jets make a push for the post-seas0n.
The firsts didn't end there either.  Not by a long shot.
When Brandon Marshall hauled in a 25-yard reception from Fitzpatrick in the fourth quarter, it marked the eighth time in nine seasons the receiver topped the 1,000 yard mark, but he became the first Jet to do it since Jerricho Cotchery back in 2007.  A feat difficult to fathom in today's wide open NFL, but to some Jets fans, it probably feels like it's been decades since one of their own receivers had that type of production.
At some point this season it would seem Marshall will be joined by Eric Decker who sits at 801 yards with four games to play.  While 1,000 yards may not be a lock, it's certainly looking likely at this point.  Especially after both Decker and Marshall topped 100 yards yesterday (101 and 131 respectively), the first Jets tandem to break the century mark in the same game since Al Toon and Wesley Walker did it back in 1986.
Not every performance was record book worthy, but many were key plays or performances nonetheless, and it wasn't just on the offensive side of the ball either where running back Bilal Powell recorded his first touchdown through the air to go along with  a career high 91 yards receiving and 17 yards on the ground for his second career 100+ yard game.
Reserve safety Rontez Miles also got in on the act, picking up his first career interception on what was arguably the games most critical play.
With the Giants holding a 23-13 lead with under 9 minutes remaining in the fourth quarter, Tom Coughlin opted to go for the touchdown and take a pass on a chip-shot field goal.  His quarterback, Eli Manning, dropped back to pass and Miles cut in front of the intended receiver, coming away with the interception.  Jets ball.
Rookie defensive end Leonard Williams, who has been stellar against the run, but somewhat of a disappointment in getting after the passer, managed to notch his first full sack when he brought down Eli Manning in the thrid quarter, while Mike Catapano, who has worked his way in to the team's defensive rotation, managed to pick up a sack of his own earlier in the game.  It was the second of Catapano's career, but his first as a Jet.
The list is lengthy and the end result made the milestones that much more memorable, but the team has likely moved past all of that by now as they prepare to take on Marcus Mariota and the Tennessee Titans on Sunday where hopefully more milestones lie ahead.
Videos
Aaron Rodgers Injury Fallout & Jets/Bills Recap