Breaking News Home Slider Jet News
Jets Top Patriots; Control Playoff Destiny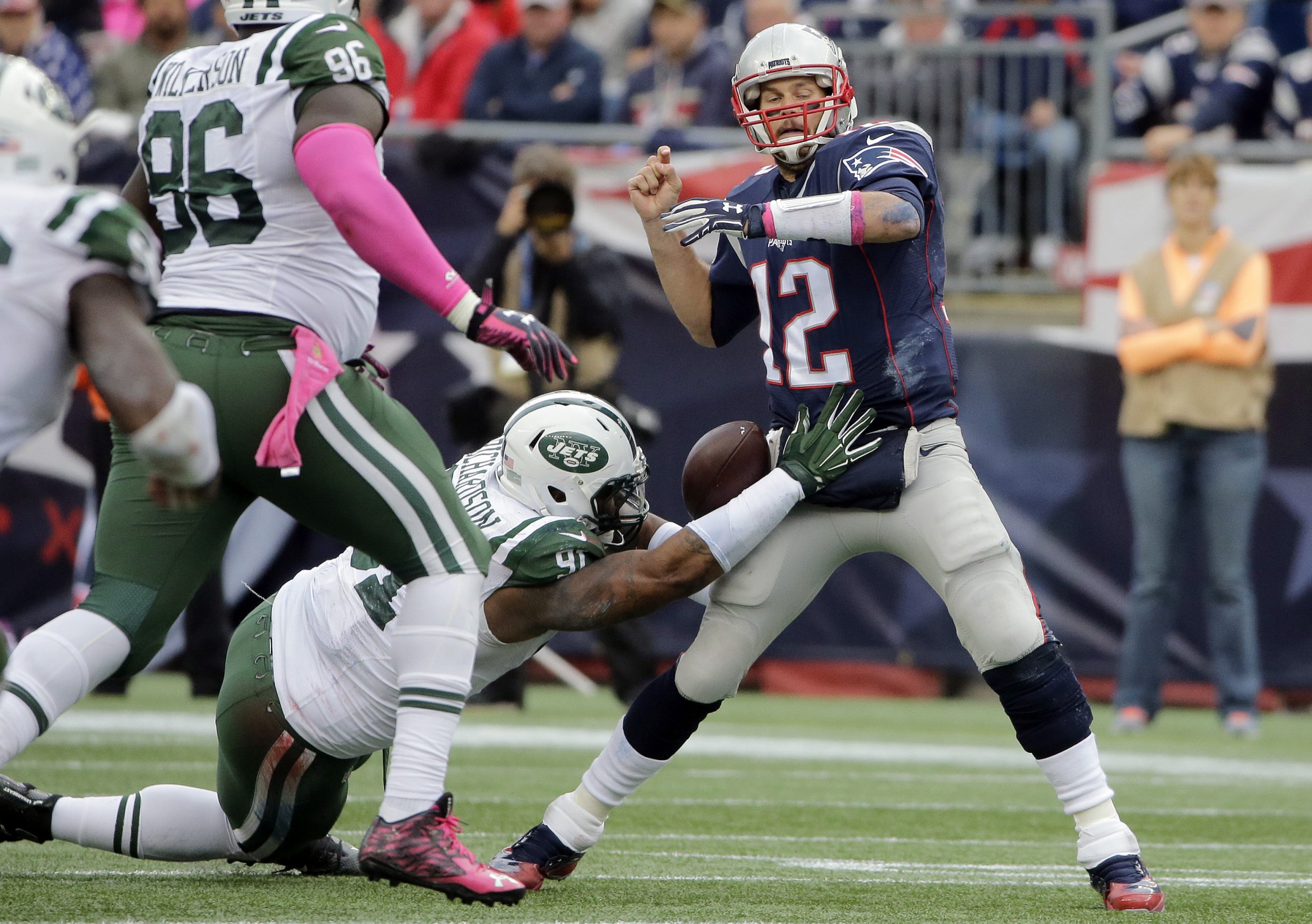 The New York Jets beat the New England Patriots in overtime and they now control their own playoff destiny. With a win next week against the Buffalo Bills, the Jets are guaranteed a wildcard spot. Kristine Gammer is celebrating the Jets win and her recent engagement; congratulations Kristine. So here are some some updates from the game, along with the post game notes (below).
Post Game Notes
Captains:
#24 Darrelle Revis, #31 Antonio Cromartie,  #21 Marcus Gilchrist, #25 Calvin Pryor,  #41 Buster Skrine
Five-Game Winning Streak:
Since holding a 5-5 record following their Week 11 loss at HST (11/22), the Jets have won their last five games to improve their record to 10-5. This marks the first 10-win season since 2010, when the team finished 11-5, as well as the first five-game streak since winning Week Two through Six  of that same season.
Third-Down Defense:
After holding NE to one-of-10 on third down, the Jets now rank second in the NFL in that category, limiting opponents to a 32.1% conversion rate. Over their five-game win streak, the Jets have limited opponents to a 21.5 percent conversion rate, the lowest in the NFL for that period. For NE, their 10.0% conversion rate is the lowest since they were held to 8.3% in another overtime loss at the Jets (10/20/13).
Brandon Marshall:
With his first catch of the game, WR Brandon Marshall broke the Jets single season record for most receptions, which was set in 1988 by Ring of Honor receiver Al Toon (93). Marshall finished the game with eight receptions for 115 yards and two touchdowns, improving his new franchise record for most receptions in a season to 101 and becoming the first player in NFL history to produce six 100-catch seasons.
Marshall recorded his ninth 100-yard performance of the season, matching a team record set by WR Don Maynard (1967), and the 43rd such game of his career. His two touchdowns, the second game this season he's caught at least two touchdowns, improved his season total to 13, surpassing his previous high of 12 set in 2013 with CHI.
Eric Decker:
WR Eric Decker sealed the overtime win when QB Ryan Fitzpatrick connected with him on a six-yard touchdown pass. The touchdown marks his 11th touchdown of the season, two shy of his single-season best of 13 established in 2012. With his three catches for 47 yards, Decker increased his season totals to 75 receptions, 977 yards and 11 touchdowns, bettering his 2014 totals with the Jets in all categories.
Wide Receiver Duo:
WRs Eric Decker and Brandon Marshall established an NFL record for touchdown catches in the same game in a season, improving their total to eight game and surpassing the mark of seven set by Cris Carter and Randy Moss with Minnesota in 1998. Decker and Marshall improved their franchise record for receiving touchdowns in a single season to 24. The Jets own a 7-1 record when Decker and Marshall both register touchdowns in a game.
Ryan Fitzpatrick:
QB Ryan Fitzpatrick finished the game 26-oif-41 for 296-yards and three touchdowns with no interceptions for a passer rating of 109.4. His career-high 29 touchdown passes have tied the club record set by Vinny Testaverde (1998).
During the team's five-game winning streak, Fitzpatrick has completed 131-of-203 for 1,525 yards and 13 touchdowns wit one interception for a passer rating of 106.5. In three of the last four games, Fitzpatrick has driven the Jets to a win in the final two minutes of regulation or overtime.
Quincy Enunwa:
In overtime, WR Quincy Enunwa helped set up the game-winning score with a 48-yard pass from QB Ryan Fitzpatrick. The reception, the longest of his career, set the Jets up at the NE 30-yard line, with the Jets scoring two plays later. Enunwa finished the day with two catches for a career-high 69 yards, surpassing his career high of 50 yards set vs. PHI (9/27).
Sheldon Richardson:
DL Sheldon Richardson recorded his fifth sack of the season by bringing down Tom Brady for five yards in the fourth quarter. In his 10 games played, Richardson has notched 3.5 of his sacks against division opponents this season, notching two against Brady.
Darrelle Revis:
CB Darrelle Revis intercepted a Tom Brady pass in the third quarter, giving the corner five for the season, his highest total since 2009. The takeaway is his team-leading eighth of the season (five interceptions, three fumble recoveries).
Lorenzo Mauldin:
LB Lorenzo Mauldin recorded his fourth sack of the season when he took down Tom Brady for a five-yard loss in the third quarter, the most by a Jets rookie since former DE/LB Quinton Coples registered 5.5 in 2012.
Randy Bullock:
K Randy Bullock connected on both field goal attempts for the Jets. Bullock established a new long as a Jet when he connected on a 49-yard field goal attempt in the fourth quarter. Bullock's career long of 55 was recorded vs. BUF (9/28/14) while with HST.
Videos
New York Jets OTA Presser Takeaways, Aaron Rodgers' Impact and Summer Delusion