Breaking News Featured Editorials Home Slider
Could Gang Green Wind up With Draft's Best Player…Again?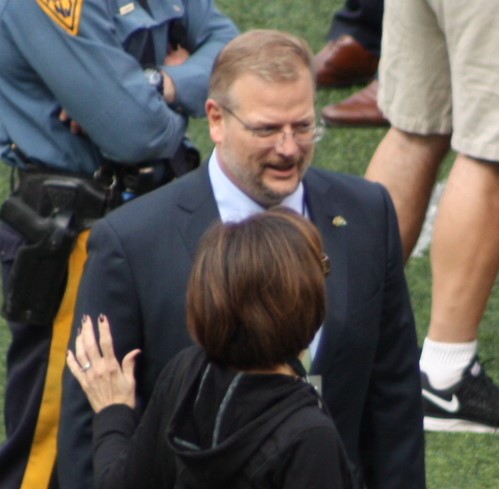 By Glenn Naughton
Last year when the New York Jets had the NFL draft's sixth overall selection in the first round, very few people expected them to come away with a player who many considered to be the best player in the country, defensive lineman, Leonard Williams.
As it turned out, a surprise pick of offensive lineman Brandon Scherff by the Washington Redskins led to Williams falling to a spot that few predicted, and the Jets didn't hesitate.  Despite having an already deep defensive line with Muhammad Wilkerson, Sheldon Richardson and Damon Harrison, the Jets stayed true to their draft board and chose the best player available.  With the NFL draft still months away, could we see the Jets do it again?
With much of the first-round order having already been determined, some of the industry's top pundits have started releasing their first round of mock drafts.  In two of those mocks, it's being predicted that the Jets will choose an outside linebacker which would fill an immediate need.
One of the linebackers being Georgia's Leonard Floyd as predicted by Dane Brugler of CBSSports.com, and the other being a prediction from ESPN draft guru Mel Kiper, who pegs the Jets to snag Notre Dame outside linebacker Jaylon Smith.
Prior to suffering a knee injury in the opening quarter of the Fiesta Bowl, Smith was viewed by many as a top-five pick.  In his analysis of Smith, Kiper goes so far to say that like Williams, Smith is "Arguably the best player in this draft".
A quick peek at his scouting report from CBS Sports shows why Kiper and others speak so highly of Smith:
STRENGTHS: He is a greased up athlete with natural twitch and flexibility, showing balance, burst and excellent speed in pursuit. Scouts are enthralled with Smith's explosiveness and it isn't difficult to understand why.He reads plays quickly and keeps his eyes glued on the ball to collect himself in space and burst toward the ballcarrier with excellent closing speed. Shows tremendous secondary quickness to unhook himself from blocks and make up ground in a flash.

He might be the nation's most forceful tackler, generating incredible power to knock ballcarriers back. Smith is every bit as fast and fluid as he is powerful, however, slipping by (or leaping over) would-be blockers in the running game and dropping effectively in coverage.

It is the ability to play back in coverage and rush the passer that makes Smith such an exciting prospect, as proponents of the 4-3 and 3-4, alike, will see him as a true three down defender.

WEAKNESSES: Smith lacks elite take-on strength for the position and can be late to stack-and-shed.

IN OUR VIEW: In today's ultra-specialized NFL, defenses routinely substitute powerful linebackers on running downs and faster, more agile defenders on obvious passing plays. Teams won't have to swap Smith out, however. Along with injured UCLA outside linebacker Myles Jack (also a projected top 10 pick), Smith is the most versatile and pro-ready linebacker in the country.

–Dane Brugler & Rob Rang (11/29/15)
Smith will almost surely earn the highest selection of a Notre Dame defender since the San Francisco 49ers made defensive tackle Bryant Young the No. 7 overall pick of the 1994 draft.A player who Irish coach Brian Kelly said is the best he's ever coached, Smith is a freakish athlete who makes plays on the football field that few others at the college level are capable of making. He has the range, instincts and competitive drive that makes him a highly sought after NFL prospect.

Notre Dame's top tackler from 2014, Smith made most of the defensive calls as a true sophomore and separated himself as one of the top NFL prospects in the country.
As a freshman at Notre Dame, Smith had just 58 tackles (5.5 for loss), but he would pile up 226 tackles (18 for loss) and 4.5 sacks over the course of his next two seasons.
Now, even having had reconstructive knee surgery for his torn ACL and MCL, Smith intends to enter the NFL draft.
If the knee checks out and is cleared by the Jets medical staff, and they're willing to live with the fact that he may not see the filed in 2016, they may find themselves with the opportunity to get yet another top-rated defensive player far later than anyone could have expected.  A choice that will allow them the opportunity to team Smith with last year's steal, Leonard Williams in possibly building one of the NFL's best front seven's for years to come.
Videos
Aaron Rodgers Injury Fallout & Jets/Bills Recap