Breaking News Featured Editorials Home Slider
Have Jets, Maccagnan, Tipped Hand in Wilkerson Negotiations?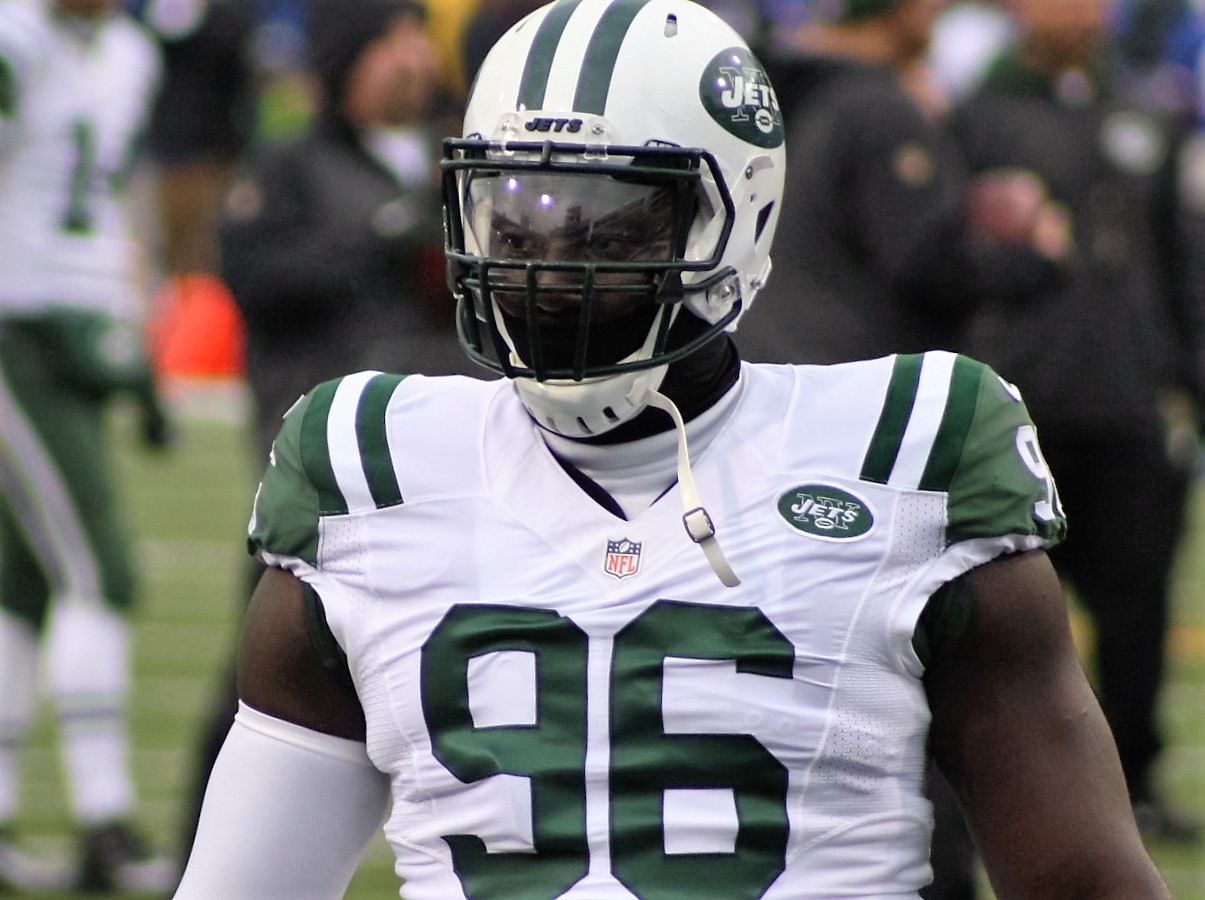 By Glenn Naughton
While Jets General Manager Mike Maccagnan is poised for what promises to be another active off-season, Gang Green fans won't see the same number of splashy moves the GM made in his inaugural season which netted starters Darrelle Revis, Antonio Cromartie, Buster Skrine, Marcus Gilchrist and James Carpenter to name a few.
Still, there is one move that's going to be put under the microscope in both the very near and distant future.  That being which course of action he takes with star defensive end Muhammad Wilkerson who is due to become a free agent at season's end.  Will it be a lengthy contract extension, a franchise tag for one season, or a sign and trade?
As debates rage back and forth amongst Gang Green faithful in regards to how the Jets should handle the situation, it's entirely possible that Maccagnan and the Jets have proceeded with Wilkerson in a way that shows what their exact intentions are…to ship him off to play elsewhere in 2016.
Put yourself in Maccagnan's shoes for just a moment.  Imagine, if you would, you land a job as an NFL general manager for a struggling franchise.  A team starved for a championship, coming off of a dismal four win season, and with very little star power.
You assume your post armed with enough salary cap space to make Bill Gates blush.  You're trying to right the ship and show your fan base that you're committed to building a winner.
After analyzing your 53-man roster, you identify a defensive lineman who is just one season away from free agency, is arguably your best all-around player and among the best as his position in the NFL.  Not only that, but he's a local fan favorite who was drafted by your franchise and has yet to enter the prime of his career.
Those factors alone would likely motivate you to hammer out a deal with said player, but it didn't for Maccagnan, and that's even more surprising given the other changes that were made during the offseason.
What Maccagnan did do with all of that salary cap space was sign the aforementioned players along with re-upping David Harris and trading for wide receiver Brandon Marshall.
In all, the Jets agreed to terms with enough new players to tally roughly $200 million dollars in contracts, none of which went to Wilkerson, who waited patiently as the only team he's ever played for put him on the back burner.
Even knowing that there were several other factors in place that could result in a career season from Wilkerson.
The Secondary:
Wilkerson had amassed 16.5 sacks over the course of the previous two seasons, an impressive total for a 3-4 defensive end but that hardly tells the whole story.  Wilkerson and the Jets were often playing with an undermanned secondary that did little to slow down opposing quarterbacks far too often.
In 2013, a struggling rookie cornerback, Dee Milliner, teamed with a banged up Antonio Cromartie to make up one of the league's least effective secondaries in the NFL, allowing opposing quarterbacks to seemingly pick the Jets apart at will in 2013.
The following season saw a virtual revolving door of cornerbacks from converted safety/linebacker Antonio Allen to Darrin Walls to Josh Thomas.  Even still, Wilkerson piled up six sacks in 13 contests.
2015 would see a complete overhaul as Maccagnan imported Revis, a healthy Cromartie, Skrine and Gilchirst.  The days of playing short-handed on defense were over, and Wilkerson would presumably have that vital extra second or so to get to the quarterback.
The Scheme: 
As mentioned above, the Jets would import the defensive assistant coach of the year, Todd Bowles who made a name for himself with with his over-aggressive defensive play calling.  A re-stocked secondary and a plethora of talent up front would make any lineman better, not just Wilkerson.
More Manpower:
As if the Jets weren't already strong enough up front, Maccagnan used the Jets' first round draft choice on yet another defensive lineman, Leonard Williams.  Considered by many to be the best overall player in the draft, adding Williams to a line that consisted of Sheldon Richardsons, Damon "Snacks" Harrison and Wilkerson would likely mean fewer double teams for Wilkerson to contend with while seemingly importing his replacement for a year of seasoning before moving on.
Need for a QB and/or Depth:
Even coming off of a 10 win season that came as a surprise to some, there are still plenty of holes up and down the roster with the primary position being a long-term solution at quarterback.  If Maccagnan has any desire to move up in the draft to take a shot at one of the top signal callers in this draft, he'll need some chips with which to do it and he doesn't have a bigger chip than Wilkerson from a personnel standpoint.
Even if moving up for a quarterback isn't an option, having only six draft picks isn't ideal for a team with needs at quarterback, along the offensive line, inside and outside linebacker, and running back.
In a nutshell, when the Jets were faced with the opportunity to agree to terms with Wilkerson, they took a pass, while simultaneously creating a scenario for him to have his best season which is exactly what he did in racking up a career high 12 sacks.
Was Maccagnan, who was recently named NFL executive of the year, allowing Wilkerson to increase his asking price come contract time, or wisely sitting back to watch him drive up his trade value come time to start dealing this off-season?
It's a question that will be answered in the coming months.  Once we know the answer, it's sure to be questioned in the coming years.
Videos
New York Jets OTA Presser Takeaways, Aaron Rodgers' Impact and Summer Delusion