Breaking News Featured Editorials Home Slider
Monday Notes: Richardson Avoids Jail Time, Ivory and Mangold Head to Hawaii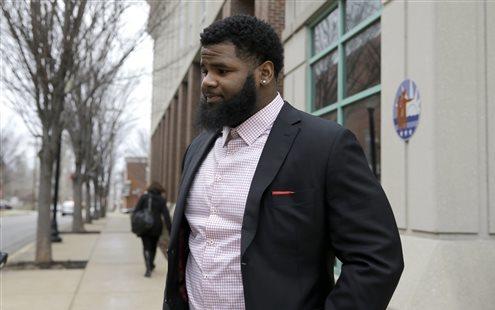 A Quick Recap of Last Week in JetNation:
Sheldon Richardson Avoids Jail Time, but Awaits Discipline from NFL
After missing four games in the 2015 season for failing multiple drugs tests, Sheldon Richardson could very likely be looking at another suspension for the 2016 season. This past Tuesday Richardson pleaded guilty to resisting arrest, a charge that stemmed from an incident in July. Richardson was said to be street racing at speeds up to 143 mph with a 12-year-old child in the car, along with a loaded handgun and an odor of marijuana. With the agreement to a guilty plea bargain, Richardson was sentenced to 100 hours of community service and fined $1,050.00; he will also be on probation. Upon completion of probation the resisting arrest charge will be expunged from Richardson's record. Although Richardson got off relatively easy with his court case, the NFL might not be as lenient. Since Richardson has already violated the league's substance abuse policy, it's highly unlikely he'll get off without a suspension. The biggest question is a matter of how long he'll be on the sidelines. It's a matter the Jets will be hoping is resolved soon seeing as two of their biggest name defensive linemen are pending free agents. Richardson recorded 35 tackles, five sacks, and three tackles for a loss in 11 games during the 2015 season.
Ivory and Mangold Represent the Jets in the Pro Bowl
Chris Ivory made his first trip to the Pro Bowl to replace Bills' running back LeSean McCoy, while Nick Mangold made his seventh appearance replacing Dolphins' center Mike Pouncey. The Jets had three other players selected to the Pro Bowl as well. Muhammad Wilkerson was slated to attend his first Pro Bowl, but wasn't able to make the trip due to the leg injury he sustained against the Bills. Darrelle Revis and Brandon Marshall were also selected to the Pro Bowl, Revis declined the invitation due to shoulder soreness and Marshall declined for an undisclosed reason. During the end of the season Marshall admitted to playing through a high ankle sprain which was likely the reason for not attending the Pro Bowl. Both Ivory and Mangold had decent outings, Ivory had one carry for 16 yards and three receptions for 55 yards. Mangold started at center and was targeted on a fake PAT attempt. The Jets would have had five participants in the Pro Bowl.
Other Notes
While in Hawaii for the Pro Bowl Chris Ivory made some interesting, if not cryptic comments to NFL Network reporters. Although he told them he would like to return to the Jets, Ivory also commented on the cap situation. "I was able to speak to them. They want to bring me back, but like I said, I think it's about the cap space. That's going to be the biggest factor as to whether I'm back or not." The Jets do have a number of big name players becoming free agents this off-season, Ivory being one of them. Unlike last off-season the Jets don't have a wealth of cap space to make multiple big moves. It's almost a certainty that the Jets will have to let some of their better free agents hit the open market. Running back is a position that will likely see significant change. Chris Ivory, Bilal Powell, and Stevan Ridley are all pending free agents leaving Zac Stacy as the Jets' lone running back under contract. Even if the Jets acquire another running back via free agency or the draft, keeping at least one of their current free agent running backs seems a sure thing. Coming off a career season, Ivory will be the most expensive out of the three but is also the most established running back of the group.
Along with Ivory, Powell, and Ridley the Jets have some tough decisions to make with a long list of free agents and a limited amount of cap space. The Jets list of pending free agents includes: Muhammad Wilkerson, Chris Ivory, Damon Harrison, Ryan Fitzpatrick, Darrin Walls, Bilal Powell, Stevan Ridley, Randy Bullock, Antonio Allen, Stephen Bowen, Willie Colon, Demario Davis, Leger Douzable, Calvin Pace, Chris Owusu, Kellen Davis, Jamari Lattimore, Jaiquawn Jarrett, Ben Ijalana, and Erin Henderson. The running back, linebacker, and defensive line groups have the largest amount of free agents and each could see big changes in the off-season. It will be hard for the Jets to retain both Muhammad Wilkerson and Damon Harrison although each of them deserve a new contract. This off-season won't have as many big splash moves as last year seeing as General Manager Mike Maccagnan will have to allocate a good portion of funds to keeping in-house players.
Videos
New York Jets OTA Presser Takeaways, Aaron Rodgers' Impact and Summer Delusion