Breaking News Featured Editorials Home Slider
Monday Notes: Broncos Win Super Bowl, Jets Make Future/Reserve Signings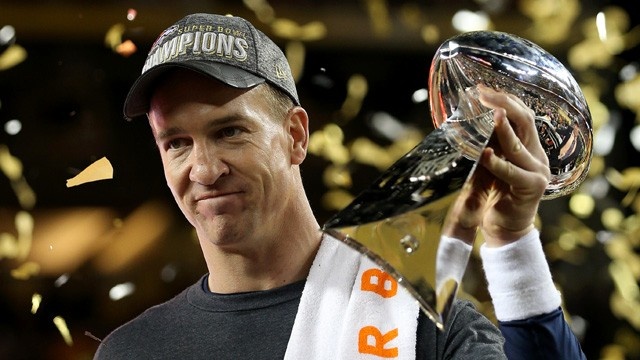 A Quick Recap of Last Week in JetNation:
Broncos' Defense Leads Them to a Championship
The Denver Broncos dominated the Carolina Panthers in Super Bowl 50 with a 24-10 victory, earning Peyton Manning his second Lombardi Trophy. It was one of the most defense oriented Super Bowls in recent memory, one in which neither quarterback scored a touchdown. It wasn't exactly a beautiful game, but it did keep the notion that 'defense wins championships' alive. There were seven fumbles, two interceptions, and 12 sacks between the two teams. With the Super Bowl now in the rear view mirror, the off-season has officially begun for 31 teams, the exception being the Broncos who will take time to celebrate their Super Bowl victory. The biggest question everyone wanted to know prior to the game was whether or not quarterback Peyton Manning would retire. Manning didn't give a direct answer, saying he wanted time to reflect. His father though, Archie Manning, was more blunt stating "I think Peyton is done in Denver. He may be done everywhere. So that's my — you know what? I don't stick my nose in it, so I don't know that. I don't know that. But that's my guess." Interestingly, in a recent interview Joe Namath endorsed the idea that the Jets should take a look at Peyton if he doesn't decide to retire. "If he's physically fit and the Broncos don't want him, I'd give him a good look right out there in New York Jet territory." The scenario is highly unlikely, but is interesting nonetheless.
Jets Make Multiple Future/Reserve Signings
The Jets have already made a number of under-the-radar moves so far this off-season. In the past week the Jets signed three players to future/reserve contracts including: Freddie Bishop, Kyle Brindza, and Dri Archer. The most tantalizing signing of the three is running back/kick returner Dri Archer. The Jets desperately need a game changer on special teams and Archer has the skill set to be just that. Archer posted the second fastest 40-yard dash time ever recorded at the combine in 2014 at 4.26 seconds, only .02 seconds behind Chris Johnson's record. Archer was a third round pick by the Pittsburgh Steelers, but was released for never living up to his expectations. Kyle Brindza was a kicker for the Tampa Bay Buccaneers, who had a lowly 6-12 field goal conversion record last season. Freddie Bishop was an undrafted free agent who was signed by the Detroit Lions coming out of the draft in 2013. The Lions cut ties with Bishop and he was picked up by the Calgary Stampeders of the Canadian Football League. Bishop recorded 11 sacks last season with Calgary.
Other Notes
The Jets' special teams coach position was filled by former Indianapolis Colts assistant special teams coach Brant Boyer. It's an interesting move to say the least. The Colts weren't exactly effective on special teams last season giving up three punt returns for a touchdown, a fake field goal conversion, and a debacle of a fake punt play. The fake punt was a play in which the Colts lined up nine players to the right of the field, leaving safety Colt Anderson and the long snapper alone in the middle of the field. Needless to say, the play was unsuccessful and one of the strangest plays ever called. Strangeness aside, Boyer received high praise from the Colts staff and was a good special teams player during his ten year career in the NFL. Boyer met Todd Bowles as a player for the Cleveland Browns while Bowles was the secondary coach. Obviously Boyer made a good impression on Bowles. Even a decent season in special teams would be a significant improvement over recent years. This will be the Jets' fifth special teams coach in five years. The Jets also hired their new assistant special teams coach, Jeff Hammerschmidt. Hammerschmidt spent the last four seasons as the special teams coach for Colorado State.
There was a rumor circulating earlier in the week that San Francisco 49ers quarterback Colin Kaepernick wanted out of San Francisco, and preferred to land with the Jets. The report came out Tuesday evening from an article written by Manish Mehta of the New York Daily News. It wasn't long until conflicting reports came out with CBS Sports' Jason La Canfora stating that "Kaepernick has wanted out of San Francisco for quite some time" but that the Jets "have not been and are not interested." Both Todd Bowles and Mike Maccagnan have stated that they want to bring Ryan Fitzpatrick back with a new contract, which instantly made the initial report seem questionable. The move also wouldn't be too cap friendly for the Jets seeing as Kaepernick's cap hit is north of $15 million next season. As of right now the Jets are projected to have around $14 million in cap space, less than Kaepernick's due salary. There are many reasons why bringing Kaepernick to New York wouldn't make much sense, although the Jets could use a young quarterback of the future. Fitzpatrick is 33 years old, so ideally the Jets could use a talented quarterback to take over within the next year or two but not for the price tag Colin Kaepernick would demand. The Jets are likely hoping that Bryce Petty or a future draft pick can develop into a franchise quarterback for them at some point. For now it seems that Ryan Fitzpatrick will be the guy for the foreseeable future.
Videos
NY Jets Phase 3 OTAs, Expectations and a Minor Calf Tweak with Greg Renoff