Featured Editorials Home Slider
If Fitz Returns, Will Results Follow?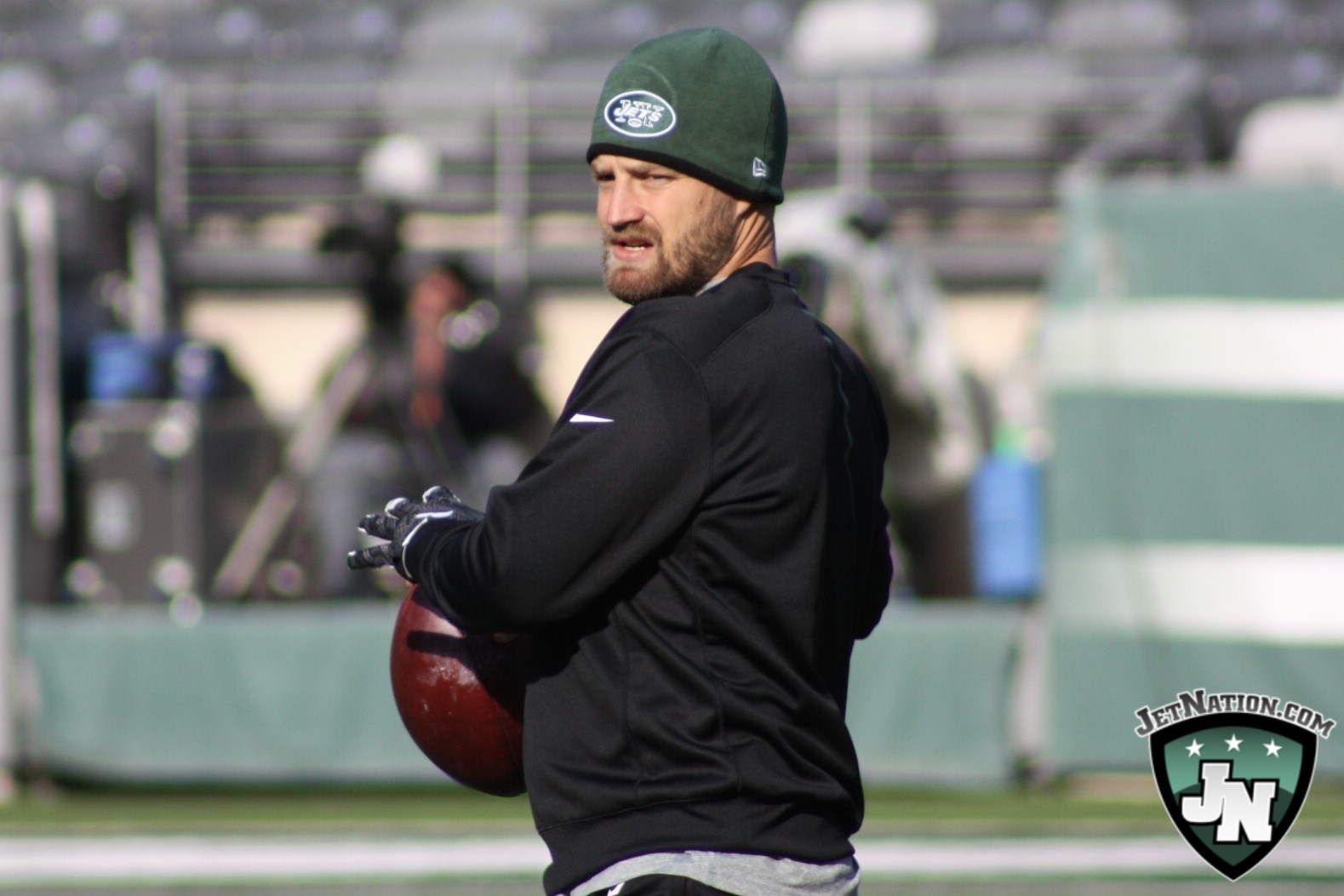 By Glenn Naughton (@AceFan23)
If the Jets manage to re-sign quarterback Ryan Fitzpatrick, who is set to become a free agent, it will mark the first time since Brett Favre's lone season with the club in 2008 that the Jets will start the year with an established, consistent veteran under center and the absence of any quarterback controversy.
Following a season in which he threw a career-high 31 touchdowns en route to a total of 10 wins (another career high), the question many Jets fans seem to be asking is, "can he do it again"?
Fitzpatrick proved countless doubters wrong with his 2015 performance, but what are the chances of him putting up similar numbers in 2015?  Better than some might think when you consider a few key factors heading toward 2016, starting with continuity.
While much was made of Fitzpatrick's history with offensive coordinator Chan Gailey, and rightfully so, it was his first season working with an entirely new offensive cast after being acquired by Jets GM Mike Maccagnan.
As star receiver Brandon Marshall mentioned during training camp, a quarterback can often take several years to develop good chemistry with his receivers, but that didn't stop him and fellow wide receiver Eric Decker from getting off to a running start with Fitzpatrick in year one as they teamed up to haul in a team record 26 scores (14 and 12 respectively).
We reminded Marshall of his comment regarding chemistry during a recent interview with JetNation.com and he had this to say:
"It does take a couple of years, so you can just imagine that if we continue to work hard and stay healthy…the possibility of what we can do this year if we add a piece here and there, the core is in tact.  He's our leader, I'm looking forward to seeing how he's going to take advantage of this off-season, going in as the guy.  You know, it's gonna' be special"
Secondly, the likely development of a third receiver/tight end on offense for Fitzpatrick to throw to should be considered.  As successful as the Jets offense was last season (11th in scoring), it lacked a consistent third option behind Marshall and Decker as wide receiver Jeremy Kerley and tight end Jeff Cumberland were largely invisible, oddly by design.
Quincy Enunwa, Kenbrell Thompkins, Devin Smith and Chris Owusu were limited by injuries and inconsistency while second-year tight end/H-back Jace Amaro never saw the field after being placed on Injured Reserve during training camp following a torn labrum.
As the 2015 season came to a close, Enunwa, whom Marshall described as "one of my favorite teammates I've ever played with, he's a stud and he's so selfless" came on strong.
Enunwa made key catches in victories against the Dallas Cowboys and New England Patriots during a five-game winning streak.  Enunwa also showed the ability to make things happen after the catch, averaging a team-best 14.3 YPC among wide receivers, pulling in 22 balls for 315 yards.
The Jets will also hope for Smith and Amaro to get healthy and on track to justify their draft position as both players were chosen in the second round of their respective drafts with high expectations.
Thompkins, who looked impressive at times in limited reps, will likely have the opportunity to make the squad out of camp after being an in-season addition last year.
Owusu's may be the odd man out as he continues to battle concussions at the pro level after being taken off of several draft boards out of Stanford for that same reason.  Still listed on the Jets roster, at this point, the best choice Owusu could make for himself and his future would be to step away from the game for good.
Another reason for optimism is the emergence of running back Bilal Powell as a threat out of the backfield down the stretch in 2015.
Like Fitzpatrick, Powell is due to be a free agent and it may be even less likely he'll be donning Green and White next season.  Even still, what he did for the offense as a pass-catcher from week's 10-15 (32 rec, 299 yds, 2 TD's) proved invaluable for Gang Green's aerial attack.
If Powell does in fact depart via free agency, it's difficult to envision the team moving forward without adding a player with a similar skill set through the draft or free agency.  Perhaps even a trade with a team like the Philadelphia Eagles for the aging but still effective Darren Sproles who is could be made available in the near future.
So while the most critical aspect of continued success for Fitzpatrick and company is the chemistry referred to by Marshall, it's far from the only reason for optimism if and when Fitzpatrick reclaims his starting spot with the Jets in 2016 where he and Gailey will give it another shot together.  Hopefully going from knocking on the door of the post-season, to kicking it in.
Videos
Aaron Rodgers Injury Fallout & Jets/Bills Recap