Breaking News Featured Editorials Home Slider
Could Jets end up with Fitzpatrick and RG III?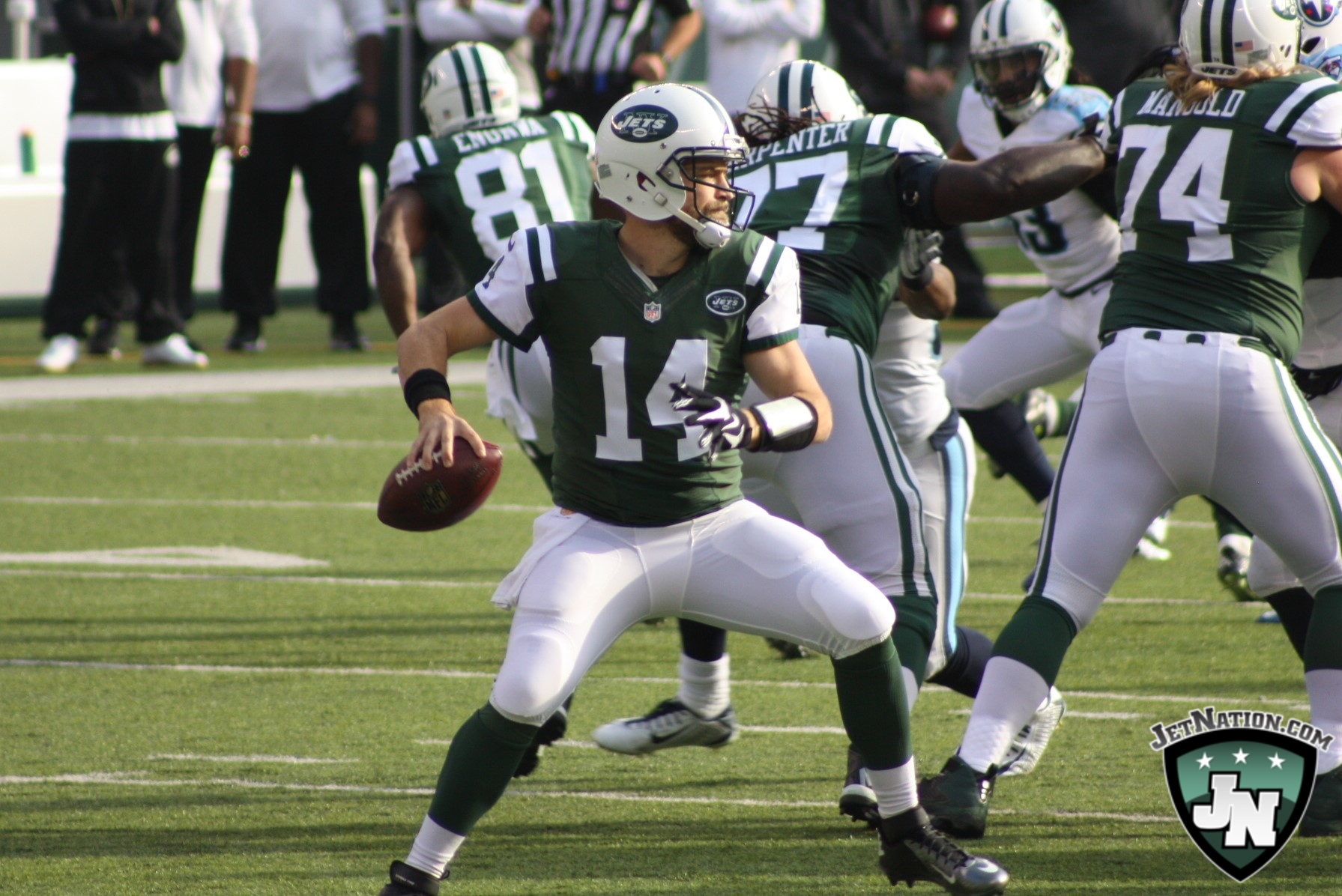 By Glenn Naughton
Could it be possible for the New York Jets to enter the season with both Robert Griffin III and Ryan Fitzpatrick under contract if RG III's current meeting with the Jets leads to a deal?
While the premise seems absurd, it may be worth giving some thought.  As the Jets' meeting with Griffin enters day number two in Florham Park, Fitzpatrick is still without a team, and few starting jobs remain.
At the center of the Jets vs. Fitzpatrick contract standstill is, wait for it…money.  At the conclusion of the season, Head Coach Todd Bowles put Fitzpatrick in prime bargaining position by naming him the team's starter if he were to return next season.  As it stands, the average salary for an NFL starting QB is in the neighborhood of $15 million per year.   Bowles' proclamation gave Fitzpatrick's agent, Jimmy Sexton, a great deal of bargaining power, in his mind anyway.  As it turns out, the Jets were happy to name Fitzpatrick the starter, but only if he was willing to be paid like a back-up.
The rumored offer to Fitzpatrick is said to be slightly more than what the Philadelphia Eagles paid their current back-up, Chase Daniel, when they gave him a 3-year $21 million deal.  Roughly $8 million a year less than the average NFL starter.
Even as they explore the possibility of acquiring RG III and Colin Kaepernick, the Jets are still engaged in talks with Fitzpatrick's camp, presumably working under the assumption that Fitzpatrick is the starter.
Should a deal come to fruition between the Jets and RG III, Gang Green could keep talking to Fitzpatrick while making it clear that Fitzpatrick's status is no longer that of starting quarterback, and he  will have to compete to win the job.  With the "starter" label being removed, it brings Fitzpatrick closer to back-up money, and reality, than he currently is.
Then of course there's the situation with Griffin himself.  Once viewed as one of the top young signal-callers in the NFL, his fall from grace has been as rapid as his rise.
Since bursting on the scene during a rookie campaign in which he threw 20 touchdowns and just five interceptions in 15 starts, garnering offensive rookie of the year honors back in 2012, the wheels have fallen off for Griffin.
He's been slowed by the injuries that hobbled him late in his rookie season, and has started just 20 games over the past two seasons,
throwing 20 touchdowns to 18 interceptions while having his commitment and leadership called in to question by teammates.
During the NFL scouting combine in Indianapolis, I asked a highly regarded Redskins reporter for his thoughts on Griffin, "The tools are all still there.  He can make all the throws and he has the talent, but somebody is going to have to start over with him".  It's not the first time we've heard this about Griffin and it does make him an intriguing option to pair with Chan Gailey if he comes at the right price.
It's hard to imagine Griffin commanding anything more than an incentive laden deal with a manageable base salary given the fact that no other teams have had him in for a visit since being let go by the Redskins.  If Griffin does come cheap, would it leave enough cash to get Fitzpatrick back in the fold?  That may come down to pride more than money.
Coming off of a season in which he threw a team-record 31 touchdowns, Fitzpatrick is on the hunt for a starting job.  The Jets would clearly be the best fit given his familiarity with the offense and popularity in the locker room, but running the risk of going to back-up status just one season removed from his best performance ever, may be a bit too much.
Even in the absence of getting a starting job, interest in Fitzpatrick would undoubtedly skyrocket if and when his representatives would be forced to start fielding offers as a backup.  It would go down as a monumental miscalculation from a player and agent, watching him lose both money and status in the blink of an eye.
As quickly as free agents are agreeing to new deals, a blink of an eye may be just how long it takes for the Jets own quarterback depth chart to go from thin, to overcrowded, with Fitzpatrick going from 1, to 1A until having the chance to fight it out when training camp rolls around.
Videos
Aaron Rodgers Injury Fallout & Jets/Bills Recap