Breaking News Featured Editorials Home Slider JetNation Radio Podcasts
JetNation Radio: Time to Start Looking at Other QB Options?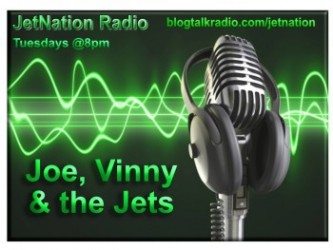 On this week's episode of Joe, Vinny & the Jets we will be talking about some of the Jets other quarterback options such as Brian Hoyer, Mike Glennon and Josh McCown. Or could the Jets be looking at one of the quarterbacks in this years draft? What are the Jets going to do at the outside linebacker position? These topics and many more are discussed this week.
JetNation Radio is sponsored by MILE Social.
MILE Social helps businesses manage their social media.
Videos
New York Jets OTA Presser Takeaways, Aaron Rodgers' Impact and Summer Delusion