Jets Acquire Ryan Clady in Exchange for 5th Round Pick, add 7th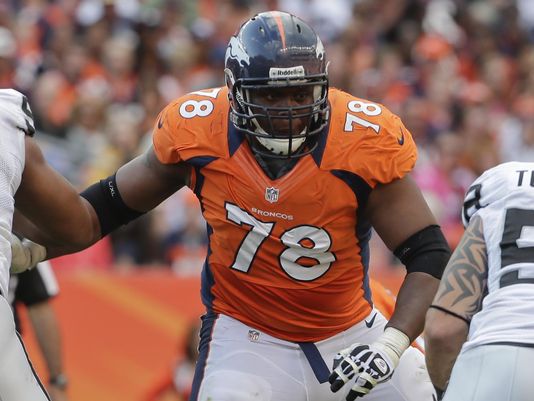 By Glenn Naughton
New York Jets General Manager Mike Maccagnan wasted no time replacing left tackle D'Brickashaw Ferguson who announced his retirement just yesterday by dealing for Denver Broncos left tackle Ryan Clady in exchange for a 5th round draft choice.  Just as the Jets did in last year's blockbuster deal which sent a 5th rounder to the Bears for Brandon Marshall, they'll also get a 7th round choice along with Clady.
The #Jets trade a 5th rounder to the #Broncos for Ryan Clady and a 7th rounder. More ammo for Denver in a potential Kap trade & cap space.

— Ian Rapoport (@RapSheet) April 9, 2016
An eight-year veteran who has been voted a first-team All-Pro twice by the associated press (three times total) to go along with four pro-bowl appearances, Clady has undeniable talent, but in terms of durability, he's the anti-Ferguson, having missed all of last season with a torn ACL, and 14 games in 2013 with a lisfranc injury.
Clearly the Jets are banking on Clady returning to the player he was between 2008-2012 when he didn't miss a single start, but even before last year's injury there were rumblings in regards to his declining performance in pass protection, something the Jets can't afford if they're hoping to make a playoff push this season.
Originally carrying a price tag similar to that of Ferguson, Rich Cimini of ESPN New York is reporting that two sides have re-worked his deal to make it more manageable for the cash strapped Jets.
Clady arrived at the Jets complex for a physical Friday and agreed to a restructured contract with the Jets on Saturday, sources said. It's a one-year deal worth $6 million in base salary, with $3 million of that guaranteed, and it could increase to $7.5 million based on playing time and/or honors.

The reworked deal between the Jets and Clady also has an additional option year for a minimum of $10 million that can escalate to $13 million based on playing time and includes a $2.5 million February bonus. If the Jets decline to pick up that option after this season, Clady will become a free agent.
With the offensive tackle position addressed at a much lower price tag, the move can only help bring back Ryan Fitzpatrick with whom the Jets have been at a contract impasse with since the start of free agency.
Already named the team's starter by head coach Todd Bowles should he return, Fitzpatrick's options in free agency have all but dried up as of now unless the 49ers throw their hat in the ring if they eventually  deal their current starter, Colin Kaepernick to the Broncos as expected.
Videos
Aaron Rodgers Injury Fallout & Jets/Bills Recap