Breaking News Featured Editorials Home Slider
NY Jets Tickets Anyone?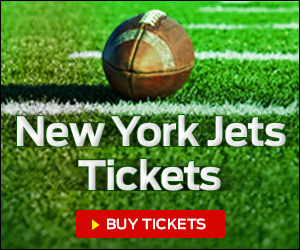 The NFL released the schedule for the 2016 season. If you are looking to go to a game this season, please check out the links below next to each game. Any ticket purchased through the ticket links below will earn JetNation some affiliate commission. We appreciate your support so that we can keep JetNation running smoothly. Thanks.

2016 NY Jets Schedule
Preseasson
8/11
Thursday
Jacksonville
7:30 p.m.
Tickets
CBS
8/19
Friday
at Washington
7:30 p.m.
CBS
8/27
Saturday
NY Giants
7:30 p.m.
Tickets
CBS
9/1
Thursday
at Philadelphia
7:00 p.m.
CBS
Regular Season
9/11
Sunday
Cincinnati
1:00 p.m.
Tickets
CBS
9/15
Thursday
at Buffalo
8:25 p.m.
Tickets
CBS \ NFLN \ Twitter
9/25
Sunday
at Kansas City
4:25 p.m.
Tickets
CBS
10/2
Sunday
Seattle
1:00 p.m.
Tickets
FOX
10/9
Sunday
at Pittsburgh
1:00 p.m.^
Tickets
CBS
10/17
Monday
at Arizona
8:30 p.m.
Tickets
ESPN
10/23
Sunday
Baltimore
1:00 p.m.^
Tickets
CBS
10/30
Sunday
at Cleveland
1:00 p.m.^
Tickets
CBS
11/6
Sunday
at Miami
1:00 p.m.^
Tickets
CBS
11/13
Sunday
Los Angeles
1:00 p.m.^
Tickets
FOX
11/20
Bye Week
11/27
Sunday
New England
8:30 p.m.*
Tickets
NBC
12/5
Monday
Indianapolis
8:30 p.m.
Tickets
ESPN
12/11
Sunday
at San Francisco
4:05 p.m.*
Tickets
CBS
12/17
Saturday
Miami
8:25 p.m.
Tickets
NFLN
12/24
Saturday
at New England
1:00 p.m.*
CBS
1/1
Sunday
Buffalo
1:00 p.m.*
Tickets
CBS
Videos
Aaron Rodgers Injury Fallout & Jets/Bills Recap