Breaking News Home Slider Jet News
JetNation Notes: A Look at the Upcoming Draft and OTAs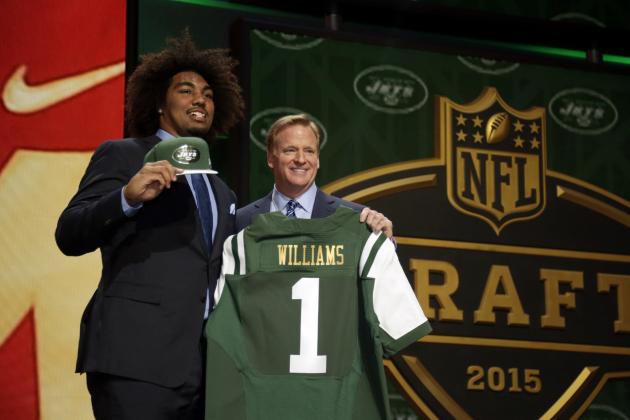 Looking Ahead to the Draft, and Offseason Schedule
Jets Have Six Pack of Picks in the Draft
After the Jets lost their mainstay left tackle in D'Brickashaw Ferguson, General manager Mike Maccagnan moved quickly by securing former Denver Broncos tackle Ryan Clady. The Jets sent the Broncos a fifth-round pick in exchange for Clady and the Broncos' seventh-round pick. The Jets will be without a fifth or sixth round pick heading into the draft. Last offseason the Jets sent the Houston Texans a conditional seventh-round pick for Ryan Fitzpatrick that turned into a sixth-round pick once he played enough snaps. The seventh-round pick turned into a sixth-rounder once Fitzpatrick had played in more than 70% of the Jets' offensive snaps. After those two moves the Jets will have the following picks: one first-rounder (20th overall), one second-rounder (51st overall), one third-rounder (83rd overall), one fourth-rounder (118th overall), and two seventh-rounders (235th overall and 241st overall). The Jets will not have any compensatory picks this year due to the fact that they signed more players than they lost last offseason.
The Jets have a few big needs heading into the draft. Arguably the biggest need will be an edge rusher, the Jets are noticeably thin at the outside linebacker position. The Jets' real priority though will depend on where they stand with free agent quarterback Ryan Fitzpatrick. If they're confident they'll be able to re-sign him then there won't be as much pressure to draft a quarterback early on. Conversely, if the Jets aren't confident they'll have Fitzpatrick back they may be backed into a corner with their first-round pick. Some other areas the Jets will likely bolster in the draft include: offensive line, cornerback, and tight end. The Jets' first-round pick has been linked to some interesting names in popular mock drafts including: Paxton Lynch (QB, Memphis), Darron Lee (OLB, Ohio State), Leonard Floyd (OLB, Georgia), Reggie Ragland (ILB, Alabama), and Eli Apple (CB, Ohio State). Paxton Lynch is highly regarded as the third ranked quarterback in this year's draft class behind Jared Goff and Carson Wentz, but he would likely need a year on the bench to develop. Lee and Floyd are two high caliber pass rushers who would fit the Jets' biggest need. Ragland is an inside linebacker, but the Jets are significantly more filled out at that position. Eli Apple is one of the top tier cornerbacks from this draft class, and there is no heir apparent on the roster to fill Antonio Cromartie's position. It's not a huge hole on the roster, but Mike Maccagnan has shown he will take the 'best player available' approach. The 2016 NFL draft begins Thursday night in Chicago 8 p.m. ET.
Offseason Program is Officially Underway for Jets
The Jets' offseason program officially began on April 15th. There are three phases to the offseason program per the collective bargaining agreement (CBA). The first phase, which is underway now, consists of strength and condition and lasts two weeks. The second phase allows for individual drills on the field and workouts and lasts three weeks. The third and final phase allows 7-on-7, 9-on-7, and 11-on-11 drills and lasts four weeks. The upcoming offseason schedule looks like this:
Start of offseason program: April 15th
OTAs (Organized Team Activity): May 20th, 22-23, 29-31, June 3-6
Mandatory Minicamp: June 11-13
The dates for training camp haven't been announced yet, but in all likelihood it will begin around the same time as last year which was July 30th. So far Muhammad Wilkerson has been a no-show for workouts, which is hardly a surprise as he is recovering from a leg injury and is in a contract dispute with the Jets. Wilkerson has yet to sign his $15.7 million franchise-tag tender. It's highly likely that Wilkerson could skip the offseason program for a second year in a row. It's also highly likely that the Jets could be without Ryan Fitzpatrick until training camp considering the pace of the negotiations thus far. Three players on the Jets' roster have workout bonuses: Nick Mangold ($500,000), Geno Smith ($414,000), and Khiry Robinson ($50,000). Another player recovering from an injury is Jets' star cornerback Darrelle Revis. Revis had screws removed from his wrist and won't be able to participate in any weight lifting, but will be able to do cardio work. Revis is expected to be a full go in July once training camp begins.
Other Notes
It was another fairly quiet week for the Jets who are preparing for this week's draft. The Jets did bring in former Texans quarterback Brian Hoyer for a visit, but Mike Maccagnan stated the visit was only "due diligence." It was likely another 'leverage' move in the Fitzpatrick negotiations. From all indications the Jets still have their sights set on re-signing Fitzpatrick. Speaking of Fitzpatrick, he was spotted at a New York Rangers playoff game on Tuesday with some of his former teammates. Eric Decker posted a video to his Instagram account including himself, Bryce Petty, Nick Mangold, and the elusive Ryan Fitzpatrick. Fitzpatrick has developed great chemistry with many players in the locker room. Two of those players, Brandon Marshall and Eric Decker, sent Fitzpatrick a video from the first day of offseason workouts. Apparently the video included a playful critique of Fitzpatrick, and updates from the offseason workouts. It's pretty apparent that the players know who they want at quarterback. There would likely be a significant level of disappointment in the locker room if someone else is named the starter, or if Fitzpatrick happens to sign elsewhere. Another interesting nugget from last week was the fact that Mike Maccagnan acknowledged the Jets inquired about trading up for the first overall pick in the draft. To trade up for the first overall pick and not take a quarterback would be madness. This will only serve to fuel speculation that the Jets will be in the market for a quarterback on Thursday.
Videos
NY Jets Phase 3 OTAs, Expectations and a Minor Calf Tweak with Greg Renoff