Breaking News Featured Editorials Home Slider JetNation Radio Podcasts
JN Radio: Jets Rookie Mini Camp Recap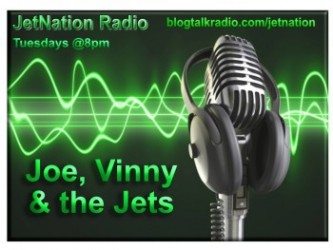 On this week's episode of Joe, Vinny & the Jets, Vinny is replaced by Jetnation.com Writer and contributor Glenn Naughton. We will revisit the Jets 2016 draft class, the impact we expect them to have and what players on the New York Jets roster they are pushing for playing time.
Rookie minicamp took place last weekand we will give some thoughts on the new Jets
Plus, the dreaded topic of Ryan Fitzpatrick and the entire quarterback situation, could the Jets be looking to keep four quarterbacks on the roster now that Christian Hackenberg is in town? Muhammad Wilkerson is surprisingly still on the roster, what is his future looking like with the Jets?
Videos
JetNation
4.6K
Subscribe
Broken Brains; Critics of Jets Quarterback Aaron Rodgers Begin Stirring up Conspiracy Theories