Featured Editorials Home Slider
Geno's Hopes "Decked" Again?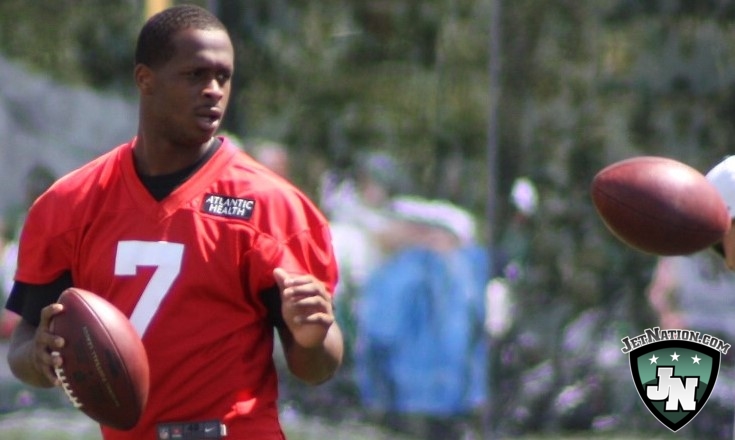 By Glenn Naughton
Sometimes life just isn't fair…and this is one of those times.
Unfortunately for Jets quarterback Geno Smith, the NFL has no time for sob stories.  It's a league for grown men that will force players to deal with varying degrees of adversity at any given time.  Smith has already seen his share after having his jaw broken when he was punched by a teammate during training camp last season, and now this.
Just two days in to a voluntary OTA (Off-season Training Activity), one that was supposed to allow Smith to showcase his physical skills and off-season development, under the watchful eye of his coaches in Florham Park with his top targets on hand, there's already a hiccup.  It's being reported that one of those targets, wide receiver Eric Decker will not be present.  Decker's absence isn't due to injury or a prior commitment, the standard reasons given at this time of year, but because he's taking a stand for the man ahead of Smith on the depth chart, Ryan Fitzpatrick.
Wide receiver Brandon Marshall was also a no-show, but his absence isn't believed to be related to the Fitzpatrick contract situation at this time according to Jason Cole of Bleacher Report.
Source said WR Brandon Marshall's absence from #Jets OTAs does not have to do with Ryan Fitzpatrick. "No story."

— Jason Cole (@JasonColeBR) May 26, 2016
The underwhelming Smith is a polarizing figure among Jets fans.  Some see him as a place holder who will be cut loose if and when Fitzpatrick re-signs, while others are enamored with his arm strength and his week 17 performance against the Miami Dolphins two seasons ago, in which he threw 3 TD's for the second time in his career while posting a perfect passer rating of 158.3.
Meanwhile, Decker enjoys a great deal of popularity due to his on-field production as he teamed with Marshall to become the only pair of Jets wide receivers to score 9 or more touchdowns in a single season while also putting up over 1,000 yards.  That being said, IF the reports of Decker sitting out these sessions are in fact  accurate, and it's in support of Fitzpatrick, it's a bad look for Decker.
Like it or not, Geno Smith is a New York Jet right now, and Ryan Fitzpatrick is not.  While this portion of OTA's is not mandatory, as a team leader, Decker would be doing his part in helping keep the offense running smoothly by getting as many reps as possible with every QB on the roster, not just Smith.  Looking out for his friend is plenty admirable, and he did just that recently when he publicly stated that Fitzpatrick "is the best quarterback for this team right now".  That alone should have been enough.  Let your feelings be known through the media, but don't allow those feelings to potentially impact the team.
More importantly, there's no other way for Smith to view this other than a snub from one of the team's more popular players at a time when he's trying to turn things around for himself while some are speculating he may be on the chopping block.
It was probably awkward enough for Smith when Decker and Marshall made a video  not long ago, pleading with Fitzpatrick to return to the team and assume the starting role.  Now, another distraction looms as the third-year player is sure to be peppered with questions regarding the lack of support shown by one of his most important weapons and he'll be expected to say the right things and publicly support Decker.  He'll likely echo the words of Head Coach Todd Bowles and point out the fact that the workouts are not mandatory and players are free to do what they like.  Awkward, to say the least.
There are no shortage of Jets fans and analysts who don't believe Smith has what it takes to be an NFL quarterback.   However, if he's going to get the chance to show once and for all if that's the case, he deserves the full support of his teammates and can do without the additional distractions this will undoubtedly bring.  Because whether or not the reports regarding Decker's absence are accurate, you can bet the New York media will be prepared with a brand new list of non-football related questions ready to go for Geno next week, when all he'll be trying to do, is focus on football.
Videos
New York Jets OTA Presser Takeaways, Aaron Rodgers' Impact and Summer Delusion